An Introduction to the LEJOG
An introduction to the End to End, otherwise known as the LEJOG or JOGLE, depending on which way you go. Whatever you choose to call it, it is an excellent way to explore some of the best bits of Britain.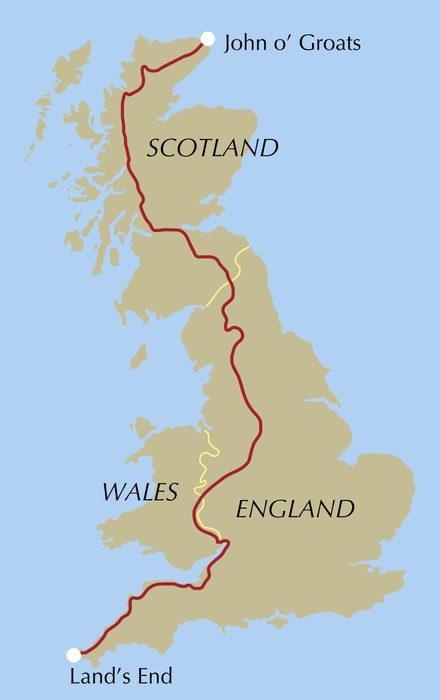 LEJOG FAQs
What is it and how far is it?
The route covers the length of Britain with end points of Land's End and John O'Groats, hence the slightly awkward acronyms LEJOG and JOGLE. Others prefer to call it the End to End which is equally descriptive.

The full walking distance within the Cicerone Guide is 1956km (1215 miles) long, but varies according to the routes chosen. Walkers or cyclists can choose the quieter more meandering routes if they prefer.
Depending on the variants chosen it can be cycled in a couple of weeks and walked in a couple of months. The record for running the LEJOG is an impressive 9 days but that's perhaps a little ambitious for most of us.
LEJOG or JOGLE? Which way round should you go?
Doing the LEJOG from Cornwall to Scotland is a popular choice for many reasons: the prevailing wind is in your favour and the scenery gets more dramatic as you progress. But perhaps there is a psychological advantage to the JOGLE in that many people have an unshakeable but incorrect assumption that this is downhill all the way.

Why should you do it?
You could hardly find a more British adventure - a couple of weeks or months of travelling through some of the most beautiful, quiet and rugged parts of Scotland and England, enduring the best of the British weather and enjoying some very British hospitality, friendship and humour along the way. Finishers are also entitled to an incredible sense of achievement after completing this challenging trek.

When should you go?
As with many British adventures, the End to End is most enjoyable during the longer daylight hours from March to October.
There can be no guarantees for the weather but going in spring/summer will improve your chances of pleasant days and good visibility.
Where should you stay?
There are plenty of options along this route so you can choose according to your budget. The Cicerone guidebooks offer accommodation lists and the cycling guide also gives details of cycle repair shops.
Please note: If you are cycling the End to End you absolutely must book a place for your bike for your journey home. There are often as few as six spaces for bicycles on train journeys and, as you may expect, there is a lot of competition for these places.
Difficulty
Due to the enormity of this route, you are going to encounter problems with planning, equipment and your own body. Be sure to implement contingency plans and finances alongside potential emergency contacts to be sure you're as safe and well as possible.
To read more articles like this get our newsletter
Sign up today for a 20% discount on your next purchase. Join over 30,000 enthusiasts from around the world. If you don't love our mix of new books, articles, offers and competitions, you can unsubscribe at any time. We will never spam you, sell your data or send emails from third parties.