An Intro To... Walking in Lithuania
Lithuania's countless blue lakes, dense coniferous forests, traditional wooden villages and a shy network of hiking trails haven't yet made their way to international fame. Guillaume Martin says join the happy few in the know, lace up your walking shoes and hit the unsung, beautiful trails of two of the country's national parks. Just be sure to pack your swimming suit.
Lithuania is notoriously difficult to find on a world map. It is a country known for its surprisingly obscure prominent figures. And, after reading this article, you will know it as a country with a labyrinth of blue lakes and its dense primeval forests. Allow me to introduce you to two of its national parks (NP): Aukštaitija and Dzūkija.
With a third of the country covered in forests and a collection of over 2500 natural lakes, there is great potential here for outdoor adventures. And with a rather low population density, introverted hikers – like me – will be happy to know that it is rare to come across anyone else on the trails.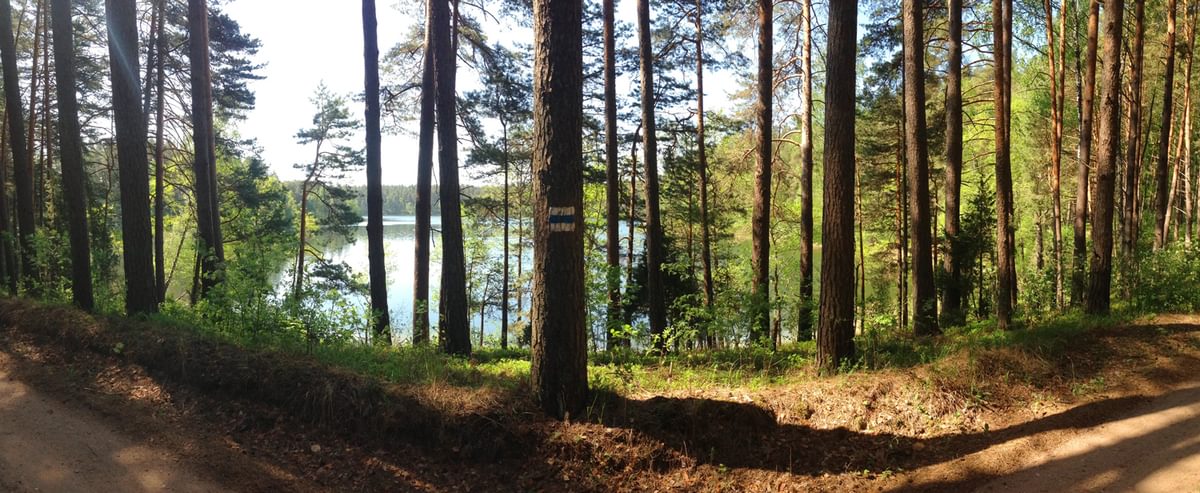 Of course, you may notice an old lady busy picking mushrooms in autumn, or you may spot a couple of fishermen in the distance, either fishing from a small boat in summer or from a hole on a frozen lake in winter, but these folk usually just keep quiet. Homo campinguslituanicus is another species found in the countryside, but they are sedentary and never venture beyond the loo hut. Hence, most of the time, you have the trails all to yourself – well, almost, as you will soon meet their natural inhabitants: an elk, a fox or a badger if you're lucky, or more likely roe deer or hares. There's one downside, though, to this serenity – tourist infrastructure is sometimes limited and information is not always readily available. Here are my suggested routes for first-time hikers in Lithuania.
The Lake Region: Aukštaitija National Park (and neighbouring Molėtai Regional Park)
Aukštaitija NP is the oldest park in the country, established in 1974. Together with neighbouring Molėtai Regional Park – which should soon be merged into the national park, it covers an area of nearly 1000km2 of lake wonderland. A great two-day itinerary in the region is the Palūšė-Tauragnai trail (42km), with overnight lakeside camping in Ginučiai (a lovely village where you will find a watermill museum, a café and a small convenience store offering regional smoked fish).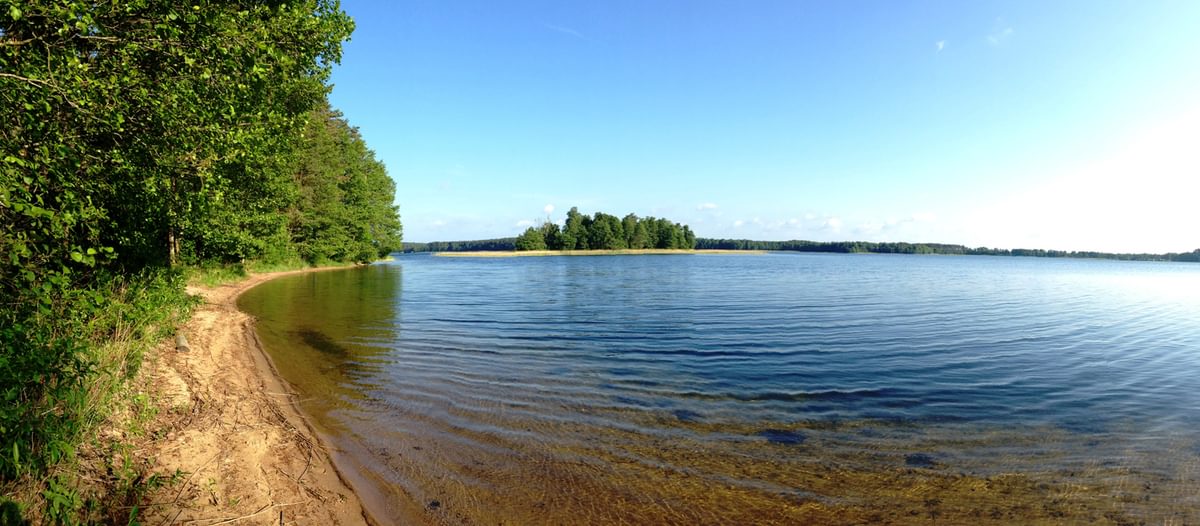 The trail will take you past half a dozen lakes, a fair number of picturesque wooden villages and a beautiful vantage point at Ladakalnis, an ancient pagan hill. One drawback is getting to the trail and back: while Palūšė is a short taxi ride away from Ignalina (a town well-connected to Vilnius by rail and road), Tauragnai is poorly connected to the rest of the country. You will need to arrange a taxi from Utena to pick you up. A helpful brochure is available on the park's website for further planning and route details.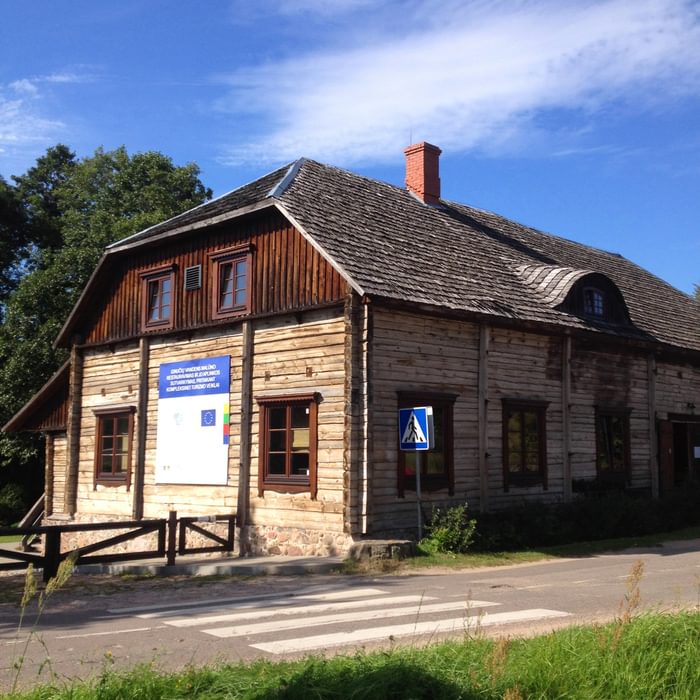 Another option is the Blue Trail in Molėtai Regional Park, a 74km loop in Molėtai Lake Region. To reach the start point, a few kilometres north of Molėtai (well-connected to Vilnius by bus), you will also need to arrange a taxi. But once you're there, you are set for an epic 3 to 4-day hike at the heart of the Lake Region, free to stop at any time and take a dip in any, or all, of the 12 or so lakes along the way.
Be sure not to miss Ščiurio ragas, a narrow 3km-long forested peninsula separating Baltieji Lakajai from its twin brother Juodieji Lakajai, with some of the best away-from-it-all lake beaches in the region. There's also the 36m-tall observation tower at Mindūnai, a few hundred metres off the trail, with a good panorama over Lake Baltieji Lakajai and an even better view of the food stall at the foot of the tower (in summer). See here for an online map of the trail (follow the red dots).
For shorter day hikes, there are two established loop trails starting in Palūšė and two more starting in Ginučiai (again, no public transport), the full description of which can be found in the above-mentioned brochure. I have a personal preference for the two trails starting in Ginučiai, which are both longer (14–15km) and deeper into park territory. More day-hike itineraries are being prepared by the tourist information centre in Kaltanėnai, another town in Aukštaitija NP.
Dainava Primeval Forest: Dzūkija National Park
Largely overlooked and under-rated, this is one of the country's hidden gems, a fairytale primeval forest with strong local traditions (like ancient tree beekeeping), a good network of decently marked trails (originally intended for cyclists, but perfectly fine for walkers), wooden villages that seem to have slept through the industrial and plastic revolutions entirely, numerous rivers and a few thrilling suspension footbridges, just to name a few of the highlights in the region. Unfortunately, transportation is an issue again, and so is resupplying, with a very limited number of convenience stores close to the main trails. So here are my suggestions:
Two to three days is a reasonable target to complete an end-to-end walk (about 56km) from the sleepy town of Varėna to Druskininkai (both an easy bus ride from Vilnius), a health resort on the banks of River Neman, following these blazes: red from Varėna to Žiūrai, green from Žiūrai to Puvočiai, orange from Puvočiai to Roduka, green from Roduka to Krušonys and, finally, blue from Krušonys to Druskininkai. The best campsites on this route are in Trakiškiai (on the banks of River Ūla), in Puvočiai (River Merkys; there's a small convenience store here) and at Lake Ilgis in Grūtas, close to El Arm El Armenian Inn, an unexpected Armenian restaurant.
Old-growth forest near Puvočiai
One of the two suspension bridges on the Varėna-Druskininkai route
Day hikes are also an option: Marcinkonys (the southern terminus on the Vilnius-Marcinkonys railway) is probably your best base for exploring the area: there's a 14km loop trail that starts at the visitor centre, plus an ethnographic museum, a convenience store and a campsite at Lake Kastinis on the outskirts of the village. You may also visit the country's largest raised bog: it's located only a few kilometres south of Marcinkonys and there's an educational trail there equipped with boardwalks. Note that you will need to arrange a permit with the visitor centre (July–March), or a guide (if you're visiting April–June).
Further planning: navigation, campsites and when to go
I strongly encourage you to get proper navigation equipment before hitting the trails in Lithuania. I use both paper maps and a navigation device with an OpenStreetMap layer. The best tourist maps in the country are published by Briedis (1:50,000 coverage for all areas mentioned in this article), which are available in bookshops and/or online. It's a great idea too to pop in at visitors centres in the parks where you are planning a hike to get an extra detailed trail map and possibly some tips directly from park staff.
Camping is officially allowed only at designated campsites. You can pitch up your tent for free (or for a few euros if it's a private campsite). There's usually a fireplace, a loo hut, a wooden table with benches and a nice wooden jetty to jump off into the water if you're lucky.
For longer trails, May–September is probably the best season as temperatures are higher and days longer. Beware of ticks on overgrown trail sections in late spring/early autumn, and make sure to cover up with light clothes in summer if you don't want to be eaten alive by mosquitoes and sandflies. Mid-March to April and September to mid-October are great times to be on the trails, with flowers blooming/fantastic autumn colours, but mornings (and evenings) can be chilly and too cold for many to consider multi-day backpacking. Winter is enjoyable only when there's snow and blue skies, which happens for a few (but memorable) days each year.

To read more articles like this get our newsletter
Sign up today for a 20% discount on your next purchase. Join over 30,000 enthusiasts from around the world. If you don't love our mix of new books, articles, offers and competitions, you can unsubscribe at any time. We will never spam you, sell your data or send emails from third parties.