Another Cicerone Ultra trail success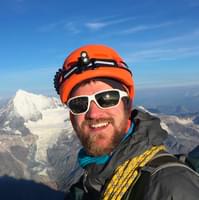 Another Ultra Trail success story for Cicerone. Joe Williams completes the TDS Courmayeur to Chamonix Ultra Trail. Placed 158 out of 1600 runners. Here's how it unfolded.
Joe Williams, (son of Cicerone owners Jonathan and Lesley) has just completed the TDS Ultra Trail, adding to his Bob Graham Round success earlier this summer. He finished the grueling 119km race between Courmayeur in Italy and Chamonix in 22 hours 43 minutes, coming in at a fantastic 158 overall, out of a field of 1600.
The race began at 6am on Wednesday 26th August in Courmayeur, and Joe reported the unpleasant feeling of jostling with 1600 other runners. Thankfully the field spread out over the following ten kilometres, as the route climbed 1300m to Arrete Mont-Favre, the first of many high points in the race. After a descent to Lac Combal, another climb brought the runners to the top of Col Chavanne (2584m), at which point Joe had moved from 446 to 354 in the overall field.
A long gentle descent down a track allowed all the runners to stretch out, then it was up again, this time to the Col Petit St Bernard (2188m). By this time Joe had covered 36 km and 2507m of ascent. Now followed some punishing treatment for the quads, a descent to Bourg St Maurice at 837m. Time for a 15 minute rest, take on some food and more liquids, and take stock of his body. Not great. Legs were described as 'wrecked' in his brief phone call, but we've heard that before, and Joe does tend to go better once he has got the first 50 km or so under his belt!
Time to go up again, this time heading for the Passeur de Pralognon at 2546m, via Fort de la Platte. Joe's real strength is his ability to climb, and by this time he had moved up again to being placed 217 overall, although he tells us that the ascent out of Bourg St Maurice was one of the worst experiences; incredibly hot, very steep and rough terrain, and everything hurt at that point. We watched the webcam as he ran through the Cormet de Roselend, then on through the wild and remote Beaufortain mountains to La Gitte. Joe's now 14 hours into the race, and starting to feel he can 'finally run properly' – yes, we had a second phone call, just checking we were following his progress!
The next ascent took two hours, to Col Joly, then it was downhill to Les Contamines, and the end was definitely in sight. The final stage from Les Contamines to Chamonix is a route well known to walkers of the Tour du Mont Blanc, and also GR5 trekkers, climbing up out of Les Contamines through wooded slopes up to Col du Tricot (2126m), then down and a short kick up to Bellevue, before the final descent to Les Houches. By this point Joe was placed 160 and running with another British runner, and together they covered the final stretch to Chamonix at a rate of 7.3km/hour, which is not to bad after 7223 metres of ascent and a little under 23 hours of mountain running in a day.
Joe's opinion of his race? He hated the first 16 or so hours as his legs didn't seem to be helping him, after that he really enjoyed it. If things had gone more according to his ideal plan, he still thinks around 18-19 hours would have been within his capability. Does this mean he's going to have another go next year I wonder....
The winner of the race finished in a staggering 14 hours 26 minutes. Runners were still crossing the line in Chamonix having taken more than twice that time. Still a fantastic achievement.
Congratulations to everyone, and especially congratulations to Joe.
To read more articles like this get our newsletter
Sign up today for a 20% discount on your next purchase. Join over 30,000 enthusiasts from around the world. If you don't love our mix of new books, articles, offers and competitions, you can unsubscribe at any time. We will never spam you, sell your data or send emails from third parties.