Can I go walking in Europe? Regular updates for walking and trekking in summer and autumn 2021
Walking, trekking and other outdoor activity holidays in Europe, and Brexit and coronavirus-related restrictions. This page will help you find up-to-date information for walking, trekking and other outdoor activities during summer and autumn 2021.
Updated 23 August 2021
LATEST NEWS

Green list countries and what this means – you need to identify Triple green destinations for holidays:
GREEN to be able to travel from the UK, GREEN to be allowed into particular countries, and GREEN to be able to travel to that country without crossing red-zone countries, ie travel is physically possible.
From 4am, Monday 19 July, the government will no longer recommend against travel to amber list countries. People covered by the amber list rules, who have been fully vaccinated with an NHS vaccine, will not need to quarantine on arrival in England or take a COVID-19 test on day 8. For further information:
Portugal
Portugal is currently on the AMBER list, Madeira is currently on the GREEN watchlist.
Malta
Malta will move to the GREEN list from 30 June
Balearic Islands
Will move to the green watchlist 4am, Wednesday 30 June.
Mainland Spain and Canary islands remain on AMBER list
Iceland
Travellers from the U.S., U.K. and the European Union can travel to Iceland and skip testing and quarantine requirements if they can prove they're fully vaccinated against COVID-19 or if they can prove they've recovered from COVID-19.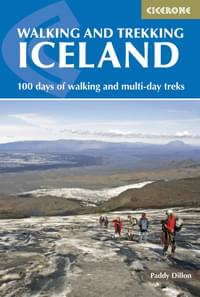 Walking and Trekking in Iceland
100 days of walking and multi-day treks
£17.95
This guidebook to walking routes in Iceland offers 49 day walks and 10 multi-stage treks including the classic Laugavegur Trail. The total of 100 days of routes described cater for most abilities, from waymarked walks to challenging glacier crossings. Information on public transport, accommodation, facilities and budget travel tips also included.
More information
Brexit
The European Health Card (EHIC) can continue to be used while it is still in date. A new Global Health Insurance Card (GHIC) can now be applied for, which will continue to provide cover while on holiday, studying or travelling for business within the EU.
The new GHIC card is free and can be obtained via the official GHIC website. Note however that the GHIC does NOT cover you for necessary healthcare in Norway, Iceland, Liechtenstein and Switzerland.
If you are walking or trekking, you are also advised to take out accident and emergency rescue cover, such as that provided automatically to members of the Austrian Alpine Club, or for a fee through the BMC, or similar. It is currently unclear if The Austrian Alpine Club cover will continue to be free of additional charges for UK members in the future, but for now all is okay.
The use of mobile phones will be more costly and less convenient as mobile roaming charges will be applied.
There is also a requirement for Passports to have at least six months remaining validity and to be less than ten years old, (currently costing £75 to renew), and visas will be needed (in most countries) even for UK citizens if you are staying for more than 90 days in a 180 day period. If you are driving to your walking destination, you will need a GB sticker and are likely to need to apply for a green card to cover insurance abroad.
Details on the UK Government website
Hey ho. On the bright side, with these additional hurdles, it's just possible that you will have the trails, hills and mountains more to yourself. Or, it might be just one big rush to finally be able to get away and do the things we love, once we are all able to travel safely again. One thing is for sure, walking and enjoying the wide open spaces of the outdoors is good for the environment, good for local communities and good for your health, fitness and happiness!
Coronavirus
The Foreign and Commonwealth Office is still advising British Nationals against all but essential international travel.
All non-essential travel (ie holidays) to Europe is still difficult. A traffic light system identifies countries deemed safe for travel, green being the safest, requiring very little in terms of testing and quarantine.

Fully vaccinated adults can expect more freedom to travel and with fewer testing and quarantine requirements.

The UK government has an automatic update service for all travel info. To receive an email directly to your inbox,
Sign up to get an email alert whenever this page is updated.
You must show proof of a completed passenger locator form at the UK border. This applies to UK residents and visitors entering the UK from all Countries. You should complete the form before you enter the UK. You need to show that you have a booked PCR test for the second day after arrival as this is required in order to complete the entry form. Fully vaccinated travellers are not required to self isolate on arrival in the UK.

Visitors from the US to the UK and Europe should check the current guidelines issued by the US Embassy. Restrictions still vary by country, but an excellent resource is the Covid travel guidance for US citizens.
Vaccination certificates
Various countries are looking at 'vaccination passports or certificates'. Cyprus has indicated they will accept fully vaccinated tourists from 1st May. Israel and Greece have agreed a two-way travel corridor. Countries that currently (as at 10 March) have low infection rates and good vaccination percentages include Greece, Iceland, the Balearic islands and Sardinia.
In our opinion...
Booking a holiday is clearly going to be a bit less predictable than in the pre-Covid world, but here are our thoughts, based on a little research we have heard about.
Book any accommodation or trips through a reputable company, rather than doing everything yourself. This may well be a concept new to many of us, but by going through just one company, they will cancel everything for you in one process and give you a full refund, should it be necessary for the lockdown to be reintroduced, or other restrictions placed which prevent you from going on your trip. (The alternative is a series of forms and phone calls to cancel everything yourself, and hope everyone pays up.)
Choose dates that might be less busy if at all possible. Accommodation will be scarce, and not everything will be able to open up immediately.
Booking ahead is a good idea, provided it is through a reputable company who can handle changes, re-bookings and cancellations properly.
It is unlikely that there will be a wide choice of possible European destinations available for travel this summer, so keep a look out for countries with low infection rates and high vaccination percentages, as these are likely to be the first to open up to visitors, probably with the proviso that the visitors have been vaccinated and have had a negative test within three days of travel.
Covid-19 and public transport

It's probably still advisable to wear a mask at all times when using public transport, both in the UK and in Europe generally. Some countries still require mandatory wearing of masks in all public spaces.
On buses, long-distance coaches, ferryboats, ships and trains it's always necessary to wear a mask, keep a safety distance to strangers and only take specified seats. The number of passenger spaces still tend to be limited.
Cicerone has guidebooks for many other areas of Europe, as well as France, Spain, Italy and Switzerland already covered in separate articles related to Covid 19 (see related articles below). Travel for walking and hiking outside of Europe is severely limited for the foreseeable future.

How will Covid-19 affect mountain huts and refuges?

Mountain huts have been open during summer 2020, however various restrictions were in force. These restrictions are highly likely to continue into 2021. We will do our best to update everyone before the main Alpine season begins.
General rules have been:
Maintain physical distancing of at least 2 metres, and provide details to your mountain leader or refuge for future tracking of possible infection. Wear a mask if it is not possible to keep your distance (for example on public transport) and wash or disinfect hands regularly. Stay at home if you have symptoms.
Reduce risk of accidents by staying on marked trails and taking care when crossing snow, and when staying in a refuge, the additional requirements are;
Only visit huts in a healthy condition.
Reserve your place to sleep - no overnight stays without a reservation.
Bring your own: hut sleeping bag, pillow case, disinfectant hand gel. Soap, towel and protective masks. (Attention: CIA huts have duvets and blankets removed and you have to take your own sleeping bag with you.)
Take your rubbish back down to the valley.
Tour of Mont Blanc is planned to be open. See here for updates and further information.
Austria and Covid-19 walking and trekking restrictions
General guidance for hikers and outdoor activities (courtesy of the Austrian Alpine Club) There is a booking system, online or by phone for all reservations.

Slovenia and Covid-19 walking and trekking restrictions
Restrictions such as wearing face masks, and social distancing. Mountain huts are planned to be open to serve food and drinks outside. It is currently unclear if huts will open for overnight accommodation.
Romania and Covid-19 walking and trekking restrictions:
For mountain walking, the Romanian authorities recommend day walks, and activities well within your ability, to avoid unnecessary exposure to rescuers. Also face masks are required on pubic transport and indoors, and social distancing is recommended.
Sweden and Covid-19 walking and trekking restrictions
Up to date tourist information is available here, for staying in mountain huts.
Spain
Wearing a mask is obligatory in all public areas/streets even where social distancing can be achieved.
To read more articles like this get our newsletter
Sign up today for a 20% discount on your next purchase. Join over 30,000 enthusiasts from around the world. If you don't love our mix of new books, articles, offers and competitions, you can unsubscribe at any time. We will never spam you, sell your data or send emails from third parties.