Christmas in Africa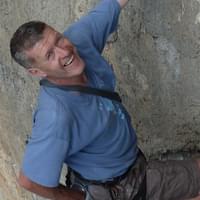 Exotic as it sounds, taking a Christmas break in North Africa can be light on the wallet as well as the stomach. Here, David Wood describes how some new discoveries in the Anti-Atlas have shaped his views about how to spend the festive season.
The long-range forecast was looking remarkably good. Flights and car hire were very reasonable and hotel prices were the same as normal. Okay, we would have to do without Christmas pudding, but what was there not to like?
With two weeks to play with, maybe we would get onto a remote summit and have plenty of time to explore the complex granite tors of the Tafraout back country over Christmas. Perhaps, if luck was on our side, we might find an unclimbed mountain face. All things were possible, if not probable. We had an agenda roughly described as the long, the short and the tall.

The long
Waking up to blue skies in Ait Baha on our first full day set the scene well. We decided that a re-visit to the first stage of the Anti-Atlas seven-day trek would shake off the winter lethargy. By mid-afternoon and in shorts and T-shirts we had covered the off-road section, pleased that it had not been surfaced by the voracious tarmac layer that seemed to have stalked us on previous trips. More preparation and a continued good forecast would surely see us up Tizgut Peak; or would it?
Tizgut Peak (2169m) was selected as it was one we'd avoided on our long traverse of the Ameln summits. Initial explorations indicated that there may be a lot of down-climbing on the east side and so it could be out of character with the multi-day Ameln summits walk that we had described in the guidebook. But we really should check it out. The problem was that we had never spoken to anyone who had been up there or seen anything in print about it and it could be a long day out.
The short
Tafraout beckoned and soon we were reminded why we liked it so much. Driving through town we were called to a halt by the owner of the café and patisserie. Running across the road, leaning through the window and shaking my hand vigorously, he wanted to know where we had been and when we were coming to sample his wonderful breakfasts. It duly passed that every third day we would indulge in his speciality – a 100% vitamin C juice fix, so good that even the local gendarmerie were occasionally found treating themselves.
Tantalisingly placed to entice us, the south-west face of Adrar Mqorn (2344m) seemed to be there at every turn. We had explored the mountain in detail during our guidebook writing and noted on the descent that a wonderful golden shield of rock sat proud on its south-west face. On 18 December we re-gained our fitness on our approach to the foot of the face and although not long and no more than an afternoon's walk, it was steep. The golden rock was there along with many other face routes, chimneys and soaring crack lines leading 1000ft up to the summit. This was indeed 'The tall' but it had been hidden from view by rocky outcrops during our last visit.
The arrival of mine and Halina's friend Ron meant that all things granite were now on the agenda, with at least two day's sport climbing on the local tors a mandatory requirement. Could we mix and match this with local walks?
Across from the Tahala Hills is a ridge that overlooks the whole of the Tafraout basin. Someone had started work on a turreted stone castle but had abandoned the project. Just past this and only 30 metres from the car, a path runs the length of the entire hillside providing one of the best views of the Anti-Atlas that I have ever seen for one hour's worth of effort. It was there but hidden, just like the routes on Mqorn that now looked straight across at us from the east.
Christmas Day dawned clear and bright but with Ron's two bottles of champagne now sitting in the hotel fridge we were reminded of the need to return at a timely hour. As it was, the day was spent on a wonderful walk past the celebrated archaeologically important rock gravure of the gazelle and into the granite tors of Tazga. The wonderful clarity of light, amenable temperature and winter flowers made the day an absolute delight and one that we intend to record for others to enjoy. There were few diners that night in the hotel, the largest in Tafraout, and it was such a shame because the staff had gone to the trouble of putting up decorations and leaving messages of celebration in five languages.
Boxing Day could easily have been a time for exploring the market, where almost anything can be bought, or just walking the newly gentrified avenues of Tafraout and gazing at the attractive new-builds. They mark a re-surgence in civic pride and an attempt to breathe life into high streets at the very time when ours are in decline. As it transpired, we decided to explore a very visible granite tor, previously avoided on the grounds that it would be loose and not worth the effort. After some exploration it did go but held hidden traps for the unwary.

The tall
Enthused by our find Ron, Halina and I planned a return to Mqorn on 23 December. The morning dawned clear but as we reached Ayerd a chill wind gathered pace. A door slammed, dust swirled, a dog barked and a donkey brayed. It could have been the scene for a spaghetti western but we had seen enough. The next day a quick look at the flag of the hotel told us all we needed to know – all mountains to be avoided today.
Time was slipping away and a decision was needed. We had invested time in the big mountain so Tizgut Peak would just have to wait until the next visit. Tomorrow was for Mqorn.

It was now 27 December and only two days until our departure as we stood below the south-west face in the cold early morning shadows. The fine crackline that looked so appealing last week now looked far less amenable. Time passed and we settled on a line to the left. We had little idea how far we would get but by way of optimism we carried our sacks… just in case.
After 30m of face climbing I came up against an awkward block, which eventually went by way of an effective, if ungainly, move. Ron, the best climber in the group, took over the lead for the next two pitches before leaving me to do battle with anther short-lived crux. With full 60m rope run-outs of around VS 4c, we were managing to avoid the major difficulties on the left and by early afternoon pulled out onto a ramp in sunshine.
There was still a long way to go and we needed to be on top by 5pm to give us time to descend. As the angle eased and the grade dropped to 4a/b we made good progress, and by 4.30pm we had only 100m of scrambling to go. Half an hour later we had reached the summit ridge and taken our photos. By 7.15pm we were approaching the car in failing light and by 8.00pm the beers were poured.
In keeping with what appeared to be the theme of the trip we settled on the name: Hidden in Plain Sight 330 m VS4c **. Maybe next time there would be more rich pickings and perhaps, with luck, the 2km ridge we explored in the depths of the Amaghouz Gorge will reveal more of its secrets.
To read more articles like this get our newsletter
Sign up today for a 20% discount on your next purchase. Join over 30,000 enthusiasts from around the world. If you don't love our mix of new books, articles, offers and competitions, you can unsubscribe at any time. We will never spam you, sell your data or send emails from third parties.