Cycling the Danube: Budapest to the Black Sea Part 1
In this first of three articles Tim Salmon describes a journey he and his wife Camilla made along the lesser-travelled lower Danube, from Budapest across Hungary, Croatia, Serbia and along the Romanian–Bulgarian border to the Black Sea at Constanta. This part follows the route from the Hungarian capital Budapest to Vukovar in Croatia.
The Danube rises on the edge of Germany's Black Forest, from where it pours billions of gallons of water and tons of alluvial silt into the north-west corner of the Black Sea just short of Odessa. From the source to Budapest – about half its length – it is accompanied by a dedicated cycle path, free from any other kind of traffic, through beautiful countryside full of wonderful historic, prosperous places: Passau, Regensburg, Linz, Melk, the Wachau, Vienna. From Budapest on it is a different story: Camilla coined the phrases 'Budapestilential' and 'Beldegraded' on bad days in heavy traffic. Yet this is the bit we chose to ride. Why, you might ask, when the upper Danube is so incontestably prettier and more civilized? Well, this is part of the answer. Prettier and more civilized means tamer, more crowded, and less of an adventure.
Fifty years of Soviet Communism has held back the countries downstream of Vienna. They are more old-fashioned, people don't speak other languages and you can't read the signposts: in Hungary you can't read anything. It is harder to find places to stay. Taking a bike on a train in Serbia or Romania is challenging, to say the least. You have to be resourceful, and you need your wits about you.
Because of all this it is much easier to imagine the Danube as the age-old frontier between civilization and barbarism. In Roman times the enemy was on the north bank, the wild hordes pushing into the Mediterranean world from the steppes of southern Ukraine. As Byzantium declined and the Muslim Turks pushed in from the south and east, reaching Vienna in 1530, the Danube became a bulwark against a southern threat.
We wanted to see for ourselves these places where for so many centuries civilizations had clashed and mingled. And mingle they did, Turks, Germans, Slavs, Jews, Greeks, Romanians living cheek by jowl pretty much until the First World War.
Budapest is beautiful, sitting spectacularly astride the Danube. Wooded hills and a castle crown the right bank; on the left all eyes are drawn to the gleaming Parliament building, modelled on London's, behind which stretch broad boulevards reminiscent of Haussmann's Paris. Much is chic and fashion-conscious – and much else is blackened, crumbling and seedy.
We got a taste of the seediness within 15 minutes of arriving. As I went to greet a Romanian friend who had come to guide us to her house, I left the car door open and a shabby-looking fellow nicked a bag containing all our money, passports and camera. I gave chase and luckily he dropped the bag unopened. 'That's Budapest,' said our friend. 'You must be careful. And when you get to Romania...'.
We had decided to follow the guidebook's suggestion and take the train to get clear of the city. We made our way to what we thought was the suburban railway station, but it did not take bikes and we got mixed up in one of those grotty subways that seem to have found a new role as shopping malls in the post-Communist world. There was a ramp down into it and only stairs out of it: not easy to negotiate with conventionally laden bikes, let alone my trailer. Unload, unhitch; hitch up, load up; paranoid all the while about leaving anything unattended.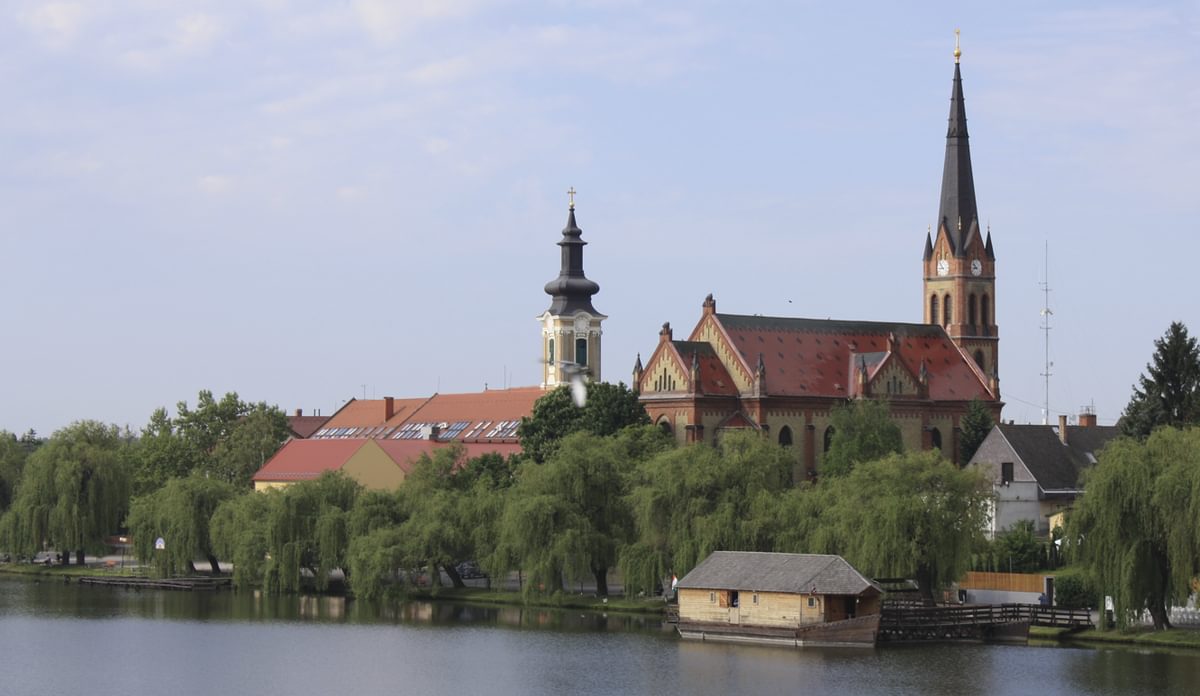 We were told to go to the next bridge. We stopped various people hurrying to work, but no one really understood what we were asking. When we did find the run-down Portakabin that served as a ticket office they told us the track was under repair and the replacement buses could not take bikes. The staff were friendly and amused but communication went little further than smiles. I showed them the map and pointed to the place we wanted to go: Kiskunlachàza – try saying that to a Hungarian in a form he recognises. I understood there was a station for regular trains not too far away, but how to get there?
The name of the station was 'Ferenczvaros', and this I repeated aloud, vainly accosting passers-by and at the same time rehearsing the pronunciation so that I wouldn't forget it. Then suddenly we found it: a once-elegant nineteenth-century rural stop lost now among new car salerooms and derelict Communist-era cement. A station master in a red cap was sitting at a paper-strewn table. It was difficult to feel confident faced with this tiny ill-kept building facing acres of weed-grown track, a handful of travellers waiting with the long-suffering heaviness of people who have learnt never to expect service. Officialdom in the ex-Communist states does not put on a friendly face. A stony, disapproving air is de rigueur, nyet the word you most expect to hear.
A long, rusty procession of carriages pulled in. Was this it? 'Kiskunlachàza,' I said to several people before hitting on the guard. 'No,' he indicated, 'next one.'
Eastern European platforms are so low they leave you with a waist-high climb to reach the carriage floor. This is no good at all for the infirm, the laden – or the cyclist. We got our panniers, bikes and trailer on somehow. It's a panicky business. Nobody queues, nobody wants bikes. You don't know how long the train is going to wait. In the end we refined the technique and could now plausibly be employed to end an embassy siege.
At Kiskunlachàza we scrambled out, mounted, crossed ourselves and started out. We turned south on Highway 51, the main road to Croatia, which was narrow and busy with trucks and cars – buses are particularly bad news – and their drivers are not squeamish about squashed cyclist.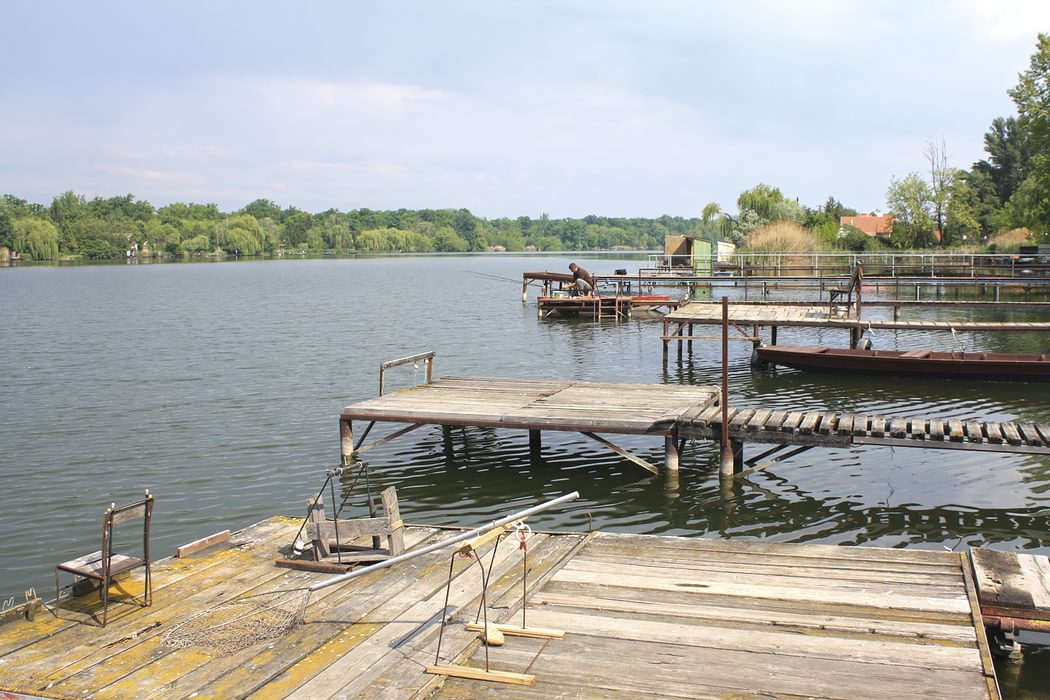 The Radweg and Bikeline cycling maps we carried plot various routes to avoid Highway 51. All are flat; the whole of Hungary is flat and the wide Danube valley with it. The prettiest routes may well be the riverside dyke paths, which the guidebooks recommended as 'alternatives', but we were afraid the surface would be too unstable for a loaded touring bike, so we stuck to the minor roads as far as possible.
We rode through straggling villages of brightly painted cottages. Immaculate gardens of vegetables and fruit trees surrounded each house; people are poor and need to feed themselves. The wide verges are planted with poplar and walnut. All around stretch acres of maize, paprika and blackened sunflower awaiting harvest. You wonder how food production can be problematic with such expanses of fertile land.
The river keeps itself hidden behind screens of willow and poplar. You see lots of bicycles and dedicated, if bumpy, cycle paths run through nearly all the villages. The further you get from Budapest the friendlier people become, stopping their cars to ask if you are lost or warning that it is dangerous to continue on the main road. If you do have to ride a section of main road for some reason, we found that there was a marked lull in lorry traffic between 12.30 and 2pm.
'You should be proud of your wife,' one man said to me. 'Mine won't even bike to the next village.' And he directed us to the dyke path. 'It's gravel for a while, then asphalt all the way to Baja.' We could not find it. An old lady with shiny steel teeth led us on her bike through a village and out to the dyke, the picture of old-fashioned goodness.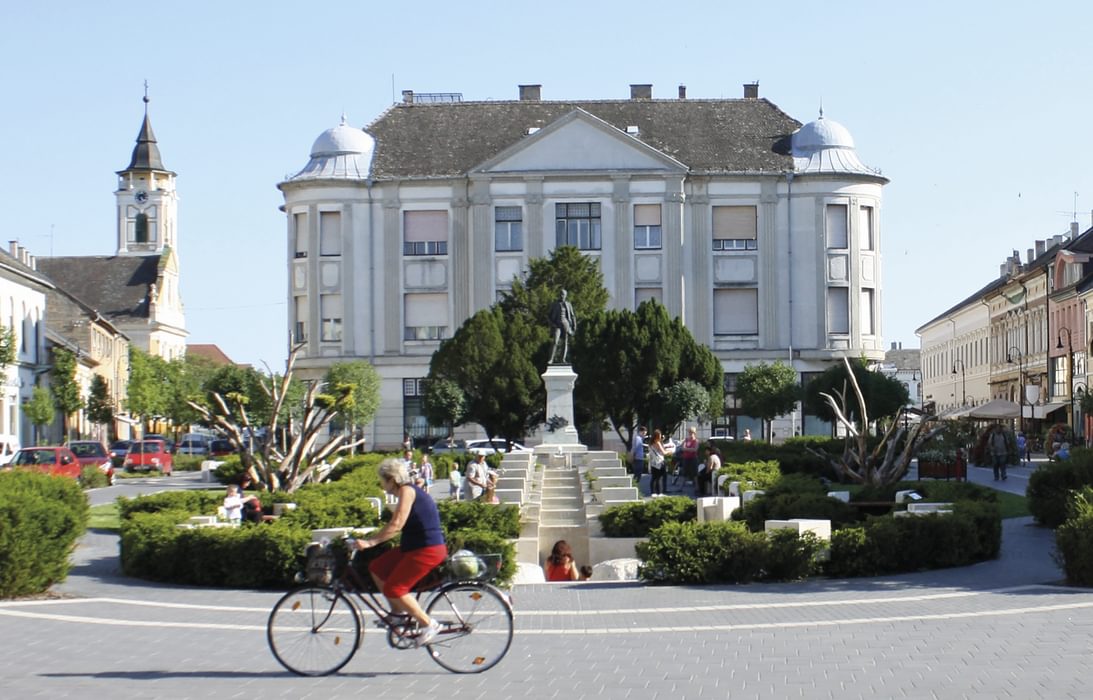 We were not sure at first how far we could ride in a day. We thought we could probably manage 80km without too much pain, which turned out to be the case. You need to know so you can calculate where to spend the night, as accommodation is not everywhere available. Camping gives you more freedom, but there are not many official sites. We met cyclists who were camping wild without difficulty, but doing so brings other problems, like extra weight, food supplies and security.
We decided we would spend three nights in Hungary, the last at Mohács close to the Croatian border. It was a long flat ride in the rain over marshy ground where egrets, herons and cranes trawled in the ponds. A primitive ferry carried us across the river, slewed sideways by the steady power of the current.
Like many other provincial towns we saw, Mohács was surprisingly leafy but centre-less, a phenomenon I have noticed in other ex-Soviet countries, from the Ukraine to Uzbekistan. Pot-holed, tree-lined boulevards screen blocks of flats stretching for miles with no sign of a shop, and no sort of a place which might encourage people to come together. A few dilapidated buildings from the nineteenth century were left by the authorities as a grudging reminder that there had ever been any other way of living.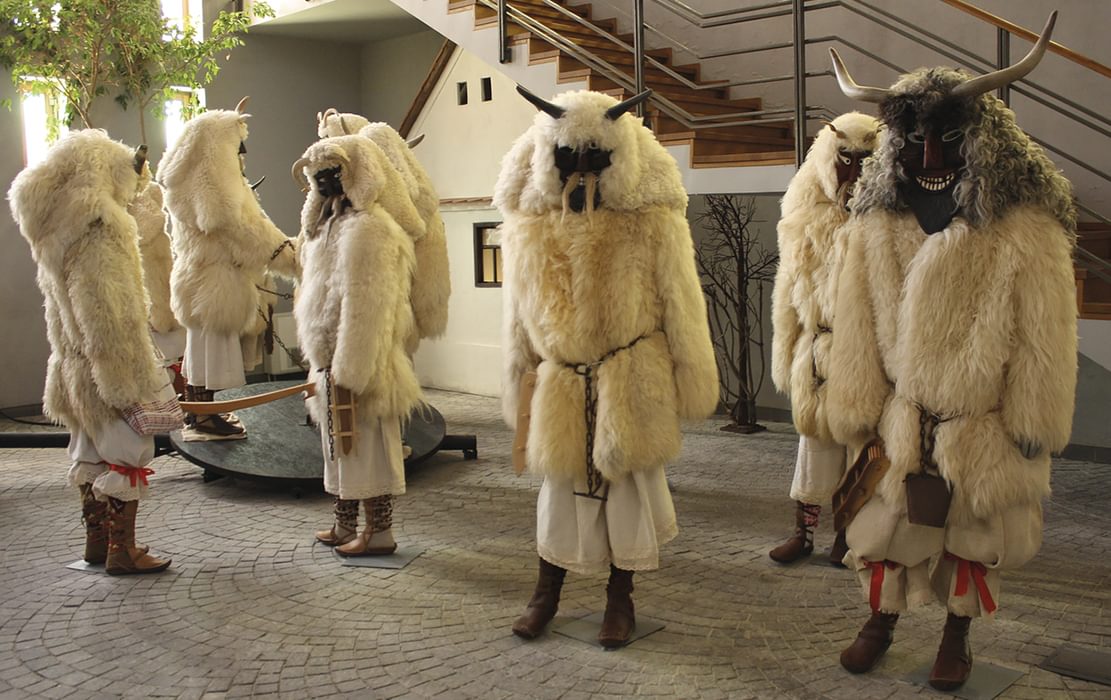 We rode out of Mohács in the morning, past the memorial to the great battle of 1526 that cemented three centuries of Muslim Turkish occupation of the Balkans. As with walking, you can't sightsee on a bike – there's too far to travel – so reluctantly and with a sense of guilt we kept pedalling. At the Croatian frontier post they waved us through; it was the cars and trucks they were interested in.
And at once, as always happens with the arbitrary lines on the ground that are frontiers, everything changed, not just the language. The light, the landscape, the look of the villages, people's attitudes – and the standard of living dropped visibly.
The country was prettier, the fields smaller. Hills appeared and the vast acreages of sunflower gave way to vines as the road began to twist and turn. We dipped into a valley where ducks and geese puddled around in the village ponds and canals. Then we faced our first real, bottom-gear climb, mitigated by a half-way pause to go scrumping in the plum orchards that overhung the road.
We rode through a succession of sun-drenched villages lining the edge of the terrace that limits the Danube's flood plain. People seemed of a happier and more open disposition than in Hungary, and were much readier to speak English. We stopped at a roadside stall to buy tomatoes and fruit for a picnic and the young man refused to take any payment.
The river, although never far away, is bordered here by extensive swamp and marsh. Signs warning of uncleared minefields deter even calls of nature. That was shock enough, but coming into Osijek, our goal for the day, we were further taken aback by the sight of houses roofless and holed by shellfire, the vestiges of federal Yugoslavia's bloody disintegration.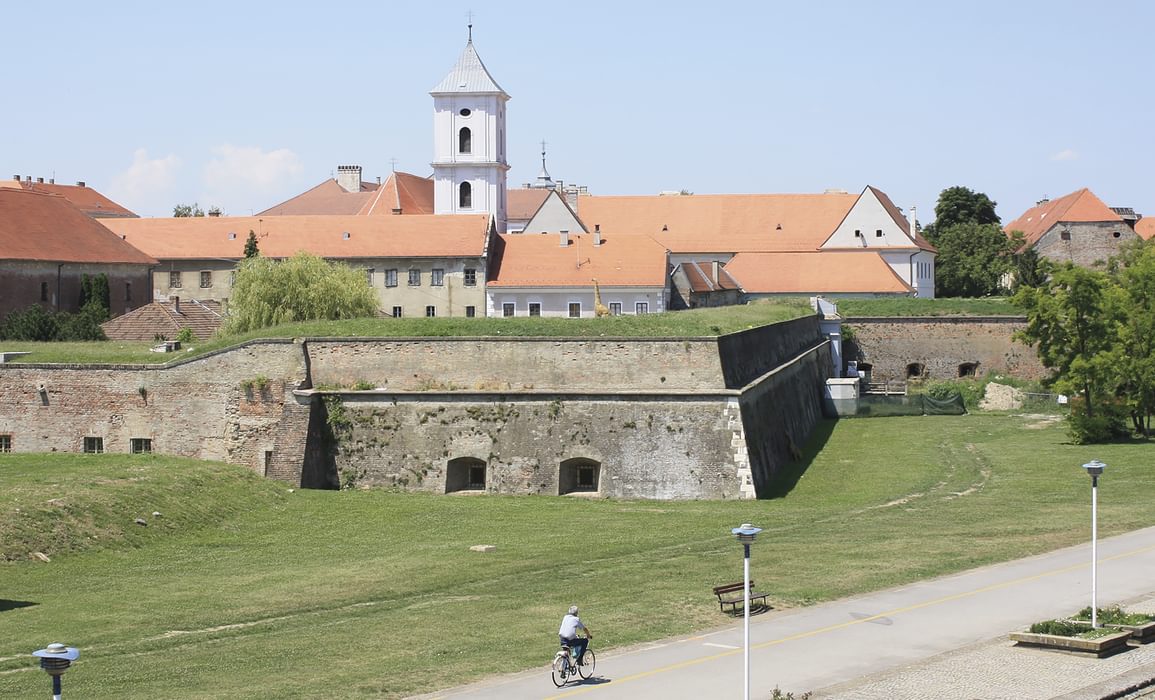 We did not enjoy Osijek. We could not find anywhere to stay and ended up in a pokey overpriced hotel in a characterless 'modern' district, where the receptionist told us about the horrors of the war, how as a little girl she had watched a Serbian tank run over a civilian car and its driver.
This was the forgotten part of Croatia, she said: there were lots of educated young people and no jobs, while wages were a quarter of those in western Europe or on the Adriatic coast.
Vukovar, a short but dull flat ride away, displayed equally distressing scars of war, but seemed a livelier, more optimistic place. There was an international film festival going on. Crowds of slim, fashionable girls milled in the town centre. Were they hoping to be spotted?
The town is on the Danube, its wide sky and sunlit breadth lending a festive air, with boats skimming across and river barges moored as bars, a café terrace with parasols and a riverside park where we met a young French couple cycling to China for their honeymoon. We stayed in a typical Communist monolith of a hotel overlooking the river. There were hardly any guests and the fabric was decaying, tiles falling off the façade, the telephones all down. It had been sold, they told us. One wondered who to.
It is hard to gauge the mood and temper of a foreign place when you have no language and are just passing through. I noticed that the police seemed very much at home on the hotel terrace. That is not something I have ever seen in western Europe. You used to see it in Greece: uniformed police sitting at café tables, often in the company of the owner – they never paid for their drinks. It is a telling sign of where the power lies.
To read more articles like this get our newsletter
Sign up today for a 20% discount on your next purchase. Join over 30,000 enthusiasts from around the world. If you don't love our mix of new books, articles, offers and competitions, you can unsubscribe at any time. We will never spam you, sell your data or send emails from third parties.