The Danube Cycleway Volume 2
From Budapest to the Black Sea
Cycling guidebook to the Danube Cycleway exploring the route from Budapest to the Black Sea, the more adventurous second part of the Danube, suitable for most abilities and bike types. The river route starts in Hungary and continues into Serbia and Bulgaria before ending at Constanta in Romania. The Danube Cycleway is also part of EuroVelo 6 (EV6).
Seasons
can be cycled at any time between April and October, but best in April-June and then September-October: July and August can be very hot
Centres
this is a long point-to-point route with no particular bases
Difficulty
although the route is mostly level, with a few gentle gradients, it is a challenging ride due to the lack of tourist infrastructure, particularly in Romania. There are long distances between places offering accommodation and refreshments, almost no tourist offices or cycle repair shops, and very few rural Romanians speak west European languages. There are long stretches in Hungary and Serbia along unsurfaced flood dykes, although alternative routes are given to allow you to avoid these stages. Otherwise surfaces are mostly asphalt and in good condition, suitable for hybrid or touring cycles
Must See
Budapest: Fishermen's bastion, St Mathias church, Europe's largest synagogue, Liberty monument; Kopački Rit nature reserve: Osijek; Tvrđa fortress: Vukovar civil war memorials: Novi Sad; Petrovaradin fortress; Belgrade: Kalemegdan fortress; St Sava cathedral; Golubac castle: Iron Gates gorges; Golubacki klisura; Gospodin vir; Veliki Kazan; Mali Kazan; rural Romania; Dervent monastery; Tulcea; Danube Delta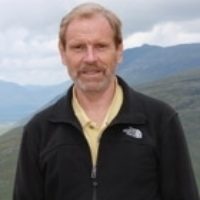 Mike Wells
Mike Wells has been a keen long-distance walker and cyclist for over 20 years. He has walked all the major British trails, the GR5 through the Alps from Lake Geneva to the Mediterranean and has explored the Italian Dolomites' Alta Via routes. He has also walked in Poland, Slovakia, Slovenia, Norway and Chilean Patagonia.
Mike has cycled the C2C route across northern England as well as the Camino and Ruta de la Plata to Santiago de la Compostela. He has completed an end to end traverse of Cuba, a circumnavigation of Iceland and a trip across Lapland to the North Cape.
View Articles and Books by Mike Wells