Cycling the Danube: Budapest to the Black Sea Part 2
This is the second of three articles describing a journey Tim Salmon and his wife Camilla made along the lesser-travelled lower Danube, from Budapest across Hungary, Croatia, Serbia and along the Romania–Bulgaria border to the Black Sea at Constanta. This part follows the route from Vukovar in Croatia, through the bustling Serbian capital of Belgrade to Drobeta-Turnu Severin in Romania.
[Editor's note: Tim Salmon made his journey recounted here in 2010, before route improvements and without the help of the Cicerone Danube Volume 2 guidebook published in February 2016]
At Ilok we crossed to the north bank of the Danube into Serbia rather than stick to the recommended right bank. We wanted to get to Novi Sad by evening. Things started well. Backa Palanka, the first town, was alive with colour and bustle: it was market day and we stocked up with the tastiest grapes and nectarines. I felt more at home: I could use the little Russian I know. Then, riding out of town, we began to hit the traffic, which was worse than anything we had seen so far.
The road was narrow, and there was no hard shoulder. A large truck completely filled one carriageway: had another come along the other way there wouldn't have been room for a ladybird, let alone a cyclist. We stopped at a petrol station for a cold drink and the pump attendant told us we were risking our lives: in 6km, he said, we should turn off on to a riverside path. We did so, with relief.
We were soon in the outskirts of Novi Sad, Serbia's second city, in that twilight zone that surrounds big cities, where people dump rubble, put up corrugated iron hovels and build villas without planning permission. Gradually the haphazardness gave way to order: docks, apartment buildings, a riverside park with beaches where people sunned themselves and swam. Close to the bridge that has replaced the one that NATO bombed we stopped to look at a huge town plan. A middle-aged roller-blader stopped to ask if we needed help. His wife was a travel agent, and within minutes he had booked us a hotel room in the old city centre and told us how to get there.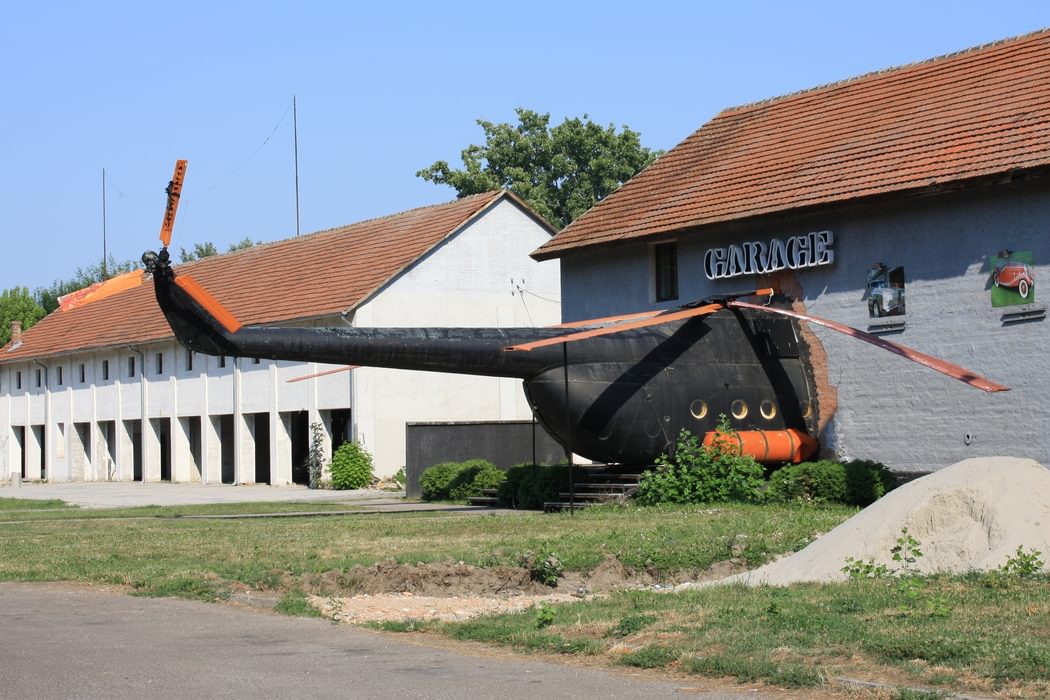 A sleek brown-eyed Serbian student from Osijek received us. She had stayed on after the war until 1998, she said, but the Croatians were full of anger and made life difficult for Serbs. Her brother had stayed to be with his Croatian girlfriend; they had married, had two children and then he died of cancer aged 35. In the morning we were directed to a nearby café for breakfast, where we were served by yet another student, who came into town every morning from his village by the 5am bus. Well- mannered, energetic youngsters who had faced far greater difficulties than us, getting on with their lives enthusiastically and without self-pity: you could not but warm to and admire them.
After our Novi Sad experience we were worried about riding into Belgrade, for the guidebook again warned of heavy traffic, whereas it was just an hour by train. We got tickets for ourselves but there was no provision for bikes. We had no idea what the public announcements were saying. It was Sunday afternoon, and the station was very busy with people returning to work in the capital. That was going to make getting the bikes on board doubly difficult.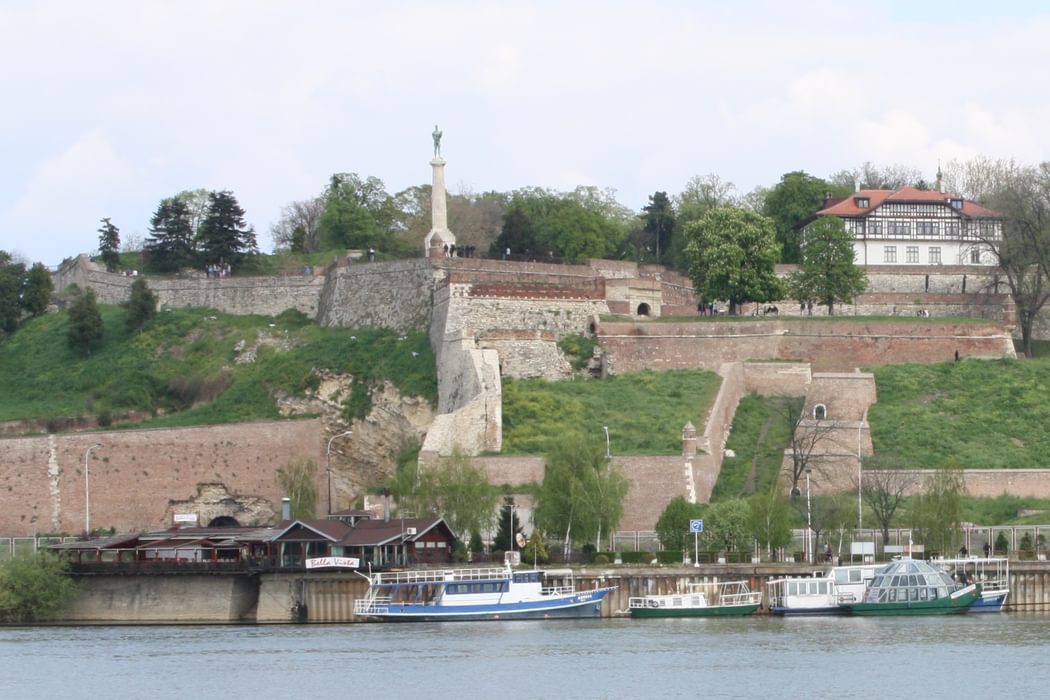 As we waited everyone suddenly started to go down into the subway. A faded blue train with two carriages pulled in on another line. A guard indicated that it was ours and we needed to change platforms. Bikes, panniers, handlebar bags, trailer – we made it, but it was clear that there were not enough places for everyone. I tried to force my way on but there were at least 30 other disappointed passengers milling about. I was just about to go to the ticket office when someone explained that they were going to add one extra coach.
Observing that there were more than enough people still on the platform to fill an extra carriage, we took up a position on the edge of the platform, and the carriage came to a halt with a door right in front of us. Camilla stood back by the bags while I hoisted my bike on my shoulder and, grumbling loudly in Greek – the most appropriate language in such circumstances – used it as a weapon to ensure that I got on the train first. I biffed a couple of people but no one seemed remotely offended.
We had to stand with the bikes in the space by the doors, from where we observed how different the crowd was here. Old women, squat and worn, humble, grumbling; panicky gypsies rushing the doors long before the stops; a willowy girl in what looked like a swimming costume cut high under hipster jeans revealing perhaps too much skin.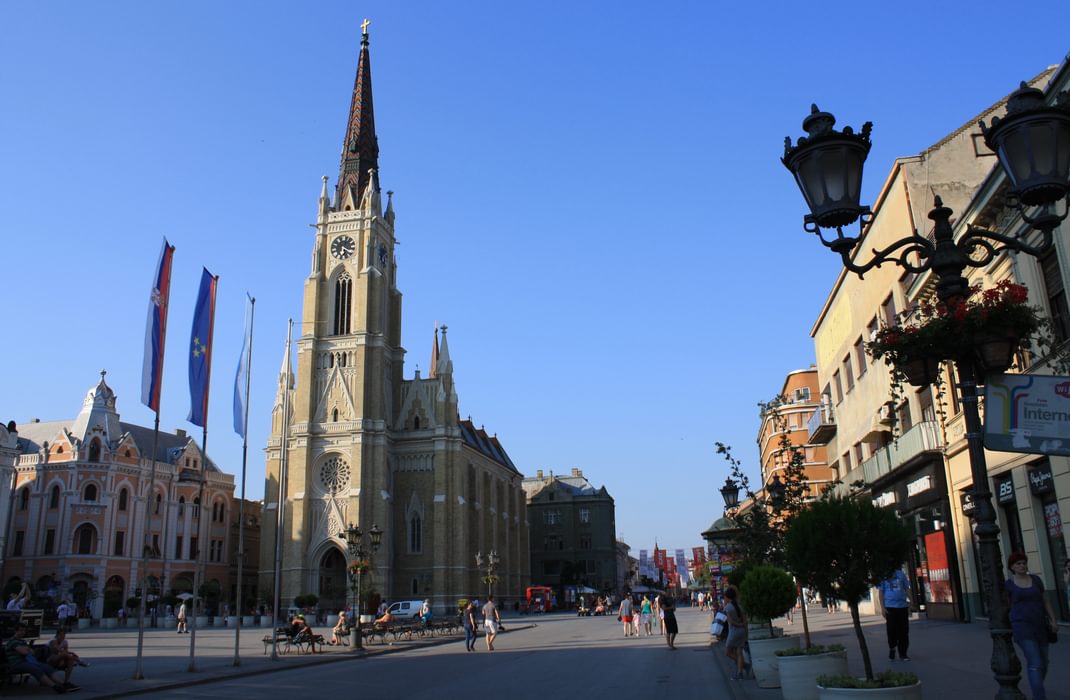 We pressed on through the outskirts of Belgrade, a chaos of shacks, grubby reed-beds, unfinished buildings. We stayed in Belgrade a couple of nights, partly to see the sights and partly to find a way of getting clear of the traffic again. In spite of Communism and subsequent vicissitudes the city centre still exudes a nineteenth-century metropolitan grandeur, in particular the streets round the vast Kalemegdan fortress that commands the confluence of the Danube and the Sava, where the Romans and, in later centuries, the Turks, built their military settlements.
I got the impression that Anglo-Saxons are not particularly well-regarded since NATO's bombing raids against the Milosevic regime. On the bus an elderly lady was pointing out the sights to a young Japanese: 'and there is the American Embassy,' she said, 'with all its windows blocked out on the street. And that burnt-out building opposite was destroyed by NATO.' It was a vast concrete pile, collapsed like a house of cards by a Cruise missile and left, one could not help feeling, as a deliberate rebuke.
Leaving the city was not so easy. It should have been, with the station just up the road from our hostel, but major transport reorganisation had disrupted both roads and railway. I was sent to find a station called Topcider. It turned out, rather like Ferenczvaros, to be a half-forgotten rustic stop in an unkempt park that once had served as a royal hunting lodge. In pidgin Russian I established that there would be a train for Malo Krsna at 7.23 in the morning, starting from there, which seemed improbable, but I did not have the language to carry the discussion further.
And so it turned out. After a long cold wait in the rain our old rust-bucket of a train hobbled along, almost brushing the overhanging trees through undulating, English-looking countryside, past isolated cottages and country halts, at each of which we were received with due uniformed ceremony. At Malo Krsna the guard and a friendly passenger came to make sure we did not miss our stop.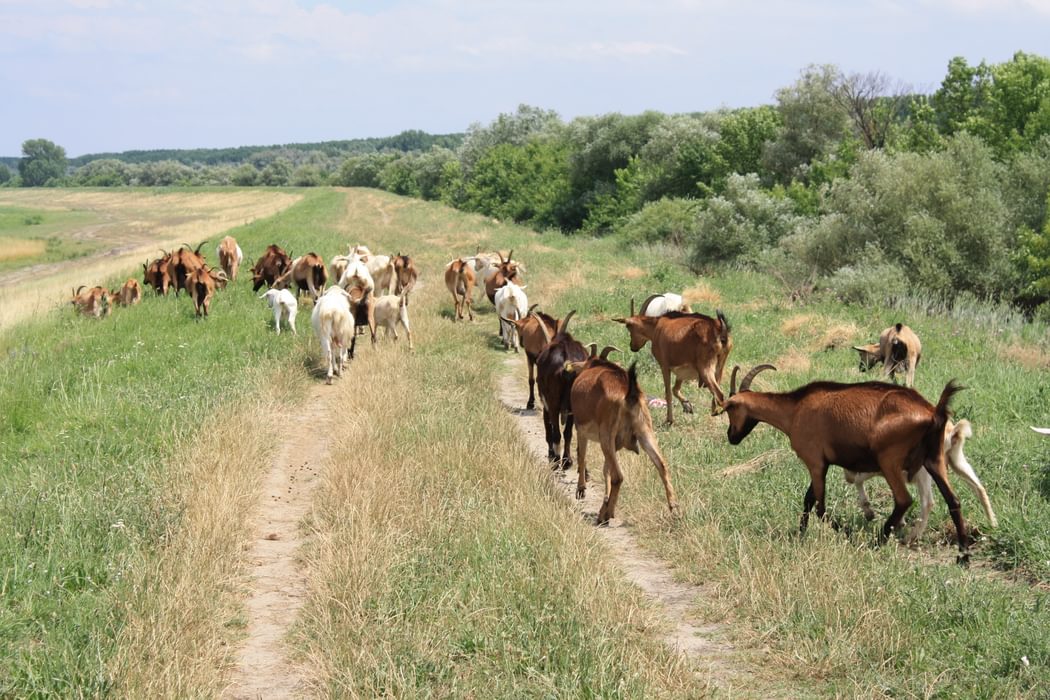 We drank a hasty fruit tea and set off past ragged fields of maize and burnt stubble and a gross post-Communist travesty of a Palladian palace that reeked of mafia money. The going was bumpy, the concrete surface broken and slow. In Pozarevac we stopped for a snack. No one spoke English but everyone wanted to help. On the outskirts of a grim little industrial town the tarmac suddenly gave out and we stopped, bewildered. A bulldozer pulled up and the driver climbed out. 'Follow me' was the gist of his advice and he kept an eye on us for the next hour, even waiting for us at a tricky junction to make sure we did not go wrong.
We were aiming for Ram, where an Ottoman fortress stands guard on the Danube and a modern ferry crosses to Stara Palanka and the Romanian frontier. A Serbian professor from the Japanese University of Kyoto told us that the best route out of Belgrade was to take the north bank as far as Ram, where you have to make a decision: to stay on the north bank and enter Romania or, as we did, stick to the Serbian bank through the narrows of the Derdap gorge where the Danube cuts its way for 100km through the southern reaches of the Carpathian mountains. We chose the Serbian side because it was for so long the extreme northern frontier of the Roman Empire.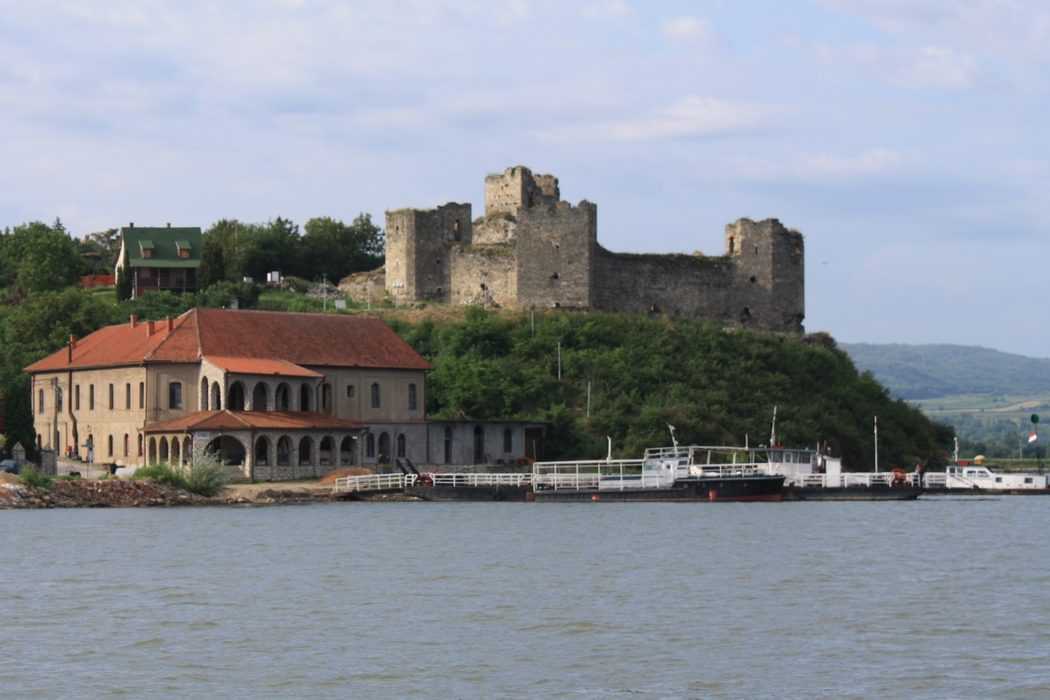 The river is so wide here it looks more like a lake. There is a massive back-up of water because of the Communist-era dam downstream at Sip, which has essentially wrecked the ferocious majesty of the Iron Gates, where the voluminous rush of this huge river once squeezed, at almost unnavigable speed, through a gap scarcely 150m wide.

We spent two days in the gorge, with a couple of 10km climbs to 200–300m altitude and a series of more than 20 unlit tunnels, some (but not all) straight and short enough never to lose sight of the day: these were not pleasant, and lights of some kind were essential, but luckily there was not much traffic. Scenically this was the most spectacular part of our journey, with wonderful views of the river, but sadly the Roman military road has been completely drowned by the raised water level and the Latin inscription that commemorated it, although raised above the water, can only be seen from the river.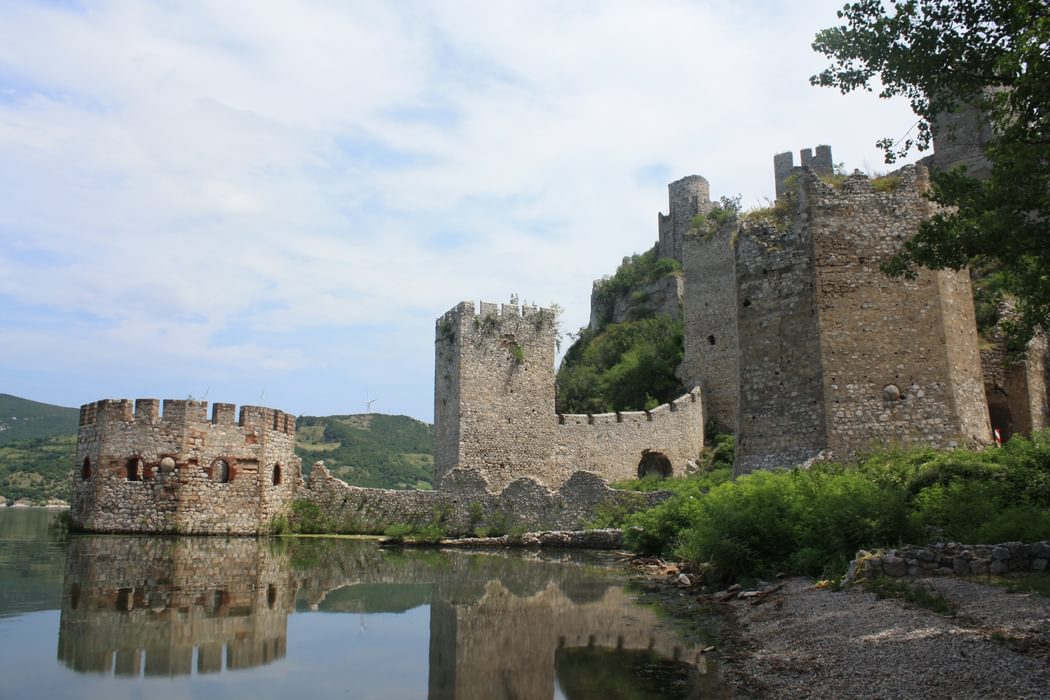 At Sip we crossed the dam and entered Romania. There was a proper old-fashioned frontier, with a long queue of motorists being given an old-fashioned Iron Curtain hard time. We were waved straight through, into heavy traffic and roadworks. At one point a bus, luckily travelling slowly because of the traffic, pushed me off the still sticky surface of new tarmac and down a 30cm drop onto the remains of the old hard shoulder, wrenching the trailer off my rear hubs and nearly unseating me: not the last unpleasant traffic experience in Romania.
Past acres of derelict factories we rode into Drobeta-Turnu Severin and stopped at the Hotel Continental, a classic Communist pile, with vast mirrored foyer and poky rooms out of sight upstairs, the kind of place I would not think of going to in western Europe. But here there was nothing else, and it cost under €30. Surprisingly, for what on the face of it is a bourgeois and pretentious establishment, no one baulked at the appearance of sweaty cyclists bringing their machines and their cumbersome luggage into the marble hall.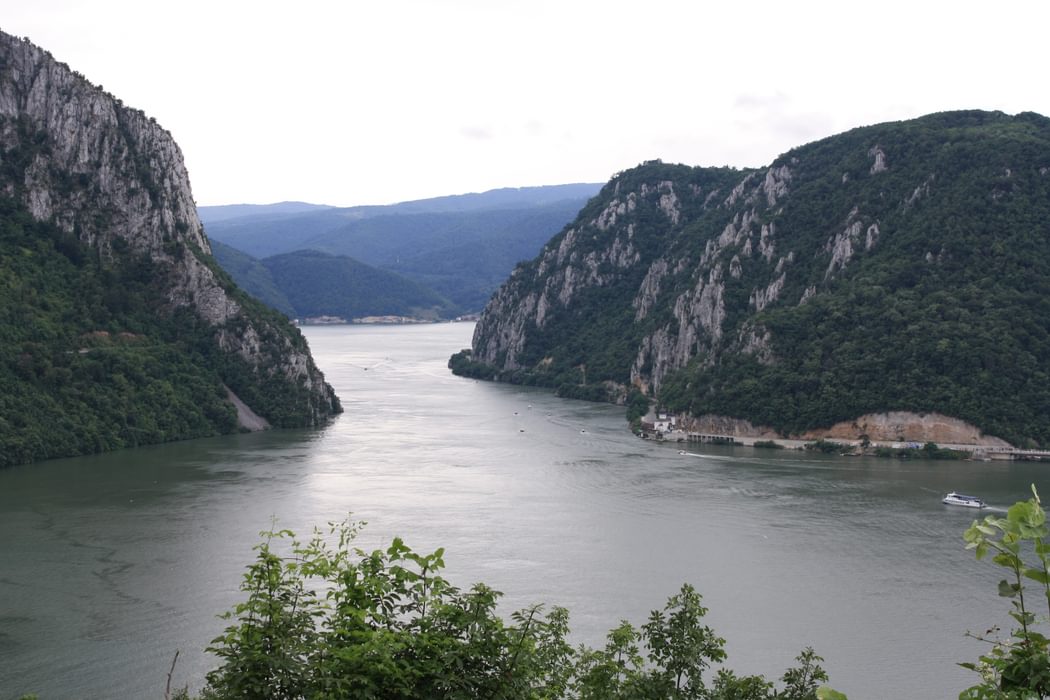 We went down to breakfast at 6.30, ready for an early start. To our surprise the dining room was already full, with more than a hundred Romanian OAPs tucking in to gargantuan breakfasts. They surged round the self-service tables piling their plates with omelettes, boiled eggs, sausages, ham, cheese, pancakes, salamis, cakes, far more than they could possibly eat, which back at their tables they shovelled into barely concealed doggy bags. Within minutes there was not an olive to been seen. A cheery waitress, with some English learnt on cruise ships, took us in hand and found us a place close to the kitchen doors. 'They always do this,' she said. 'You sit there and I'll bring you what you want.'
Within minutes of the OAPs' departure a party of 80 young athletes arrived. The tables were replenished and emptied again. Sitting next to us, slightly embarrassed by this display of rapacity, were a group of German Romanians – descendants of Swabian Germans who had been encouraged to settle in Transylvania in the early middle ages and whom Ceaucescu, short of foreign currency in the 1980s, had had the wizard wheeze of selling back to West Germany for 11,000 Deutschmarks per head!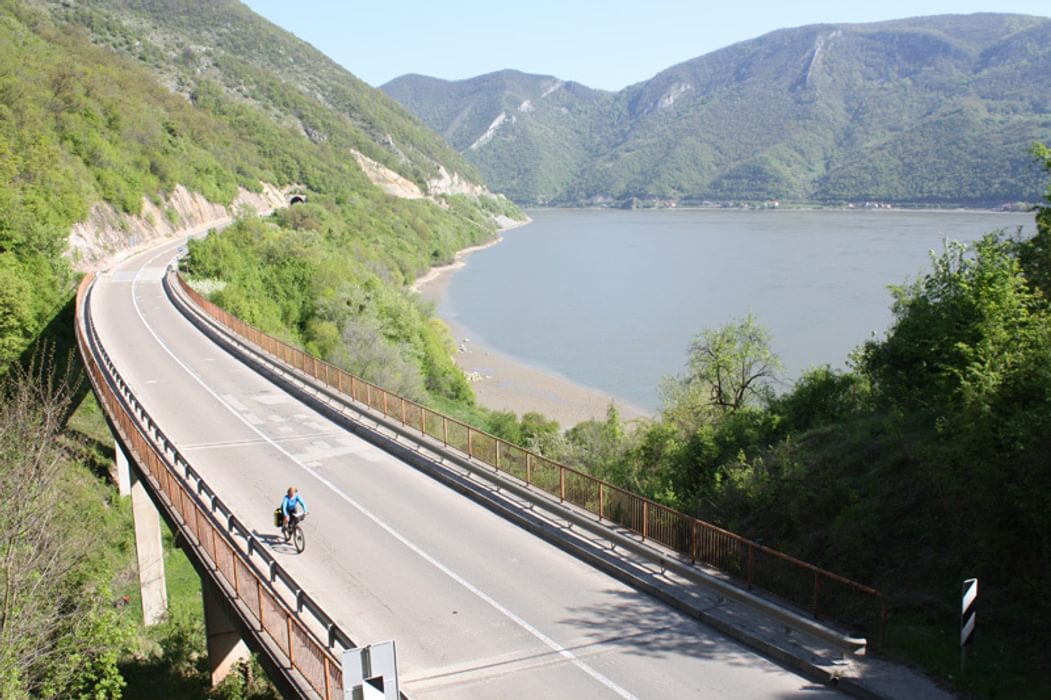 It is worth stopping sometimes to linger in these unprepossessing-looking places, so we changed our plans and stayed an extra night. Not that there were any spectacular sights, although I did want to see the forlorn remains of Trajan's great bridge, the first ever built on the Danube, in ad105.
You will find that, among the dreary workers' flats built of adulterated concrete and cheap materials and the vulgar, glittery cafeterias that are supposed to herald the modern age, there are still streets of gracious nineteenth-century villas, brightly painted and decorated with elaborate plaster curlicues and filigree tin work. There is a baroque municipal theatre, and here and there Art Deco houses survive from between the wars. If you go on to Braila at the beginning of the Danube delta you can see, in the gorgeous if battered palaces which survive, the wealth accumulated by the largely Greek merchants trans-shipping the agricultural produce of the Danube plains on to ocean-going vessels bound for Sebastopol, Constantinople, Smyrna and Alexandria.
There is a new Carrefour, where the mouth-watering smells of France assailed us: but the prices were way beyond the pockets of the natives, who shop with peasants selling their own produce in the covered market and in boxy little cubicles round about. There is a museum, pathetically dilapidated, but full of fascinating material, Danube flora and fauna and folk art and of course important Roman stuff, including a splendid model of Trajan's bridge. Outside in the grounds are the remains of Drobeta, the Roman bridgehead fort, with a couple of battered piers from the once magnificent bridge.
To read more articles like this get our newsletter
Sign up today for a 20% discount on your next purchase. Join over 30,000 enthusiasts from around the world. If you don't love our mix of new books, articles, offers and competitions, you can unsubscribe at any time. We will never spam you, sell your data or send emails from third parties.