Cycling the Danube: Budapest to the Black Sea Part 3
This is the last of three articles describing a journey Tim Salmon and his wife Camilla made along the lesser-travelled lower Danube, from Budapest across Hungary, Croatia, Serbia and along the Romania–Bulgaria border to the Black Sea. This part follows the route from to Drobeta-Turnu Severin, through rural Romania to Constanta on the Black Sea coast.
[Editor's note: Tim Salmon made his journey recounted here in 2010, before route improvements and without the help of the Cicerone Danube Volume 2 guidebook published in February 2016]

Downstream from Drobeta the river swings in a great arc south and the guidebook warned of a long gap without accommodation. We took to the trains again: another adventure. The station itself was surprise enough, a super-modern structure with electronic information boards and touch screens worthy of the French railways. With the aid of a genial clerk we learnt that we could get to a place called Turnu Mugarele a couple of hundred kilometres downstream, with one change at Rosiori Nord. Only problem: no tickets for bikes. 'But you can take bikes on the train?' 'Yes. You make an arrangement with the conductor.' 'You mean, pay him?' The clerk laughed. 'Romania,' he said, 'This is Romania.'
I do not like this business of bribery. Back at the hotel I asked the receptionist what she would do. 'I earn €140 a month,' she said. 'A railway guard may make €150. So, a €10 bribe is a substantial addition to his wages. Remember that.'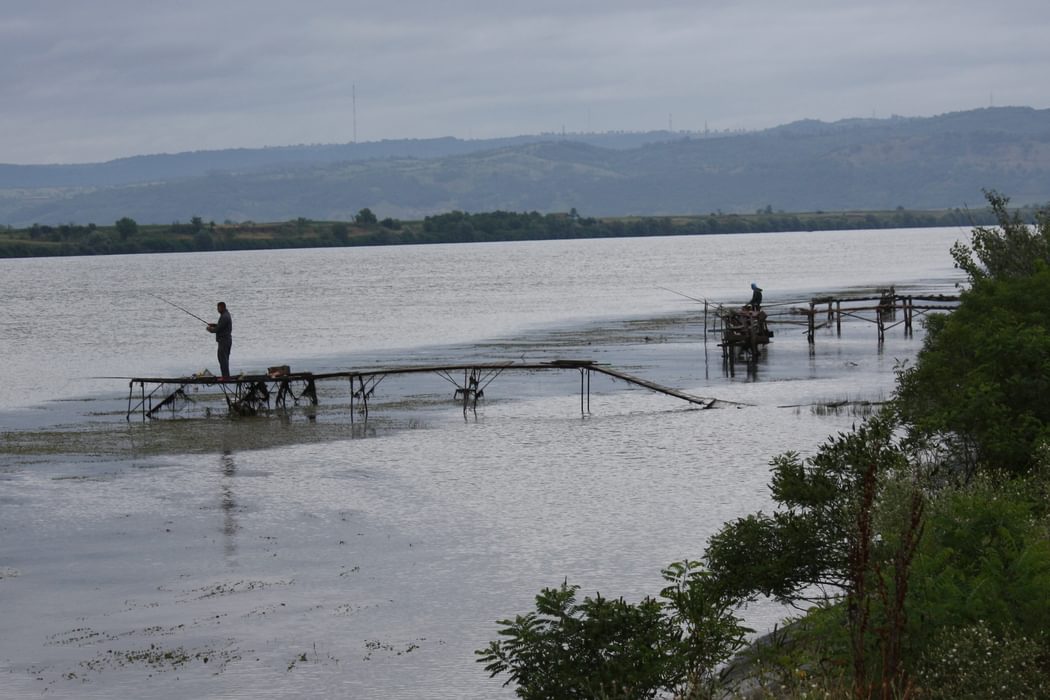 The hotel was gearing up for a wedding party, an all-night do with 120 guests and a live band. When we went down for breakfast at 6.30 we passed the bride, dishevelled and exhausted: she'd been the last to leave the party, as, we were told, custom requires. This morning our fellow-breakfasters were a coachload of middle-aged German cyclists, and if nothing else works in Romania, the hotel caterers certainly know how to put on a show.
We got on the train without hassle and bustled across pretty, hilly country, past derelict collective farms and decaying factories, tiny peasant smallholdings, lots of horses, lots of fallow land; there was neither the manpower nor the machinery to cultivate it. And then the guards appeared, one a big bully and the other weedy and ineffectual. 'Are those your bicycles?' 'Yes,' I said, 'but they told us at the station they did not have tickets for bicycles.'
Mobile phones were produced and the guards went out into the corridor. Was it a charade? A pretty young girl with a Jean Seberg haircut smiled sympathetically at us. I asked her in English what the guards had been saying on the phone. 'Oh, they were asking about your bicycles.'
We heard no more for a couple of hours. I thought perhaps we had got away with it, but approaching our station they reappeared. 'You have to pay 70 leu.' The moment had come for my prepared speech. 'That seems to me prea mult, very much, considering we only paid 80 leu for two people.' The bullying one made a face that said 'too bad'. 'Okay,' I said as loudly as possible, invoking all bystanders as witnesses, 'if that is the price, of course we'll pay, but please give me a ticket and a chitansa, a receipt?' There was a moment's silence and the ineffectual one said, in a lowered voice, '30 leu, without chitansa.' I handed over the money and they left at once. No one said anything, but there were some amused looks on the faces of other passengers.
The towns we passed looked awful: shanties, shacks, packs of stray dogs, derelict factories and filth. At Rosiori Nord we changed onto a couple of rickety carriages that stopped everywhere. In a scruffy field on the outskirts of town we passed a fair and the carriage filled with dark, lean, raffish gipsies a little the worse for wear. They dropped off at lonesome stops in the wide featureless landscape of blackened sunflowers and burnt stubble.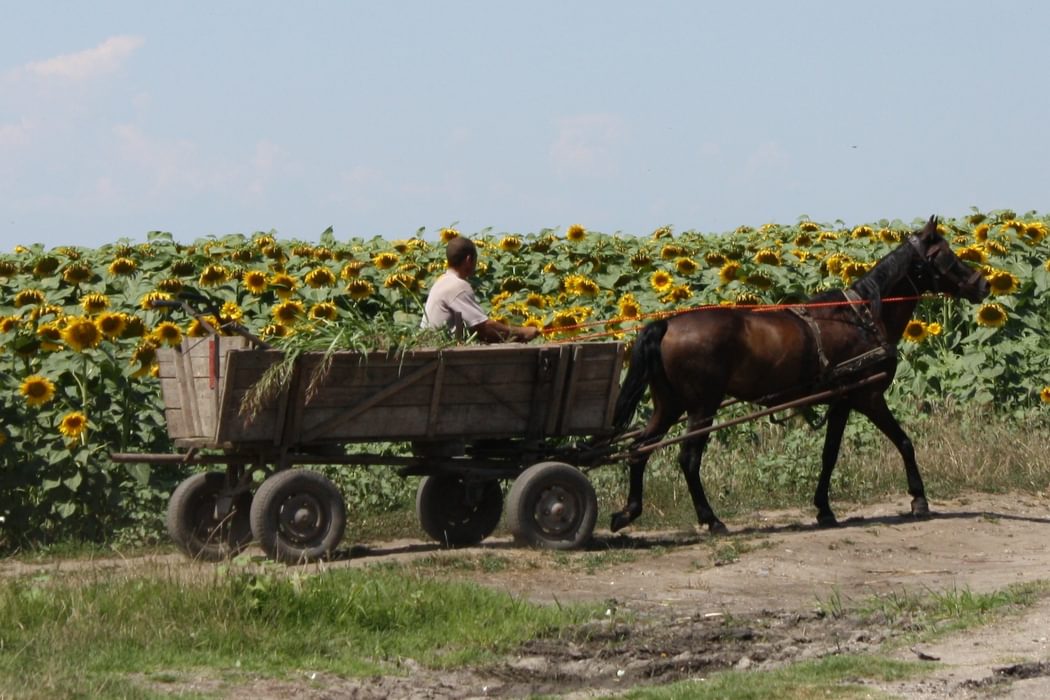 Turnu Magurele was another leafy, slow, rather other-worldly town with no centre and a Communist-era hotel. We met the German cyclists again, as well as another wedding party and a solitary, heavily laden Englishman, on his way to Saudi Arabia, whom we took out to dinner. I dined again on tochitura, my favourite Romanian dish, of pork and polenta crowned with a fried egg.

The Danube, never more than a mile away, manages to remain largely out of sight: all you see is the dark line of the poplar screen in the broad flat valley bottom and beyond the darker hills of Bulgaria rising against the horizon. On the Romanian bank the road and villages stick to the shallow scarp that serves as a natural levée to the flood plain. The going is mainly flat but punctuated, when you are least expecting it, with some sharp little climbs. Flocks of sheep and geese grazed in the roadside pastures. It was harvest time and the roads were busy with horse-drawn, rubber-tyred, V-bottomed carts piled with golden corn cobs or stacked with hay, the drivers sprawling on the top with cheery abandon. There were not many youngsters among them.
The villages string out along the road, for miles sometimes, almost running into each other. Children called out and waited in the road to touch hands as we rode by. The houses are all bungalows, brightly painted, with porches and fancy plasterwork, each with its carefully tended garden of vegetables and fruit trees. The mirabelles were ripe and no one seemed to mind if we stopped and helped ourselves from the trees overhanging the verges. Shops were few and far between. We stopped for the occasional drink and were not allowed to pay: everyone told us 'Vreau sa v'ajut': 'I want to help you.'
Approaching Ziminicea we passed the infamous Belene island, used by the Bulgarian Communist regime as a concentration camp for getting rid of jazz musicians, philosophers, shopkeepers, hard-working peasant farmers and other such enemies of the people. In the town itself we passed a funeral, the open coffin towed on a flatbed trailer by a tractor and followed by a procession of mourners on foot, the men all wearing a piece of cloth pinned to the shoulder of their jackets – a custom for which I cannot find a satisfactory explanation. It was barely lunchtime so we picknicked under a tree, waved at by the passing carts, and decided to keep going to Giurgiu, making our longest day yet, at almost 120km.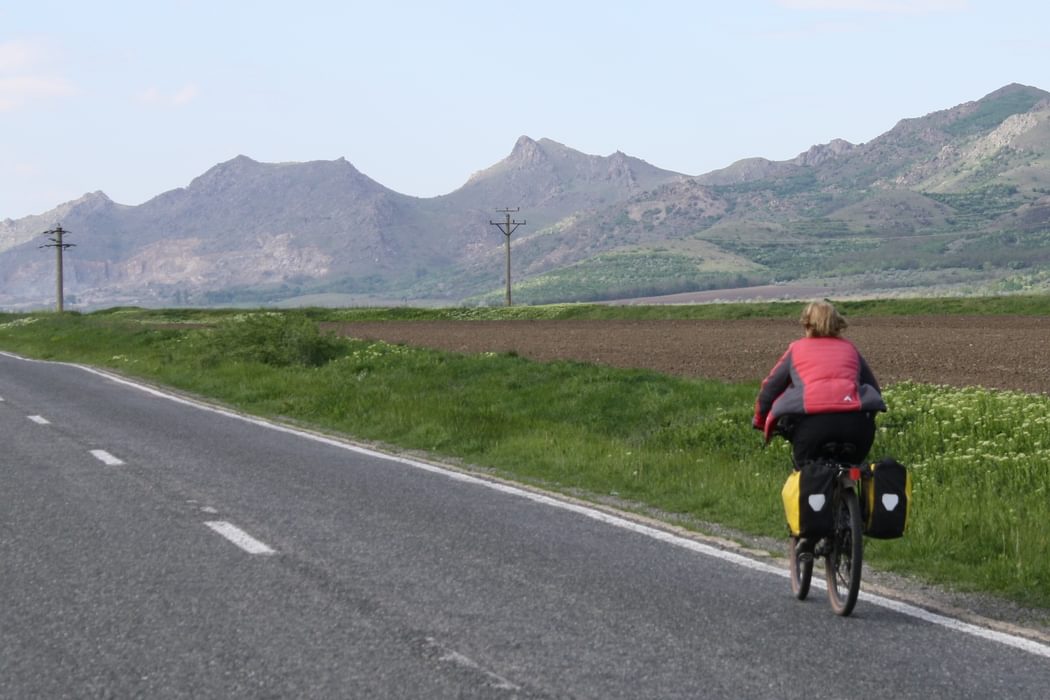 This part of the world is completely off the map of our Anglo-centric education and culture. The big riverside towns, especially the ones on the Bulgarian side – Vidin, Ruse, Silistra – were for centuries busy cosmopolitan centres of commerce and culture with mixed populations of Jews, Germans, Genoese, Greeks and Turks in addition to the various Slavs. The Russians too meddled in their affairs, seeing them as the key to capturing Constantinople, which they had long wanted to do on the pretext of protecting millions of Orthodox Christians suffering under the yoke of the Muslim Ottoman empire. In fact the Crimean War really began here when the Russians laid siege to Turkish-held Silistra in 1854 and the Sultan reminded his men of the duty against the unbelievers.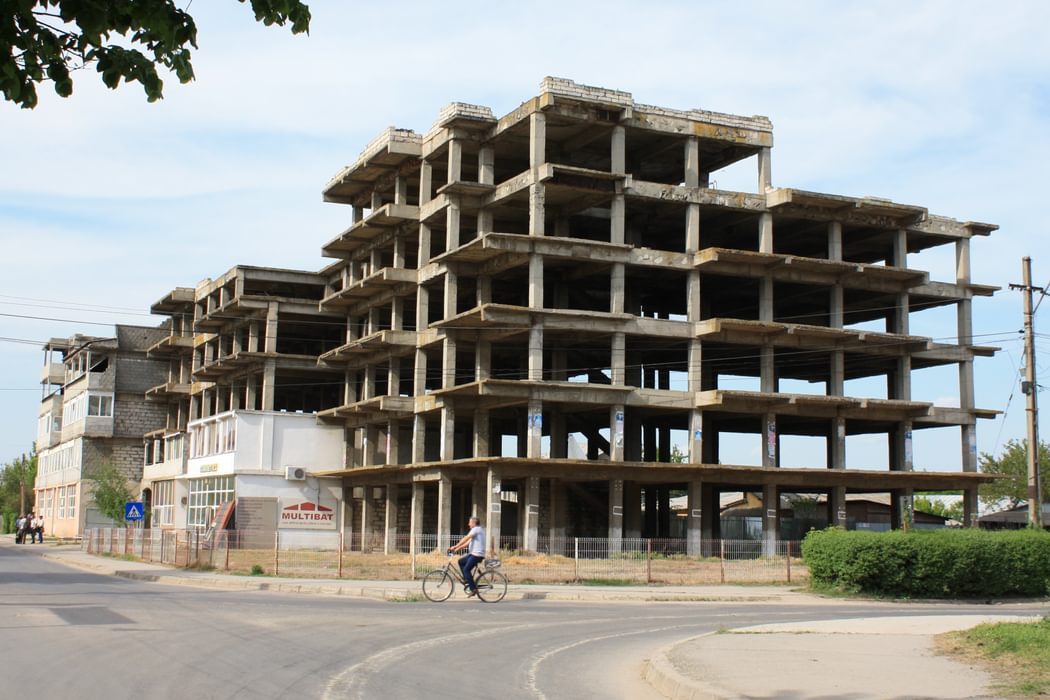 At Calarasi we took the ferry across to Silistra. The border skirts the edge of the town and the ferry lands you just on the Romanian side. And here began the toughest two days of the trip.

It was cold and overcast and we had clearly landed in an out-of-the-way and neglected corner of Romania. The view over the Danube and its many islands was beautiful, as for the first time in days we began to climb to higher ground, but the road surface was hellish, with long stretches of cobbles that shook bike and body to the core and made steering extremely precarious. We reached a median altitude of around 100m, but were frequently interrupted by testing climbs and further stretches of cobbles. Passing the monastery of Dervent cheeky little boys lay in wait for my wife and tried to pinch her as she laboured uphill in bottom gear. And just as we were beginning to enjoy the consolation of a long, long descent the tarmac gave way to cobbles again, slowing us right down to 5kph. The Danube bore away to the north towards its delta – you can go that way – while we turned east towards Constanta and the Black Sea.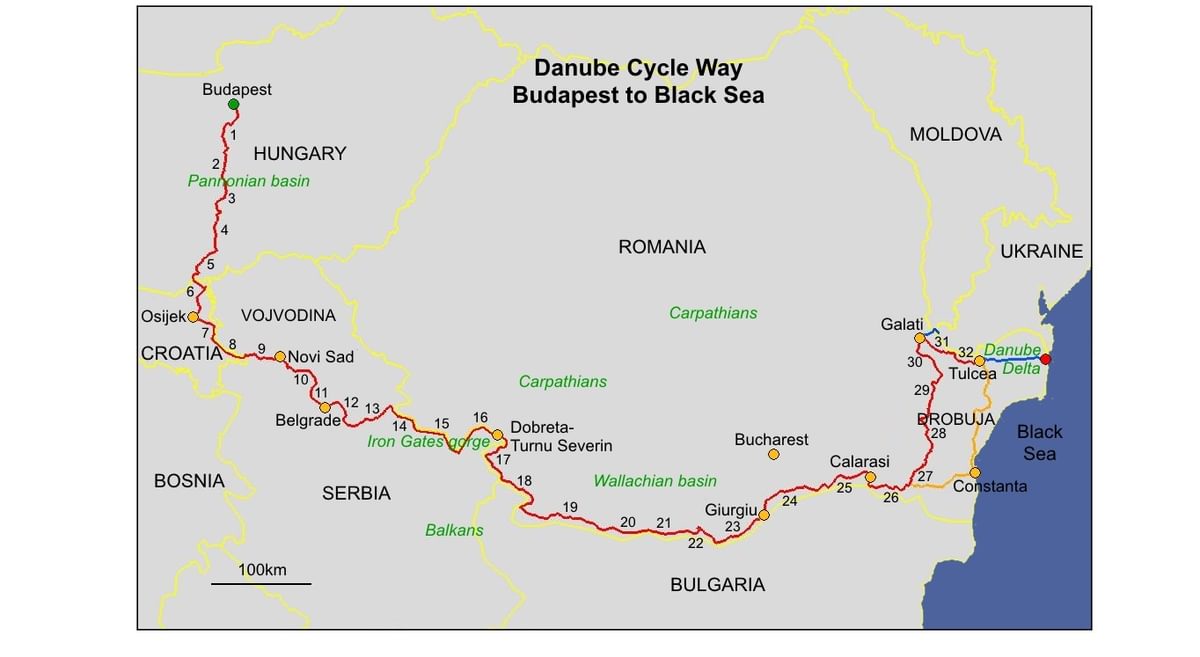 The wind got up, not just the headwind that bugs cyclists in all weathers and latitudes, but a real one: one that stopped us in our tracks when we stopped pedalling. I tried to persuade myself that it was just an afternoon wind caused by local conditions and we laboured on through more villages, which were less frequent and poorer than any we had seen to date. Ragged children called 'Nu vreti nuci?' from the roadside: 'Don't you want walnuts?'
Our last night on the road we spent very enjoyably with two young German cyclists in a B&B on the outskirts of a nowhere village called Ion Corvin. In the morning we left early. I saluted Trajan's triumphal monument from a distance as we struggled up into the village of Adamclisi: nothing would have induced me to ride the extra couple of kilometres to take a closer look. The wind blew all day, cold and steady and sometimes laced with rain, forcing us down to 11 or 12kph at times. If we stopped, we got cold.
Approaching the main road from Bucharest to Constanta we pulled into a lean-to truck stop, just the kind of place guaranteed to give you the runs, and ate two helpings of the most delicious grilled meatballs I think I have ever tasted. We crossed the Danube–Black Sea Canal, passed our first mosque and hit the four-lane highway: a 20km battle with a ferocious cross-wind and crazy traffic. Some of the time there was enough hard shoulder to get off the road and some of the time you had to watch out for huge coverless manholes lurking close to the kerb.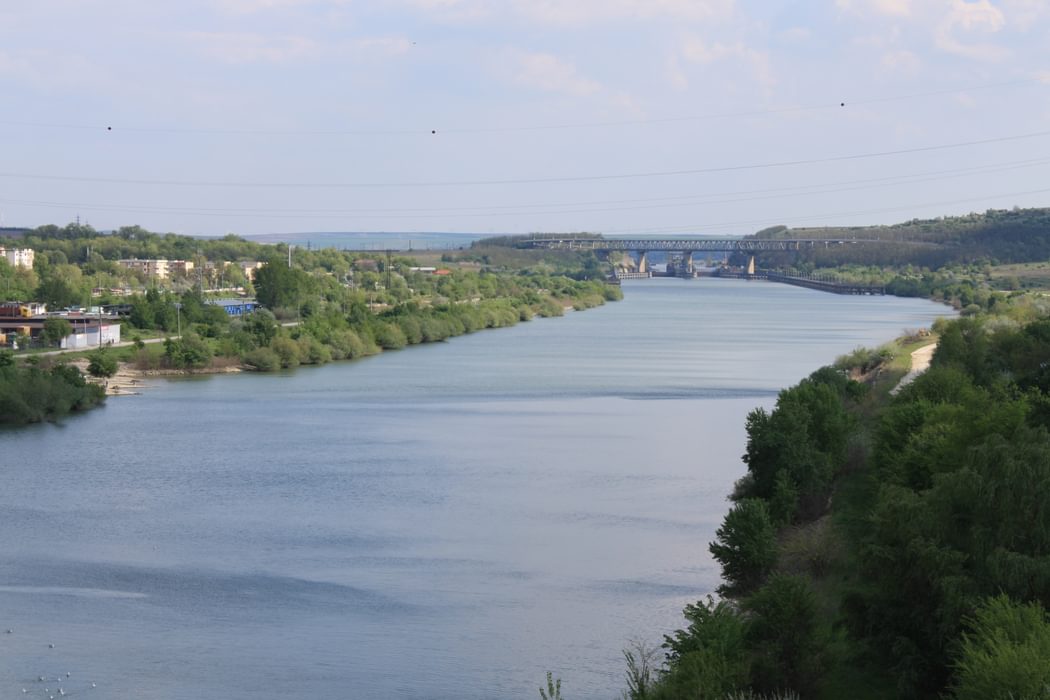 Our German friends caught us up and we rode into Constanta together, through the city centre and straight to the cliffs above the magnificent curve of beach where the white waves of the Black Sea rolled in under the lash of the headwind. Journey's end.

Was there a sense of achievement? I guess so – and some sense of relief, too, that we didn't have to face either the traffic or the wind again. There was also a little, niggling regret that weren't going to keep on to the end, to the delta and the very mouth of the great river: but that would mean another 150km on bad roads, and you can't get beyond Tulcea on a bike anyway: you have to take a boat, to Sulina, the last straggly, run-down little village, where there is a cemetery full of Scottish midshipmen and Greeks and other foreign sailors, testimony to the once rich pickings of trade on the Danube. On the way to Tulcea you pass the extensive remains of the port city of Istria, the first Greek Black Sea colony, established around 600bc, now forlorn, reed-girt and silted up.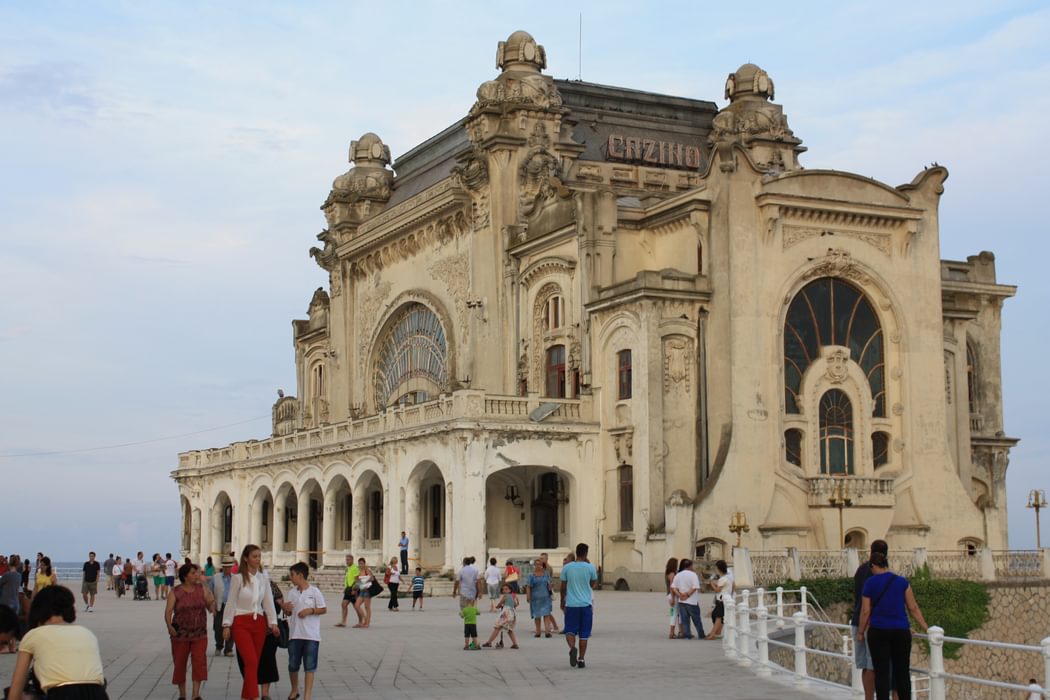 I like Constanta. Its physical charms have been largely wrecked by Communism – the fate of nearly all the once great cities of the Black Sea, except for Sebastopol – and it has lost its Greeks, who for two and a half millennia provided both the commercial zing and the civilizing influence in these places. But it feels young and lively: there is a definite sense of renewal. Its ties with Turkey are strengthening again, as in Ottoman, Byzantine and more ancient times. The Black Sea, after all, is only a pond.
Practical information (valid Aug/Sept 2010)
Money
ATMs are available everywhere.
Shopping
Outside the main towns, food shops offer limited choice.
Accommodation
These are the places we stayed in. Prices range from €9 to €80 for two. We were not particularly careful, usually just grateful to tumble into the nearest decent-looking establishment. In the smaller places there is little choice, and on the whole you do not feel you are getting good value for money. It is probably worth trying to find rooms in people's houses. All the following provided secure shelter for our bikes.
Dunfoldvar: Hidfo Pension, right by the bridge, c.€25. Looks discouraging, but actually fine. Kalosca: Club Hotel, on main street, €40. Very nice.
Mohacs: Pension immediately left of ferry landing, opposite modern hotel, c.€28.
Osijek: Millenium Hotel, €80, in unattractive part of town and not worth it.
Vukovar: Hotel Dunav, c.€58, on the river bank, near good riverside café–restaurant.
Novi Sad: Mediterraneo Hotel, €60, between Danube bridge and National Theatre; very nice. Belgrade: Friends Hostel, €50, near the station, but in a noisy, unattractive building; expensive for what is essentially a youth hostel.
Veliko Gradiste: best to stay in one of the small hotels at Silver Lake, a riverside holiday complex about 2km from the village, with a good restaurant (I don't remember the name!).
Golubac: Hotel Grad, €30; riverside, great view, dodgy restaurant.
Donji Milanovac: private room, €9; very nice – info from very helpful tourist office in town centre. Zlatni Ribitsa is a good restaurant.
Drobeta-Turnu Severin: Hotel Continental, c.€40; clean Communist pile overlooking the park. Turnu Magurele: Hotel Turris, €45, in city centre.
Giurgiu: Prietenia ('Friendship') Motel, near railway tracks, €27, with breakfast; bearable. Hotel South nearby is new, but snooty about accepting bikes indoors.
Oltenitsa: Golden Restaurant, €23 for a nice room and, I think, breakfast. The restaurant was good, too. You can see it from the dual carriageway that forms the main street.
Calarasi: Hotel Calarasi, €37; classic Communist pile, close to the riverside park and the Town Hall. You have to keep going quite a long way along the road into town.
Ion Corvin: Pension Vivi, at the gas station at the entrance to the village. Clean and friendly place. I don't remember the price: not expensive.
Other cyclists have assured me that there is now accommodation between Dobreta and Calafat and Turnu Mugarele, the bit we skipped on the train.
Bike spares and tools
We were given the name of a specialist bike shop in Bucharest: Veloteca, Sos. Iancului 100, sector 2 (http://www.veloteca.ro), and there must be something in Budapest and Belgrade. In an emergency you can probably find a handy mechanic in most places: these countries are used to making do. The road surfaces can be rough, but we had no punctures (I got three in a week on returning to London!).
Take a basic tool kit, with some spare inner tubes and brake blocks. No need for tyres if yours are in good condition. Duct tape and Velcro are always useful. Also a rear light and, I would say, a head torch for the tunnels. And locks: we had no trouble, but best to take no chances.
Traffic
Most of the way there is little traffic. However, where there is, you need to be very careful (yellow waistcoats are a minimum requirement: we had pennants behind). Entering and leaving Novi Sad and Constanta is alarming; Calarasi was too, although it is not very big. We chickened out with Budapest and Belgrade but, if the guidebook's recommendation is anything to go by, they will be difficult too. Narrow roads, poor surface, lots of traffic and little regard for cyclists! But don't let that put you off the trip.
Guidebooks
We had Bikeline's Danube Bike Trail 4 and Verlag's Donau Radweg maps, Budapest to Constanta, the latter with text only in German, which I can't read, but which is probably rather useful. The Bike Trail guide is not always clear. The route is signposted, although not always where you need it. We did not get seriously lost. [Note, there is now a Cicerone guidebook to this part of The Danube Cycleway]
To read more articles like this get our newsletter
Sign up today for a 20% discount on your next purchase. Join over 30,000 enthusiasts from around the world. If you don't love our mix of new books, articles, offers and competitions, you can unsubscribe at any time. We will never spam you, sell your data or send emails from third parties.