Discover the Stunning Gower Peninsula
Gower, a peninsula in South Wales just 25km by 13km, is a superb walking destination offering great variety of routes with hills and ridges, fantastic views and stunning beaches.
Gower boasts some of the most scenic beaches anywhere in the world and was justifiably selected as the first Area of Outstanding Natural Beauty in the UK in 1956.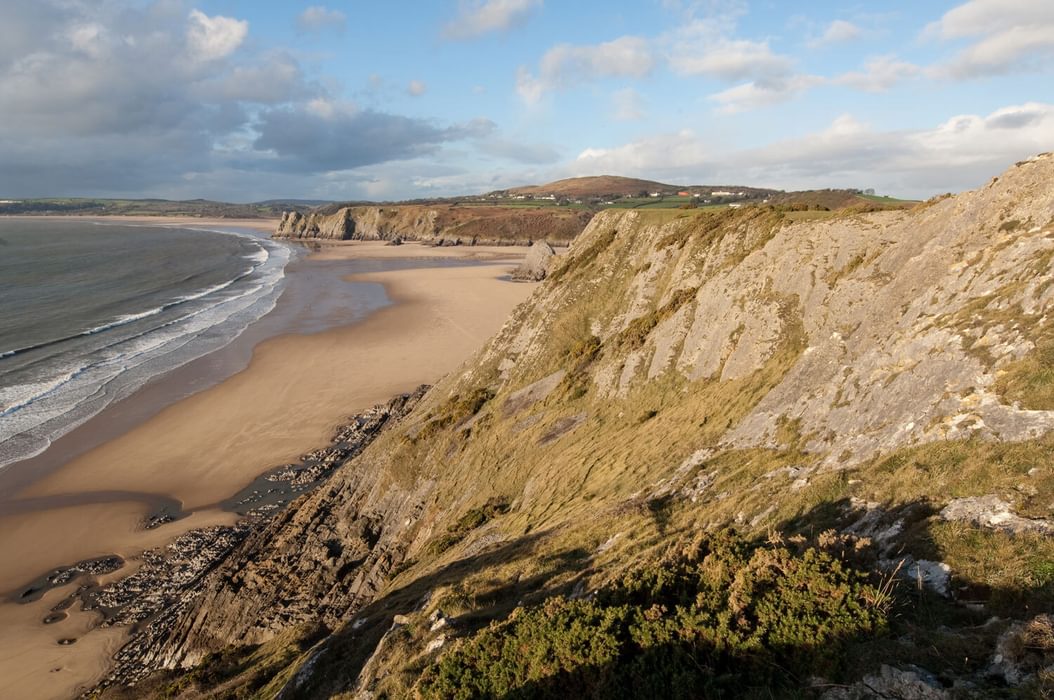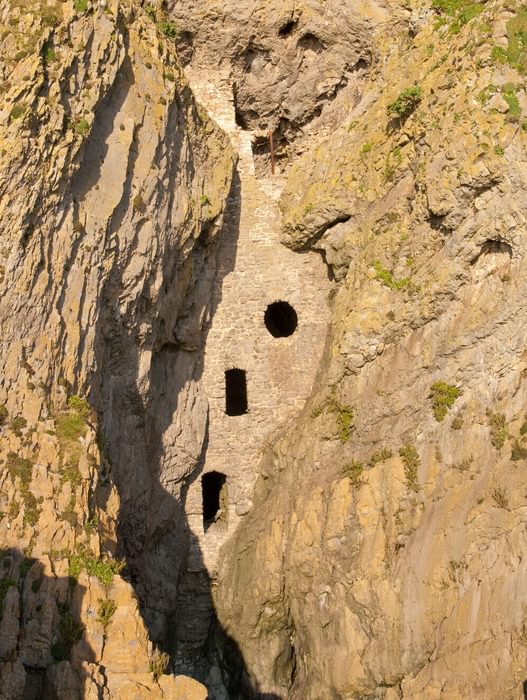 Easily reached by the M4, nothing could be more surprising than discovering the exceptional quality of its unspoilt landscape, especially after passing through the heavily industrial area of Port Talbot.

This is excellent walking country for families as most walks visit one of the stunning beaches.

The southern coastline has many golden sandy bays such as Langland, Caswell, Oxwich and Port Eynon and the spectacular Three Cliffs Bay. Numerous secluded coves, flanked by impressive 200 foot limestone cliffs, are waiting to be discovered.
The most beautiful of these, and my personal favourites, are Fall Bay and Mewslade near Rhossili. The beaches are busy during the peak summer season but the cliffs and inland paths remmain quiet throughout the year.
Winter can be particularly spectacular as the huge storm waves break on the offshore reefs and beaches.
The western coastline comprises Rhossili Bay, one long 4.5km surf beach where the tide seems to go out for miles. In fact, the Bristol Channel has the second highest tidal range in the world with a difference between high and low water of 10.5m on the biggest spring tides of the year.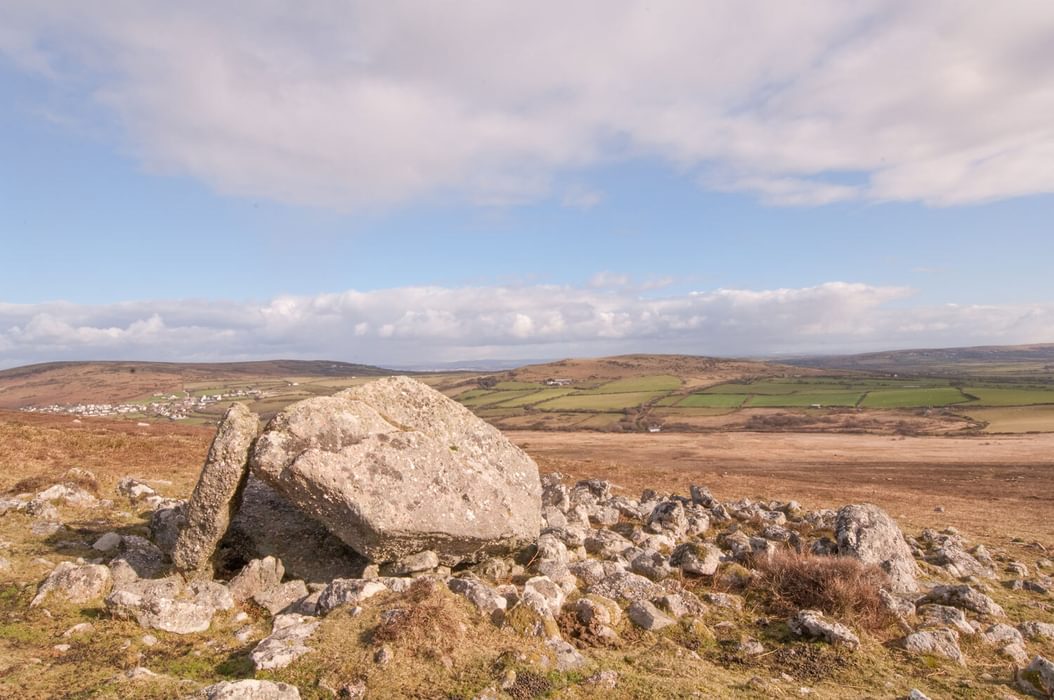 Numerous ships have been wrecked here and there is always the chance you may discover treasure from the infamous Dollar Ship as you walk eagle-eyed along the shore at low tide. The big tides not only expose sandy stretches at low water but a fascinating rocky reef for rockpooling.
The northern side of the peninsula is totally different in character and a great place to escape for a tranquil walk. It is bounded by the Loughor Estuary and commences with Whiteford National Nature Reserve in the west with an extensive salt marsh running along the coast to the east.
Many may conjure up an image of Gower as a bucket-and-spade destination but the interior holds many gems worth discovering. Wooded valleys lead up from the coast with their streams playing hide and seek as they disappear and reappear when they cross the soluble limestone.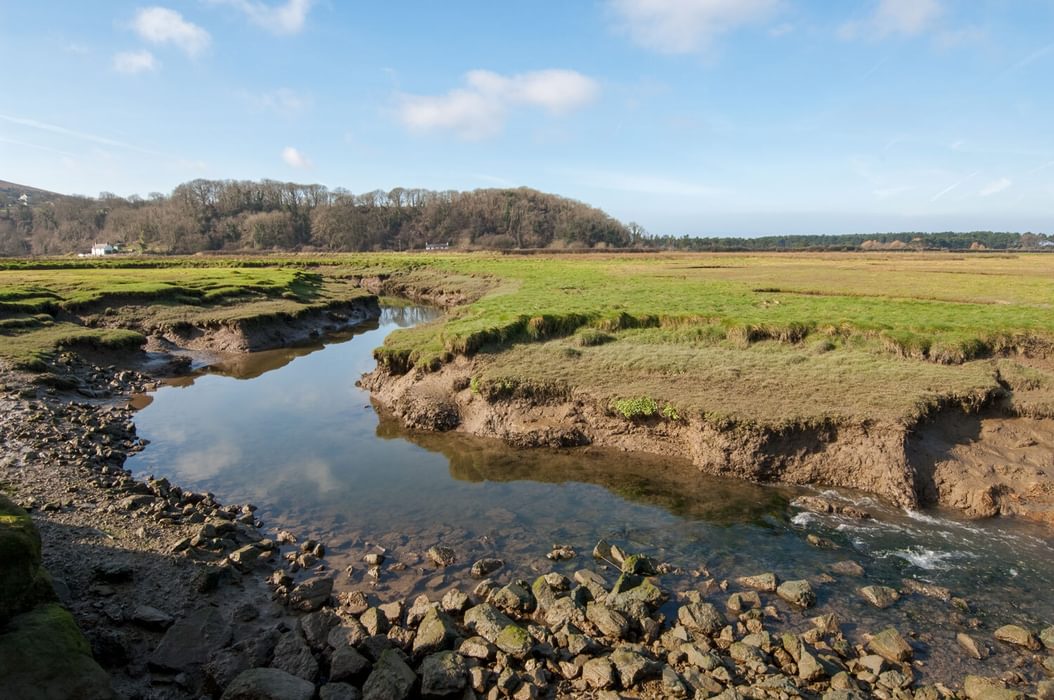 Bishopston Valley is the most spectacular of these with a mysterious dry river bed that only has a stream in one section when a massive swallow hole overflows. Arthur's Stone, a Neolithic burial chamber on Cefn Bryn, is the most impressive of the archaeological features on Gower.
Parc-le-Breos was a 13th Century Norman deer park that now has a majestic collection of ancient oak and ash trees, which are a fine sight in their autumnal colours. Perched on the valley side of Green Cwm is Cathole Cave, an easily accessible cave that was first used by man nearly 40,000 years ago.
Gower is famous for these bone caves, which were once used by man as shelter as they foraged for weird and wonderful animals such as narrow-nosed rhinoceros and straight tusked elephant.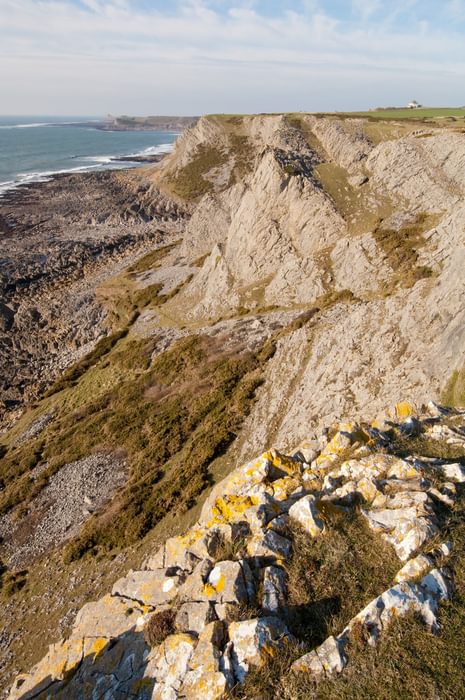 Just about everywhere you go you will find Gower brimming with history. There are numerous castles to visit at Mumbles, Pennard, Oxwich, Penrice and Weobley and many Norman churches.
Just about every headland and summit had Iron Age forts and the remains of these can be seen today. One adventurous route is to cross the tidal causeway to Worms Head, named for its resemblance to a giant sea-serpent that really lives up to its Viking name wurm, meaning a limbless dragon.
Make sure you check the tides as you may end up cut-off just like Dylan Thomas did. He was born in Swansea and Gower and its people were often the inspiration for his stories and poems. He frequented many of the pubs in Mumbles and Oystermouth at the western end of Swansea Bay.
The first train in the world once ran along the promenade from Swansea City to the pier at Oystermouth. The tracks have long gone but the tarmac surface is excellent for cycling or roller-blading around the bay.
Just over the hill from Mumbles is Langland Bay with its 75 iconic Edwardian beach huts.

Gower is blessed with rich wildlife boasting three National Nature Reserves, 18 Wildlife Trust Reserves and three Local Nature Reserves. Oxwich NNR is famous for its collection of wild flowers, particularly orchids, in the dunes behind the beach.
Gower Coast NNR runs along the stretch of coast from Port Eynon to Rhossili, which has breathtaking views and the chance to see the charismatic chough.
I thought I had the best job in the world when I was paid to have a picnic lunch on the top of the Outer Worm while compiling the management plan for this reserve.
A totally different atmosphere reigns at Whiteford Burrows NNR with its dunes and saltmarsh, a hauntingly beautiful place to be on an early morning when the plaintive calls of curlew fill the air.
Useful Links
Accommodation
Pitton Cross Caravan & Camping Park near Rhossili
www.pittoncross.co.uk
01792 390592
SA3 1PT
Low season £18-£19, mid £20, high £23. Electric hook-up £3 a night.
Three Cliffs Bay
Close to Three Cliffs Bay, Pobbles and Tor Bays
http://threecliffsbay.com
01792 371218
SA3 2HB
Low season £26, high £28
Nicholaston Farm
Close to Oxwich, Three Cliffs and Tor Bays
www.nicholastonfarm.co.uk
01792 371209
SA3 2HL
Low season £20, High season £22.
Carreglwyd Camping and Caravan Park
Adjacent to Port Eynon beach
https://www.porteynon.com/
01792 390795
SA3 1NN
£22 per night

Venue to see!
Dylan Thomas Centre
Arts centre located in a beautiful building in the Maritime Quarter. Holds many literary events throughout the year.
http://www.dylanthomas.com/
01792 463980
SA1 1RR

To read more articles like this get our newsletter
Sign up today for a 20% discount on your next purchase. Join over 30,000 enthusiasts from around the world. If you don't love our mix of new books, articles, offers and competitions, you can unsubscribe at any time. We will never spam you, sell your data or send emails from third parties.