7 Reasons to Escape to the Costa Blanca in Winter
Come the end of the year, the endless rain and short, cold days start to wear us down. A quick fix is needed to get us through the UK winter and Spain has always been our go to destination.
Why Spain? In a nutshell, it's a very sunny place. Particularly the south-east coastline.
When? October – April is best, and if looking for that winter pick-me-up, it's best to get over there sometime during late autumn/early winter, that no mans land in the run up to Christmas party time.
How? By far the easiest way to reach the Costa Blanca is to fly into Alicante airport and rent a car. It is possible to go overland by train and certainly worth considering if going for a couple of weeks or more.
Where? The coastal resorts offer good value accommodation that is plentiful during the off-season. These are quite built up, so if looking for peace and tranquillity consider staying a few miles inland. The Jalon valley and Sella areas being ideal bases.
What to do? Oh there is so much to do, it can feel like an endless supply of amazing days out. So let's take a quick peek at what's on offer.
Costa Blanca Weather
Perhaps the main reason that enables all of the below options, is the weather in the Costa Blanca. Suitable for walking, running or adventuring in the mountains, you're sure to get far more sun than you would in the UK.
The Costa Blanca boasts an average of 320 sunshine days per annum, which means it is an ideal place to visit when the UK winter blues begin to get you down. You'll also be visiting in an off-season, as highlighted earlier, which means you're likely to avoid crowds and potentially save yourself some money.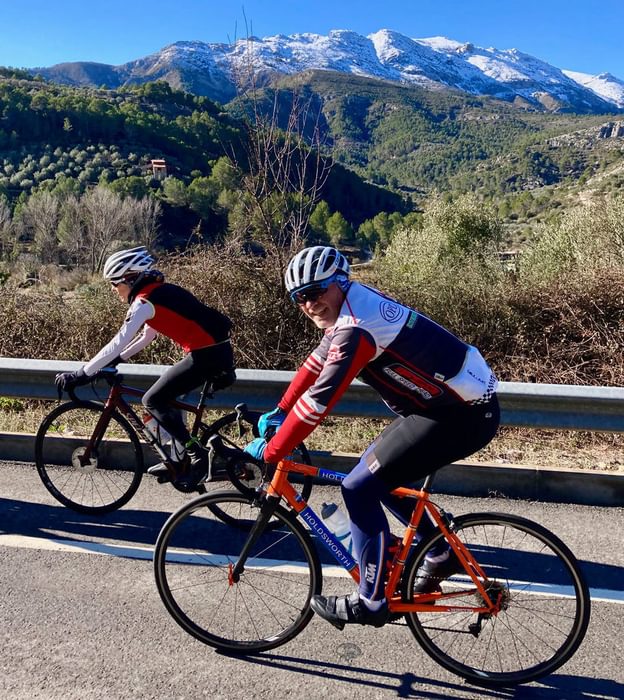 Cycling
Super-smooth tarmac is draped over most of the roads throughout the region and this helps to make almost any route feel good. Keeping inland improves the experience further as the rural roads are virtually traffic free. A local classic is the Col de Rates. Starting from the little village of Alcalali, the road gently rises towards Parcent, go left here and you're on the Col de Rates.
The mountain ahead is what we ride around. The 7km ascent will be mostly in the shade, but be ready for a blast of sun at the top.Views over the other side are jaw dropping. A glorious descent now awaits before a reascent up to the sleepy village of Tarbena. Turn right to Castell de Castells to take in the Puerto de Sa Creueta.
From here it's mostly downhill and through continually glorious mountain scenery. This circuit is just under 50km and under 1000m of ascent. There are plenty of options to extend, too.
Mountain Running
Leaving the tarmac behind, we now head into the mountains on foot. The trails throughout the region are mostly well looked after as there is a vibrant racing community. A favourite of mine is the Raco Roig circuit. This starts high above the mountain village of Castell de Castells and follows surprisingly good tracks, which afford very fine views into the huge chasm of the Barranco del Pas de Tancat.
At only around 11km and 350m of ascent, this isn't a long run, thus allowing plenty of time to stop and take in the views. The trails are clear and it is all very runnable, with only a very short section that may necessitate slowing to negotiate the rocky terrain.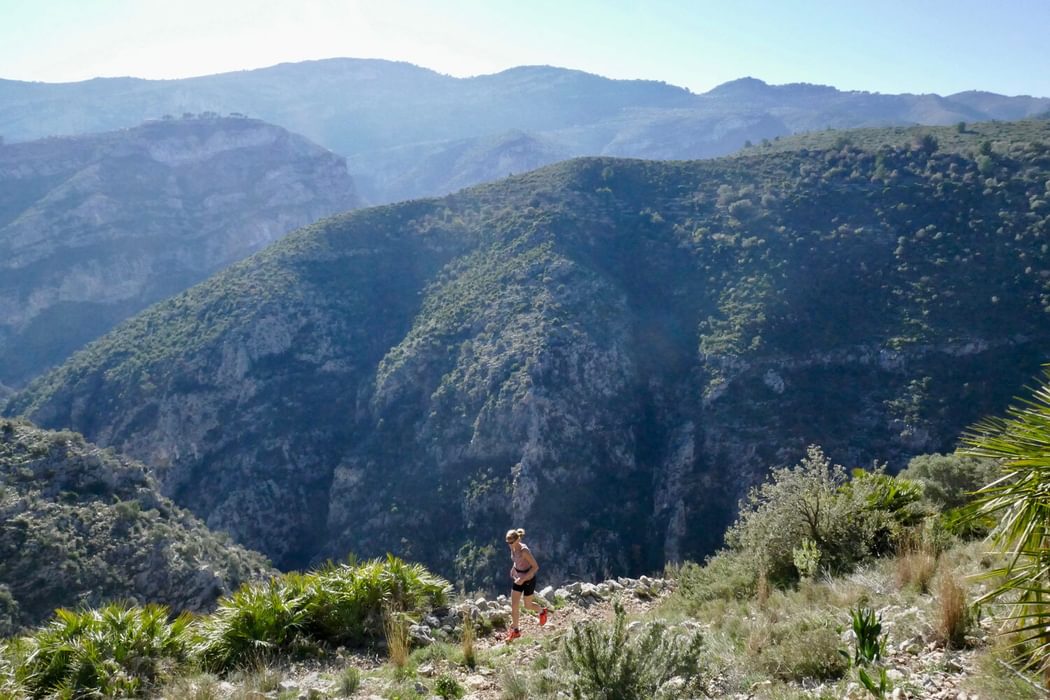 Ridge Scrambles
Many years ago now, Chris Craggs produced the first English guidebook covering the Costa Blanca, and ever since the area has been popular with British climbers. You will find well bolted limestone with easy access and in beautiful settings and weather to match. Perfect, or is it?
Bolt clipping is good fun but it's forgettable fun. This is where the ridges come in. Big adventure days in the high mountains where only an occasional bolt will be spotted. The Bernia is the well-known classic and this is well worth doing. For those seeking more adventure, try the Segaria ridge. This is around 4km and includes climbing up to around UK Severe as well as long sections of straightforward, but airy scrambling.
Access is easy, being only minutes from the main coast road and with an approach walk of around 25 minutes. Involved scrambling and tricky route finding are the theme for this ridge and this only adds to the level of satisfaction after a successful traverse. Allow around 10 hours all in, but if time is against you there are a couple of easy bail out points.
Via Ferrata
An energetic rest day or a fun day out in the mountains? Via ferrata can be either and both. The region offers many well-maintained installations and something to suit most abilities from the very easy Castillo Salvatierra to the demanding trip at Callosa de Segura.
Ponoch ferrata
Ponoch via ferrata
For a mid-grade outing the Ponoch is hard to beat. An easy approach walk with the mountain towering above the whole time all helps to build anticipation levels. Although neighbouring Puig Campana is a higher mountain, the Ponoch has a much bigger wall of rock so feels mighty impressive.
The via ferrata is around 250m and fairly vertical, with a few ledges good for taking a rest. A walk followed by easy scrambling leads to the first of two abseil stations that complete the descent. A minimum rope length of 60m is required for a safe descent.
Sport Climbing
This is what most climbers are visiting for and it is immediately easy to see why. There is a huge amount of well-bolted rock. Plenty in the easier grades, too, from 3+ all the way into the high 8s and crags offering sun/shade as desired.
Ambolo sport climbing
Sport climbing near Tarbena
A classic in the making is Erikindia 6a+ on the Toix sea cliffs. This is a 3 pitch route with an approach walk of about 25 minutes followed by a dramatic, free-hanging abseil of around 45m. Two sublime pitches of climbing with positions usually associated with harder routes. The final pitch is much easier but has a really cool finish.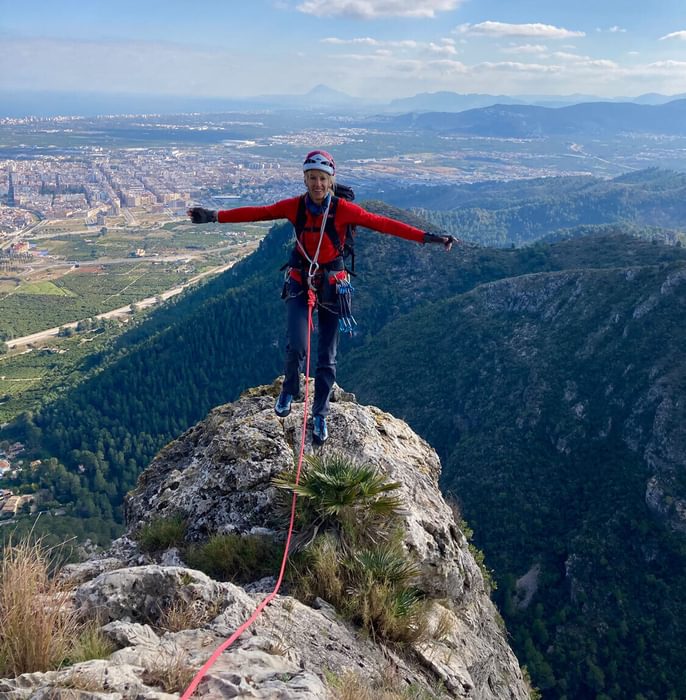 Trad Climbing
With most visiting climbers focusing their efforts on bolted rock, the trad crags have a peaceful feel to them. If looking for solitude, great climbing and a mountain adventure, step this way. Cabezon d'Oro, Puig Campana, Ponoch, El Peñon d'Ifach and more offer some fantastic trad adventures at all grades.
Here we take a brief look at a lesser known classic on the iconic Puig Campana. This is the most recognisable mountain in the region and offers some of the longest routes, at up to a 1km. So good planning and preparation are vital if a good and safe day is to be enjoyed. Half ropes and a full trad rack are recommended, too, although the occasional bolt/peg will be found on most routes.
Aristotles and the Pepsi Crest form a huge ridge on the south face of the mountain to give around 470m of climbing at up to UK VS. An easy approach of about 20 minutes leads to the foot of the climb. Initially the route wanders around to find the best rock. It is above pitch 6 where this route really shines, as it soon gains a narrow arête to give massive exposure and fine climbing that goes on for a long time.
At the prominent notch it is possible to abseil into the big gully, but far better is to continue along the inviting Pepsi Crest for more of the same amazing positions. An abseil descent into the Barranco del Infierno leads to scrambling back to the base of the mountain.
So if looking for a winter get away or to extend the summer season, the Costa Blanca fits perfectly.
To read more articles like this get our newsletter
Sign up today for a 20% discount on your next purchase. Join over 30,000 enthusiasts from around the world. If you don't love our mix of new books, articles, offers and competitions, you can unsubscribe at any time. We will never spam you, sell your data or send emails from third parties.