Exploring Jebel El Kest and the Moroccan Anti-Atlas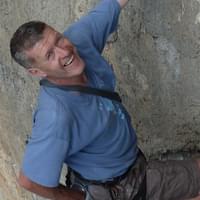 The western Anti-Atlas is known to rock climbers and a small group of road-trip travellers. Its principal mountain, Jebel El Kest, was featured in a Cicerone Extra article by Jonathan Williams (managing director of Cicerone Press) in May 2015. David Wood describes the exploration of the region that has taken place in the intervening years leading up to the publication of his forthcoming guidebook Walks and Scrambles in the Moroccan Anti-Atlas.
April 2017
It was my third ascent of Jebel El Kest in as many weeks. Looking across to the south summit I could see two brightly clad figures disappearing into the distance. They were not Moroccans. This was the first time in three years of exploration that I had seen any Europeans on any of the 40 routes we had covered for the guidebook.
From this vantage point it was easy to see all of the areas we had visited. To the east were the strange peaks of the Adbellah Cirque, strongly contrasted with the subtle colouration of the desert soils. The scrambling here had been fantastic and unexpected, with an added bonus of topping out at over 2000m. To the south-east was the mighty Adrar Mqorn, another 2300m-plus peak and every bit a competitor with Jebel-El-Kest, but only a few metres lower. To the south were granite tors of the oasis town of Tafraout, where old and modern ways rubbed shoulders, but where comfort and good food awaited. To the south-west was the Tanalt back-country where one of my favourite mountains, the elusive Adad Medni, sat proud and strong over ravines and immense gorges. To the north-west were the 4000m snow-clad high Atlas Mountains and the peak of Toubkal, its status acting as a magnet to trekkers and visitors and all but draining the smaller Anti-Atlas of all of its life blood.
It had hardly seemed 12 years since my first visit, which was prompted by the publication of Claude Davies's Cicerone rock climbing guide. Unseasonal heavy rain made the desert bloom but dampened the spirits. It was not until a later return trip that the true potential of this wonderful place came alive. Here, it is possible to almost wander at will and gain the full freedom of the mountains. After 10 perfectly clear March days I left with my head swimming in images of jagged ridges, lush springtime valleys and plunging Utah-like gorges. I was certain I would return… again and again.

After four more climbing visits I realised I had been focusing on just getting to the rock and had largely ignored the potential for different forms of enjoyment using my feet.
If this area was so good for climbing then why not walking and scrambling? Returning with my partner and armed with eight routes donated by Claude, we began our exploration. Here or there a climber threw us a snippet, 'behind the mosque in Tanalt' or 'on the approach to Afantinzar'. It was clear there was a lot of leg work ahead, but where to start?
Until Steve Broadbent produced his Oxford Alpine Club series of Mini Maps in late 2015, there were only online sources such as Viewranger, but their paths often had a beginning and an end but nothing in between. Fortunately, in 2013, a 1:150,000 tourist map had been published. This was the size of a small advertising hording and on windy days it took three people to control it – two to hold it down and one to read it.
As the following three years unfolded trips became the stuff of adventures. Sometimes days were short and ended in failure and at other times we found ourselves descending by moonlight. We took rest days and found plenty to do by way of visits to the market (souk), banter with the carpet sellers or a dip in the hotel pool. As always there was a beer on the terrace followed by a meal of spicy harira soup, salad, tagines and fruit juice.
The tough days were often rewarded by something unexpected; perhaps the sighting of a rare animal or an encounter with a shepherd who spoke many languages. The morning light in places like Anergui or Afantinzar was magical and made us want to stay with our gaze lingering on the colourful hamlets. Even though we found the terrain to be rugged and sometimes pathless, it was possible enjoy the freedom of the hills as there are usually no fences or walls and it was often possible to walk at will.
The time to turn around was almost always signalled by the drifting call to prayer from a distant mosque.
The scrambling was exciting at times, despite selecting horizontal ridges on which the rock was generally good and the ascent and descent options visible. Elsewhere, we came across many other opportunities for scrambling ridges with dubious rock or uncertain descents. Our experience taught us that when meeting an impasse, we could often overcome it by spending a few minutes exploring left or right. The downside of this, of course, is that without patience or good judgement, you can find yourself in more difficult territory
Perhaps, with the passing of time we had learned to read the landscape and were using intuitive navigation skills that we had developed through repeated visits. It is only now, reflecting back on the experience, that we wonder if we had a degree of good luck in exploring the far-flung, sometimes pathless summits, as there are no formal rescue facilities and we were no longer young.
What to expect from the Anti-Atlas?
Back home we tend to get asked three questions:
Is it safe?
The answer to this is to ask is anywhere safe? Our experience is that it is probably safer than any European capital city. There is little hassle and the hospitality is sometimes humbling.
Is it hot?
It can be 30◦C or more in springtime but the temperature often feels 8◦C cooler than in the UK as there is little humidity and there is often a gentle breeze higher up. It can also get quite cold higher up and in winter, and frost can form on the higher roads.
What about the animals and insects?
There are very few biting insects but if you are lucky you may see some scorpions and snakes. They tend to keep out of your way as, after all, what self-respecting snake would want to return home with a size nine boot print on its back?
What's in the guidebook?
The book has 40 routes with variants, covering seven areas over a wide and geographically diverse area. The routes include mountain and valley walks (easy to very difficult), scrambles (up to grade 3S), one multi-day route covering summits, plus a seven-day trek. All are supported with maps, great photos and GPX files.
The Anti-Atlas is a great antidote to what some may regard as an overly sanitised and protected world. Take time to savour it.
To read more articles like this get our newsletter
Sign up today for a 20% discount on your next purchase. Join over 30,000 enthusiasts from around the world. If you don't love our mix of new books, articles, offers and competitions, you can unsubscribe at any time. We will never spam you, sell your data or send emails from third parties.