Family-friendly outdoor adventures
Routes and ideas for the holidays – walks, bike rides, hiking, paddling, scrambles and overnight camps. Share outdoor adventures with the whole family, have fun together and inspire the youngsters to love and cherish wild and rural landscapes.
Active family adventures for the under 12s
The Lake District is the perfect playground for active families who enjoy the outdoors, but also it can be a great place to go if your family is new to outdoor activities, as there are plenty of low level footpaths, forest trails and fun to be had on or near the beautiful lakes, as well as good paths that can take you high into the mountains.
Outdoor Adventures With Children – the Lake District is the perfect companion, with 40 outdoor adventures including hiking, biking, scrambling, boating, swimming, paddling, camping, bothying and hostelling. Not to mention some excellent themes to keep interest high, and energy flowing!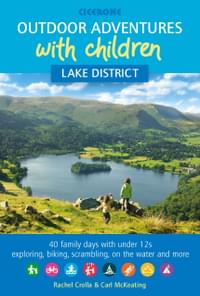 Although not specifically geared towards families with younger children, this selection of guides will provide plenty of short and day-walking routes in all parts of the UK that will be manageable for families with mostly primary school aged kids. All these guides include walks from 1 mile in length up to more strenuous and difficult walks up to 15 miles – for older children!
Family adventures for families with teens
The key to success for active family holidays with teenagers is to make things interesting, exciting, and different. How much more attractive is it to be able to say to your friends that you climbed the highest mountain in England, or that you went mountain biking in the Lake District, rather than just sitting on the beach in Cornwall! It doesn't have to be the highest or the most difficult to earn respect and interest. A multi-day walking holiday or a cycle touring trip, especially one with a name, for example 'we did the Snowdonia Way', will add new skills, build experience and independence, and add focus and fun to a holiday.
Another trick that we recommend is do a trek with another family, where the teens are all friends already. It's amazing how a whole day of walking will pass as they chatter happily to each other, and the excitement of maybe staying in a bothy or mountain hut, or camping at the end of each day keeps interest high, as the journey unfolds. Most kids from about the age of twelve should be able to manage a multi-day trip. If you're unsure, try a few long weekends first.
Easier multi-day walks
From just a few days on the Great Stones Way, up to about week (around 100 – 130 miles), these routes are great for a first experience of a multi-day trek. There is some height gain involved with some of these routes, but nothing excessive that will last for more than an hour of puffing uphill!
1-2 week multi-day walks and cycle tours for the more experienced
These routes involve a little more exertion, and some are more appropriate as backpacking and camping adventures. The longer the route, the more diverse the landscape is likely to be, with plenty of interest. Most of these routes will take between one and two weeks to complete.
To read more articles like this get our newsletter
Sign up today for a 20% discount on your next purchase. Join over 30,000 enthusiasts from around the world. If you don't love our mix of new books, articles, offers and competitions, you can unsubscribe at any time. We will never spam you, sell your data or send emails from third parties.