Finding the way – an everyday walk can surprise all of us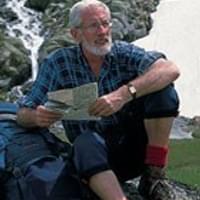 Sometimes we all need a bit of encouragement – either to have the confidence to trust our instincts, or to see the beauty that is all around us, says Kev Reynolds. Illustrations by Clare Crooke
Born into a loving but poor family, Vijay was the youngest of 12 children who grew to be a gentle bear of a man with a quiet smile and few words. A city boy through background and inclination, he'd been raised in the teeming Indian city of Chennai but now worked as an IT trouble shooter in a large office block near London Bridge, commuting each day from the country village where he lodged with his sister while saving for a place of his own.
He didn't stray far and spent most weekends in his sister's kitchen conversing with her in Tamil. I suggested he got out more and saw a bit of the countryside, so took him to the South Downs one day where we had a 7-mile walk, visited an old Saxon church and picked blackberries on the way. His hungry eyes devoured the big open spaces speckled with sheep, but he stayed close as we walked for fear that should he fall behind he might be lost forever.
That walk eased open a door to another world, so I took him on other outings – some closer to home, others farther afield – until he became more comfortable with different horizons. One day we set off from his sister's kitchen to visit a small country town just 3 miles away across the fields, and at the top of the hill above the village entered an expanse of mixed woodland in which a grid of footpaths snaked this way and that.
I'd known it for 40 years, so there was no confusion over which one to take whenever we reached a crossing track, despite a complete lack of waymarks or signposts.
'How do you know where to go?' asked Vijay. 'There are so many different ways.'
'Ah, but each one is different,' I told him. 'It's just a case of remembering familiar features and going from one to the other.'
'Familiar features? But everything looks the same! Trees,' he emphasised, 'just trees – everywhere.'
I told him no two trees are identical, and pointed to one nearby: 'Here's a gnarled oak whose growth has been held back by a lack of light stolen by others being planted too close. But it has a shape unlike any other, no matter where you look. And here's a clump of silver birch – look at the colour of the bark, and the way it curls like dead skin. Over there you can see a tall Scots pine, standing straight as it reaches for the sky – they're all different.'
'I can see that, but it still doesn't tell me which way to go.'
'Look, you work in London – right?' He nodded. 'And every day you walk to the office from the railway station. Right?' He nodded again. 'So how do you know how to get there? Are there notices to show the way? No! You can find your way to work because you recognise certain buildings, shops or traffic lights, and know that if you turn right or left along the street beside this one or that one, it will lead to your office.'
Vijay agreed. 'So you recognise each of these trees?' he asked.
'I don't have to recognise them all, just the important ones at strategic places. They tell me where I am and which way to go.'

We were standing at a multi-junction of paths. 'We call this five-ways. Go straight ahead between those birches and the path will take you to 'the lonely house'; that way to the road at the top of the hill, that one back the way we've just come, this one here does a loop and joins another path after about 200 yards, while this one will get us to the meadow we call Agincourt because the battle won by Henry V was filmed there a few years ago. That's the way for us.'
We continued our walk, but he remained close for fear of getting lost.
Five years later Vijay flew back to Chennai to get married, then returned to his sister's village with his bride.
Gurinda was another computer whiz-kid, an elegant young woman with the most beautiful smile and a permanent look of surprise on her face. The two were very much in love, and it was impossible not to be uplifted every time they were seen together. And they were never seen apart.
'Kev,' said Vijay one Sunday, 'Gurinda would like to see some countryside. Will you take us?' By now they were living in a flat of their own just around the corner, so I suggested a local walk. It took us to a farm where we went through a five-bar gate and into a meadow grazed by sheep. Gurinda looked worried. 'Should we be here?' she asked, and when I told her it was okay she asked how I knew.
'Well, for a start the little yellow arrow on the gatepost told us we can use the footpath.' She nodded, but still looked concerned.
Through another gate and over a stream on a footbridge with another yellow arrow, we then cut through a large meadow with calf-high grass. Gurinda stood still, holding tightly to Vijay's arm. 'Is it safe?' she asked. 'What about snakes – pythons?'
Vijay assured her that unlike India there are no pythons hiding in the grass in Kent. 'It's okay,' he told her. 'Believe me.' And by the time we reached the far side she had gained so much confidence that she let go of his arm and began to take photographs on her smart phone to record her new adventure. High above us the sky was full of larks singing.
After we'd passed through a strip of woodland separating two fields our footpath led through the very centre of a 10-acre crop of barley, which had Gurinda cooing happily as she brushed the ripening heads with the palm of her hand. After, that is, she'd received the approval of Vijay.
On the far side of the barley field a broad swathe of headland offered a choice of routes – none of which was signed. When I turned to explain which way we'd go, Gurinda was down on her knees taking photo after photo, sucking in her breath with sheer joy. 'What are these beautiful flowers?' she asked. 'I have never seen anything so lovely!'
I had to look twice before I realised she was photographing a clump of daisies. Common, every day, ubiquitous daisies; so common and familiar that we barely notice them.

We've always known daisies. And because we've always known them, we've taken them for granted. They're just daisies. That's all.
But for the young bride from Chennai they were completely new and inexpressively lovely. I looked at them with her; through her eyes. And she was right.
On her very first walk in England, Gurinda had taught me something special. That nature's beauty is to be found wherever you look – if you have eyes to see. Common daisies – as perfect as the rarest orchid – they'll do for a start.
To read more articles like this get our newsletter
Sign up today for a 20% discount on your next purchase. Join over 30,000 enthusiasts from around the world. If you don't love our mix of new books, articles, offers and competitions, you can unsubscribe at any time. We will never spam you, sell your data or send emails from third parties.