Giant glacier breaks apart
Gillian Price has sent us this information regarding the giant Forni glacier, visited in her guide to Italy's Stelvio National Park.
News from the Italian Glacier Register and CAI, the Italian Alpine Club.
As of August 2015, the 'giant' Forni glacier, the most extensive valley glacier in Italy, is no longer a single glacier but has split into three smaller tongues - one in the valley and two separate bodies of ice higher up. This worrying fact was registered at the end of one of the warmest summers on record. It has been calculated that over the last 26 years the glaciers in the Italian Central Alps alone have lost 2000 million litres of water - the equivalent of 800,000 olympic sized swimming pools (or four times the volume of Umbria's Lake Trasimeno).
Readers of Italian can learn more from the
Italian Alpine Club
. If you have any further information, or images, please let us know in the comments.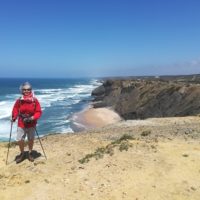 Gillian Price
Gillian Price has trekked throughout Asia and the Himalayas, but now lives in Venice and is exploring the mountains and flatter bits of Italy. Starting in the Italian Dolomites, Gillian has written outstanding Cicerone guides to walking all over Italy as well as Corsica and Corfu. An adamant promoter of public transport to minimise environmental impact, Gillian belongs to Mountain Wilderness and is an active member of the Venice branch of CAI, the Italian Alpine Club.
View Articles and Books by Gillian Price