Hiking in the High Atlas mountains of Morocco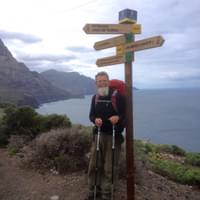 After years of being asked, Steve Barham finally went hiking in the High Atlas in Morocco, where he was warmly welcomed to its exotic and exciting landscapes.
I received a text: 'Hi Steve, how's it going? I'm going for a walk in the Atlas. Wondered if you wanted to come.'
It had come at a tricky time to justify going for a ramble, not long back from an extended trip to Spain. On the other hand, Bill, my mate for 55 years, had been going to the Atlas regularly and inviting me to join him for many years and, so far, I hadn't managed it. As my mortality became more obvious, my belief in 'seize the day' became more obvious, too, so I approached my significant other with the idea.
Keen to see a husband stressed out by a building project return to a more chilled state of mind, she approved the plan. Ten days' trekking with Bill and hopefully one of his Berber acquaintances from the mountains would be good for my mental health and my waistline. Not speaking French (or Berber!) and not being one for organised group tours, this would be a perfect opportunity for me to explore an exciting and exotic area within reach of a Ryanair flight.

The Atlas mountain range stretches around 2500km through Morocco, Algeria and Tunisia. I was headed for the High Atlas sub-range in central Morocco, to the area near Jebel Toubkal – North Africa's highest mountain (4167m), still deep in snow and off limits for us. Just 65km from the hustle and bustle of Marrakesh's souks and Medina, the snowy peaks were clearly visible from our shared 'grand taxi' as we set off for Setti Fatma.
It is a popular day trip from the city, where escapees from the exhausting heat of the plains can rest and dine beside the clear, cold waters of the Ourika river valley and visit the snowmelt waterfalls, complete with groups of Barbary apes.
The tarmac road runs out here and, after a meal with Mohammed, a local guide and friend of Bill's, to get the lowdown on snow conditions on the high passes, we shouldered our packs and set off upriver in the glorious spring sunshine.
Mohammed had talked about the problems arising from the terrible murder of two Scandinavian women hiking in the area last December. Although an increased police presence and security means that the High Atlas is probably one of the safer regions in the world at present, the number of tourists and, particularly hikers, is down significantly. This is having a big effect on the Berber guides, muleteers, tour operators and gite owners, who rely heavily on the flow of visitors to the mountains. Also damaged is the reputation of the people of the Berber villages in the mountains, an unwarranted slight on some of the most welcoming, friendly, happy and hospitable people I have ever come across, despite their relative material poverty.
The dirt track followed the river bed with numerous bridges over a multitude of water courses, before turning onto a zigzagging route that climbed the steep valley sides to present us with fine views back down towards Setti Fatma and deep into the mountains to the west. We passed a succession of earthen walled and roofed houses stacked up on the mountain slopes, and immaculate layers of terracing with their iridescent green covering standing out from the buff and ochre surroundings.

Off the tourist trail
It took us nearly four hours to climb the 12km to reach our goal, Timichi, at around 2000m. We were very warmly greeted at their gite by Brahim Oussalm and his family, whom Bill has been visiting for over 20 years. Over sweet mint tea and then a filling dinner, a plan was put together. Brahim is now 80 and no longer a muleteer and guide, but Abdelhadi, one of his sons (he has 13 children), agreed to join us. A clockwise circular route was devised, keeping us mostly between 2000m and 3000m, with some lower valleys and higher passes. We would find places to stay in the Berber villages over the following nine days and hike between 10km and 20km a day through varied country, some of which is truly off the tourist trail.

We needed to make an early start in the morning, with the next day involving a climb of 1200m into snow. So, with the altitude already making itself felt, I retired to the simple sleeping quarters. Setting off into the chilly dawn after a substantial breakfast, we climbed a steep mule trail between rocks and scrub before emerging onto a gravel track. Big changes have occurred over the past few years for the Berber villages dotted around these mountains. The dots have been joined by a string of pistes or vehicle tracks, although we would see only a handful of jeeps and trucks over our 10-day journey.
Electricity has also arrived and with it the surreal combination of centuries-old earthen and stone houses adorned with satellite dishes and street lights to brighten the narrow warren of rough footpaths.
The track ran out after passing the strangely painted building in Labassene and a narrow trail wound its way on up towards the pass of Tizi n' Tacheddirt, entering the Toubkal National Park as the landscape became harsher, devoid of vegetation, but for some ground hugging cushion plants and ancient juniper trees.
The patches of snow around us grew into a smooth blanket that we traversed before reaching the pass at 3230m. The vista towards the west drew us down to eventually join a piste that led to Tacheddirt village, at the far end of which we were able to rest and warm ourselves on the balcony of our gite.
We sat and watched the passing life; friendly kids shouting hello as they played risky football on the tiny patches of flat land and young girls and women returning with their small herds of sheep and goats, the occasional cow led from behind by holding fast to their tail, and huge bundles of fodder and firewood on the women's backs. Every family seemed to have a few hens and cocks that all mixed together in the streets/paths and chased each other from rooftop to rooftop.
Well fed
The well-tended terraces produced a lot of vegetables judging by our dinners. Onions, beans, cauliflower, carrot, marrow, greens and particularly potatoes. Barley was grown for the grain and cut repeatedly for fodder. There was also large variety of fruits and nuts with walnut the main, most important, crop.
We were fed very well in all the houses we stayed in – the very simple kitchens preparing fresh bread and olive oil dip with mint tea on arrival – a tagine of vegetables and chicken or couscous for dinner and breakfast of pancakes and jam, yogurt, omelette and fruit. Including our accommodation, the bill was normally around 120 dirhams, or €12. Abdelhadi had friends and relatives in many of the villages and we were often offered mint tea, poured from a height into tiny glasses, along our way.
Brahim's cousin owned our next night's gite, in Mzik, a couple of kilometres above Imlil, the main base for climbers and trekkers heading off for Toubkal. We reached it after crossing the valley and climbing to another pass, Tizi N'Tamatert at 2280m. There was a roadside café/shop/gite and muleteers transporting the luggage of climbers setting off to scale the peak of Adrar Tamalroute.
We descended from the pass through a sparse but shady pine forest; the trees bedecked with the white fluffy cocoons of the processionary moth. The valley widened out before Imlil and the relative prosperity of the town was revealed in some new and grand houses, the presence of cars and the amount of productive land. There are jobs here, too, for guides, expedition and tour companies and shops selling outdoor equipment and the gear left behind by trekkers after returning from Toubkal.
Prince Harry and Meghan had been in the area the week before, visiting a secondary boarding school for girls in Asni set up to enable them to continue an education where only a quarter of them would normally get beyond primary level.
Our gite was in a less developed area surrounded by unfinished buildings and roadworks, but the view from the rooftop was lovely with the minaret of the mosque positioned between the peaks that echoed to the muezzin's call to prayer five times a day.
The washed clothes I hung on our open window grill that night were as wet in the morning and we got out the waterproof jackets before heading off into the drizzle up into the cloud on a rocky track through clumps of broom, pine, holm oak and juniper to Tizi n'Mzik at 2500m. Damp and cold, with the juniper dusted with snow, we replenished our energy with dates and nuts before starting down the slippery scree slopes towards the Azzadene valley, still lost in the mist.
Eventually, the cubist forms of the mud houses of Tizi Oussem emerged from the gloom and we were very grateful to have some hot, sweet mint tea after finding the gite clinging to the slopes.
I watched a woman repairing her mud roof after the rain and later our host invited us up to the kitchen for dinner – a thick barley soup and tagine – while we dried our clothes near the fireplace.

Vivid mud
The clouds had lifted by the morning and we left the village to follow the Azzadene valley on a red earth piste past a string of hamlets built with the same vivid mud. The landscape was made up of different mineral-rich rock types with hues ranging from black to purple, pink, red, grey and green. Climbing through Tizi n'Techt we left the piste and turned to descend on a twisty scree trail towards the Ait Mizane valley, stopping for lunch among the sheep and goatherds, whose flocks had nibbled the juniper into artful topiary.
Clambering down we crossed the river and climbed around the side of the mountain to another pass at Tizi el Bour to reach Imska after a 4½hr hike. We were greeted by a smiling old woman at the gite who was now running the place on her own after the loss of her husband. The Berber women seemed to be more independent and socially outgoing than I had imagined, and although we were only witness to a snapshot of their obviously hard lives, I was often impressed by the great amount of shared laughter and joyful chat among groups of animated and smiling women and girls dressed in flamboyant and colourful clothes.
The next two days saw us climb up the Valle de Imenane from Imska on mostly gravel tracks through a scattering of villages to a gite at Ouaneskra. From there a steep trail led up to the pass of Tizi n'ou Addi at 2954m and down through a beautiful, high, broad valley where clusters of shepherds' houses awaited their seasonal occupation.
We started to see the ski lifts on the outskirts of Oukaimeden, Morocco's only real ski resort, and although there was very little skiable snow on the Sunday we were there, the place was very busy with a big car park full of flashy motors, and a mass of Marrakech day trippers walking or donkey riding up the slopes and eating and drinking in the wealth of restaurants and cafés. It was all a bit of a shock to the system after the empty trails. Although we had planned on staying there for the night, we were relived to discover it was way too expensive and met a fellow who had a simple room available in the village of Ait el Kack another 6km or so down the valley to the east.
The geology of the landscape had changed again and the deep canyon-like red sandstone gorge we hiked through had little quarries where the paving and building slabs were teased from the rock and transported by mules to the roadside for sale. (About 70c a flagstone!)
Our host for the night must have been doing oaky from the overspill trade from Oukaimeden as he had a cow tethered on a little patch of ground joining the house and a great big flat-screen TV that the family gathered round all evening, although it was only showing the channel listing anytime we passed by. In the morning we disappeared off the top of my map on a new track that is being made. Eventually, it will be tarmac and link all the way around to the Timichi valley and on around to Oukaimeden again, creating a high-level circular route through the remote and peaceful mountains.
We reached a beautiful, broad and verdant plain high in the folds of the mountains, with emerald fields of grain separated by rocky paths and walls in a landscape somewhat reminiscent of my local Burren stonescape, complete with carpets of a delicate alpine flower. We were hoping to stop for the night here but the gite was shut, forcing us to carry on another couple of hours on the empty and surreal highway cut through the red rock.
We found a bed in the small village of Uouiri where the gravel track ran out, in a house run by the young daughters of a couple gone off to the souk in Marrakesh. The children here, as in all the villages, had simple pleasures – a game of marbles or stone tossing, riding recycled bikes, chase and football on levelled village pitches, and other DIY pastimes. No screen hours here. We managed to capture a small bird and undo the string attached to its leg, only to discover later it was a small boy's pet!
Although a charming place and charming hosts, I was unfortunately ravaged in the night by not only bedbugs but fleas, leaving me with big itchy lumps for days. Having done a long day, we were left with a short walk in the morning, so we went off piste and took a scenic route round to Boulzgarn, where we were invited in for tea by a relative of Brahim and admired his hamman (sauna). These structures are popular washing and social places in the villages, segregated by gender.
Last stop
Back to the trail we continued to Chiker, our last stop before our return to Timichi and the first place we encountered any other hikers – a group of students from Holland. On route, we passed a flattened threshing area, similar to the many 'eras' I have passed on my Spanish rambles. The views we encountered up and down the Ourika valley were the same as nine days previously, but from an even higher level.
The next morning, we set off past the diggers and trucks constructing the new road snaking through the steep-sided slopes of rock, scree and terraced fields, and Abdelhadi pointed out the spot where one villager had lost their life falling into the gorge while collecting fodder.
I wondered if and how a tarmac connection to the outside world would ease their harsh labour-intensive lifestyles.
Winding relentlessly down to the lush water meadows of the valley bottom, we rejoined our original route to Timichi where we were again received with a warm welcome from Brahim and that night were presented with a feast of couscous and chicken worthy of heroes.
Brahim declared that he was going to market the following day and would accompany us on our final leg back to Setti Fatma from where we could get a bus to Marrakech. Abdelhadi was happy to be reunited with his young family whom he proudly took us to meet in the small and smokey building he called home. Adjoining it was a pile of concrete blocks and a small patch of levelled ground from an obviously long-stalled extension project that Bill and I were happy to help fund in an (unasked for) gesture of thanks for all his time, effort, knowledge and company.
After saying our goodbyes in the morning, we shouldered our packs for the last time and followed Brahim out. Rather than go back on the track the incredibly nimble 80-year-old led us down through the green and shady woods and fields of the river valley, stepping lightly over the numerous irrigation streams and channels. As we worked our way downstream, the valley walls closed in and the watercourses merged to form a fast-flowing turbulent body of water that we were frequently forced to cross on wobbly boulders. While Brahim stepped lightly and quickly across, we quivered and quaked somewhat before stumbling towards the octogenarian's outstretched hands. An exercise in humility.
It was a beautiful way to finish our journey around the mountains, in the company of a man whose deep connection to the place and its people had existed for over 80 years and alongside, (and finally and inevitably IN), the waters that give it and them life.
An awe-inspiring landscape, a welcoming population. Good food and great trails. An exciting history and culture and a lesson in the possessions/happiness equilibrium. And all on the doorstep of Europe. Go, before it's bound with tarmac ribbons.
To read more articles like this get our newsletter
Sign up today for a 20% discount on your next purchase. Join over 30,000 enthusiasts from around the world. If you don't love our mix of new books, articles, offers and competitions, you can unsubscribe at any time. We will never spam you, sell your data or send emails from third parties.