An Introduction to the Rota Vicentina
If you have a penchant for dramatic cliffs and awesome ocean scenery with secluded sandy bays, are fascinated by gangly storks nesting on sea stacks, are able to walk around 20km per day, appreciate fresh fish and charming guesthouses and hostels… without forgetting ancient oak forests, brilliant carpets of wildflowers, sweet oranges, mouthwatering traditional Portuguese cuisine and inimitable custard tarts, then the Rota Vicentina is definitely for you. And rest assured it will quickly become one of your favourite treks.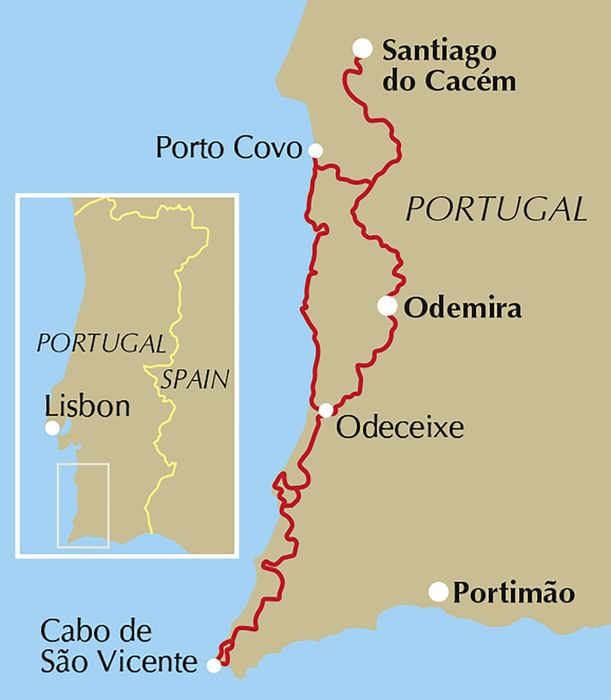 Rota Vicentina FAQs
Where is the Rota Vicentina?
Starting well to the south of Lisbon, the long-distance Rota Vicentina links the rural town of Santiago do Cacém with Cabo de São Vicente, the southwesternmost extremity of Portugal that juts out into the vast Atlantic Ocean.
The route traverses two beautiful and fascinating regions of southern Portugal, the Alentejo and the Algarve. The Alentejo is reputedly the least developed of Portugal which for visitors translates as excellent walking country, a feature it has in common with the Algarve. Both of these regions offer walkers a remarkable range of landscapes and habitats, from rolling hills to splendid wooded river valleys then olive groves and cultivated fields which back the exciting Atlantic coast.
Portugal's Rota Vicentina
The Historical Way and Fishermen's Trail
£18.95
Guidebook to walking Portugal's Rota Vicentina, a stunning yet remarkably little-visited 220km route down the south-western Atlantic coast, through the Alentejo and Algarve districts. The route, which is suitable for all fit walkers and is not technically difficult, is described across 12 stages, making it perfect for a 2-week holiday.
More information
The Historical Way or the Fishermen's Trail?
The Rota Vicentina consists of two marked routes: the Caminho Histórico or the Historical Way and the Trilho dos Pescadores or the Fishermen's Trail. The former links Santiago do Cacém on an inland route over rolling hills to Odeceixe before moving closer to the coast the rest of the way south to Cabo de São Vicente. The shorter Fishermen's Trail mostly sticks to breathtaking clifftops from Porto Covo down as far as Odeceixe. The Cicerone guidebook uses a savvy combination with the best of both routes.
How long is the Rota Vicentina?
The route Cicerone describes is 224km in a total of 12 day stages. Each stage concludes in a hospitable village with excellent facilities and thanks to local transport, days can be varied and walkers can easily put together their own itineraries to suit individual holiday schedules.
One of the marvellous accessible beaches on the outskirts of Zambujeira do Mar
The boardwalk leading towards Porto Covo
Where can I stay?

An excellent range of high-standard alojamento (accommodation) for all budgets is available for walkers all the way along the Rota Vicentina. These start with the many hostels, some known as pousada de juventude. The next step 'up' are immaculately kept private rooms (quartos) known as alojamento locale, residencial or hospedaria. The choice continues through to mid-range hotels as well as boutique B&Bs in historic buildings.
Advance reservation is only usually necessary at top-end places (which may be booked ahead by agencies for groups or self-guided clients) or around public holidays.

Camping is not allowed anywhere along the Fishermen's Trail of the Rota Vicentina and elsewhere is only permitted in designated camping grounds.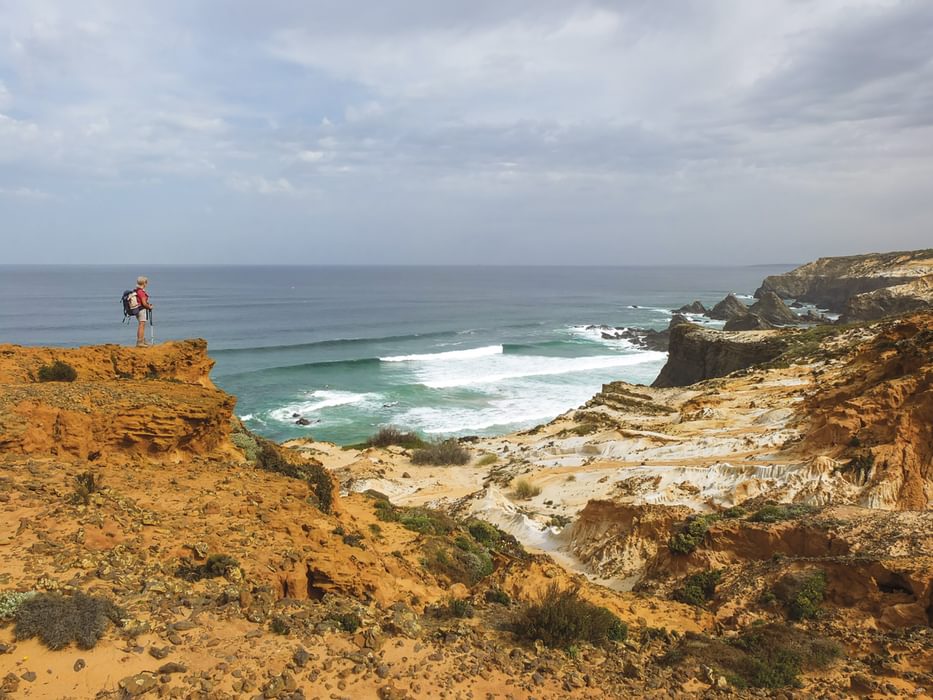 How difficult is the Rota Vicentina?
Covering level ground for the most part, the Rota Vicentina is suitable for all fit walkers and has no technical difficulties. The walking follows a string of clear paths, lanes and country dirt roads with abundant waymarks and signposting. The odd steep section is included but overall it's easy to average walking. The sun is one factor to take into account as shade is at a premium and the wind should not be underestimated as this is the Atlantic coast and spending a day being battered can be tiring albeit exhilarating.
Is it well waymarked?
The Rota Vicentina is pretty well marked and checked on a regular basis by volunteers. Waymarking for the Historical Way sections consists of adjoining red/white painted stripes, which are green/blue for the Fishermen's Trail. Where the way changes direction so do the stripes; whereas crossed stripes mean 'wrong way'. The markings are found on poles, rocks, tree trunks, buildings and fences. Rota Vicentina signposts supplement these with the addition of destination and distance.

As a general rule, unless the route description specifies otherwise, don't continue for more than a kilometre or so without seeing a waymark – should this happen, retrace your steps to the last one and hunt around.
Left: HW waymark telling you to turn right. Right: FT waymarks: top – this way, bottom – wrong way
Storks build cumbersome nests right on the cliff edge
Crossing sand dunes en route to Brejo Largo
When is the best time to go?
Generally speaking, the September to June period is feasible for walking the Rota Vicentina. The spring months of March to May/early June then the late summer–autumn period of September to November are arguably the best times of year to walk the route. Despite cooling sea breezes, late June to August are generally stiflingly hot and not recommended as the route has a dearth of shade; the possibility of heatstroke should not be underestimated. It is best to wait until the extreme heat of the summer has abated.
The midwinter months can be mild and quite superb albeit of course windy and chilly, although temperatures don't usually drop below 10°C at night. Rainfall tends to be heaviest December to January. Bottom line: don't be put off in the winter but do wrap up warmly and take reliable rain gear.
Getting to the Rota Vicentina
Portugal has excellent reliable trains and a capillary network of buses; up-to-date timetables (horários) can be consulted on company websites. The easiest way to reach the trek start, Santiago do Cacém, is on a Rede Expressos bus from Lisbon's Terminal Rodoviário at Sete Rios. It's a 146km/2hr journey.

Which part is a personal highlight?
A huge chunk of this trek is in the realms of the Parque Natural do Sudoeste Alentejano e Costa Vicentina where plant and bird life are protected. This encompasses the most extensive consolidated sand dunes in the whole of Portugal along with stunningly rugged headlands, eroded cliffs of coloured rock and wild beaches for swimmers and surfers alike. What's more, the park area guarantees that this beautiful coastline remains pristine. One of its great beauties is that it feels remote and you can walk for hours on end without meeting anyone. Even the villages and resort towns are low key and pretty quiet in low season – which is walking season. Naturally as summer approaches temperatures and price rise as visitors pour in, but in any case it's too hot for walking then.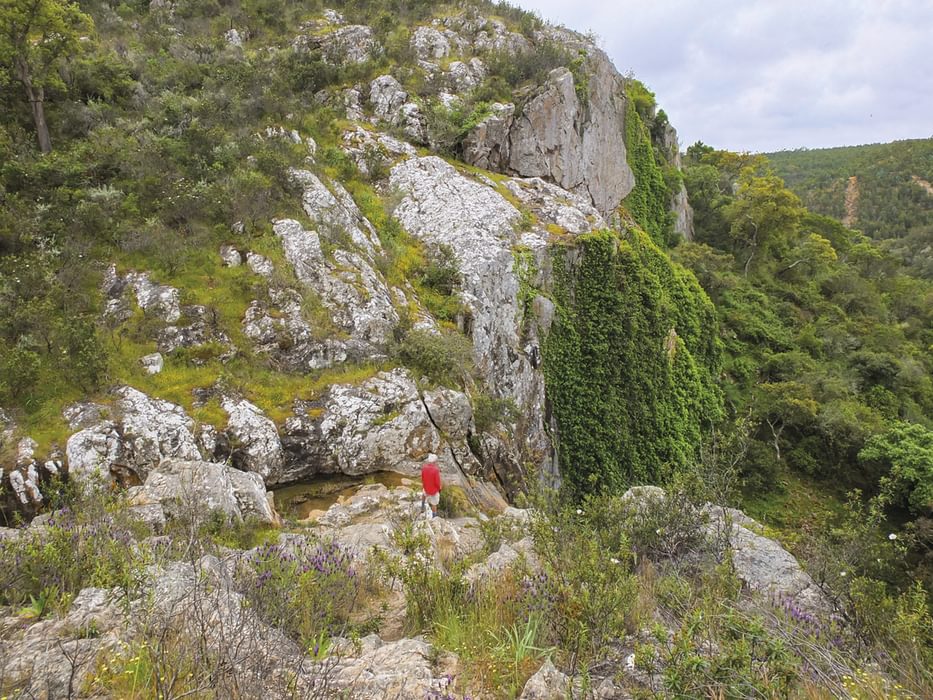 How should I walk the Rota Vicentina?
Stage 1: Santiago do Cacém to Moinhos do Paneiro
Distance: 21km
Ascent/Descent: 280m/315m
Time: 5hr 10min
Stage 2: Moinhos do Paneiro to Cercal do Alentejo
Distance: 20km
Ascent/Descent: 160m/215m
Time: 4hr 30min
Stage 3: Cercal do Alentejo to Porto Covo
Distance: 18km
Ascent/Descent: 185m/290m
Time: 4hr 30min
Stage 4: Porto Covo to Vila Nova de Milfontes
Distance: 20km
Ascent/Descent: 160m/160m
Time: 5hr
Stage 5: Vila Nova de Milfontes to Almograve
Distance: 15km
Ascent/Descent: 130m/150m
Time: 4hr 30min
Stage 6: Almograve to Zambujeira do Mar
Distance: 22km
Ascent/Descent: 110m/100m
Time: 6hr
Stage 7: Zambujeira do Mar to Odeceixe
Distance: 18km
Ascent/Descent: 280m/310m
Time: 5hr
Stage 8: Odeceixe to Aljezur
Distance: 18km
Ascent/Descent: 100m/100m
Time: 5hr
Stage 9: Aljezur to Arrifana
Distance: 12km
Ascent/Descent: 170m/160m
Time: 3hr
Stage 10: Arrifana to Carrapateira
Distance: 24km
Ascent/Descent: 390m/480m
Time: 6hr
Stage 11: Carrapateira to Vila do Bispo
Distance: 22km
Ascent/Descent: 290m/220m
Time: 5hr 10min
Stage 12: Vila do Bispo to Cabo de São Vicente
Distance: 14km
Ascent/Descent: 80m/90m
Time: 3hr 30min
To read more articles like this get our newsletter
Sign up today for a 20% discount on your next purchase. Join over 30,000 enthusiasts from around the world. If you don't love our mix of new books, articles, offers and competitions, you can unsubscribe at any time. We will never spam you, sell your data or send emails from third parties.