Kilimanjaro
Ascent preparations, practicalities and trekking routes to the 'Roof of Africa'
Guidebook describing all the trekking routes on Kilimanjaro (5895m), one of the Seven Summits. With 6 ascent routes, 3 summit ascents, the Circuit Path and descent paths, the guide also provides comprehensive information on preparation and access, a route on Mt Meru, as well as information on accommodation and other facilities.
Seasons
Two dry seasons - mid-December to March and July to early October
Centres
Flights into Nairobi in Kenya, Dar es Salaam or Kilimanjaro International Airport; outfitters normally based in Arusha or Moshi
Difficulty
Kilimanjaro is a big mountain, but the normal trekking routes are not technically difficult. Altitude and acclimatisation are the main problems and AMS can kill if not taken seriously.
Must See
Dawn over Africa from the summit, the natural environment, the Crater
Overview

Table of Contents

Updates

Reviews

Downloads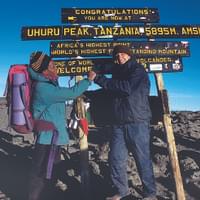 Alex Stewart
Alexander Stewart is the Online Marketing Manager for WEXAS, the World Expeditionary Association. He has a particular interest in Africa and a passion for mountains. All his adult life he has walked in them, written about them and photographed them. Kilimanjaro made a significant impression on him during his first ascent in 1999, and he has often been drawn back to the 'Roof of Africa'.
View author profile