My walk from Sheffield to Santiago: 'There is no road, the road is made by walking'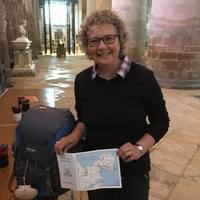 Anne Sheehan tells the story of her long-distance walk through England, from Sheffield to Portsmouth. This is the first stage of Anne's homemade English Camino from her doorstep on the edge of the Peak District to Santiago de Compostela in northern Spain. Partly planned, partly spontaneous and 100% enjoyable!
I'd always said I'd do a long walk to celebrate turning 60. For months beforehand, images of routes I might tackle had flickered through the back of my mind like a silent movie.
I love walking and always have done. I walk to work, at weekends I walk from my doorstep in Sheffield into the Peak District, and I've walked many of the long-distance paths in the UK and some in Europe.
But the 60th birthday walk had to be different.
It had to be special.
The nearer it got, the more I realised it also had to be special in a less self-indulgent way than just being a slightly unusual birthday treat.
I decided I would combine the walk with raising funds for Macmillan. Macmillan had been such a help to myself and my family recently when (after a lifetime of mountaineering and climbing) both my parents passed away within five weeks of each other. The nurses had been willing to go the extra mile for us, and now I would walk some miles for them in thanks. A long walk would make a fitting tribute to my mum and dad, since they'd given me my love of the outdoors in the first place.
The daydreaming reshaped itself into a growing pile of maps and guide books. They sat beside my front room chair like a dog waiting with its lead, eyeing me expectantly, urging me to make my move.
The time got closer and now there were a hundred reasons why I shouldn't go, or how it might be more sensible to put it off for at least a year, or even that perhaps I'd left it too late to go at all…
Then, quite suddenly, the birthday celebrations were over, I'd packed my minimal 6.5kg of kit and it was all systems go. I was always going to go, wasn't I?
The plan
I would walk to Santiago de Compostela in northern Spain, that most walked-to of destinations! But rather than enlisting the help of cheap flights and Alsa buses in order to start from the Spanish border, I would walk there from my home. I would make up my own Camino through England. I would 'make the way by walking', as Antonio Machado's poem goes.
When the local green grocer signed my Pilgrim Passport on the first fine day in April, I was ridiculously excited and still in party mood. I'd also already raised more than £1000 before I'd even taken the first step. I was waved off by a small group of well wishers and friends and some who walked with me for the first few miles over Totley Moor.

During the first two days, the Peak District scenery was like an old friend, but no less beautiful for being familiar. At first, I was accompanied by my husband and in no time at all we'd walked south west out of Derbyshire and into Staffordshire. Passing through the UK at walking pace, I was fascinated by the ever-changing scenery. Already, the shape of the farmhouses, the villages and the local accents were changing, and I was only four days from home.

Staffordshire was fun; my husband had gone back home but I was joined by a good friend for a couple of days and we laughed a lot and met some great people. Memories of the lady in the café who asked (quite loudly) how many pairs of knickers I was carrying often came back to make me smile at other times along the way.
Unfortunately, Staffordshire will also be linked in my mind with indistinct footpaths and mud. Thick, sticky, clay mud. The good weather hadn't held and the ground was already waterlogged from an exceptionally poor March. As I crossed into Worcestershire things didn't look any better, in fact they didn't look like anything at all because everywhere was shrouded in a thick fog.
Back at the planning stage, one of my biggest decisions had been whether to walk to the east or the west of Birmingham. To the east I'd have walked through Lichfield with its cathedral, which seemed fitting for a Camino, but in the end, west had won the day. To the west I'd be able to follow the valley of the river Severn, which sounded as though it would make for easy navigation and it was only a short detour to pull in the ridge walk along the Malvern hills.
The main incentive for this was a childhood memory of a spectacular photo of the Malverns. It had been on a record sleeve of one of my Dad's old vinyls of Elgar.
Heading into Great Malvern through a light industrial estate in torrential rain, I was questioning why I'd ever thought it a good idea, but the following day dawned bright and sunny. The walk was spectacular and well worth the effort: the first really scenic high point since The Peak and with superb weather to appreciate it.
After descending into the Severn Valley to my night's accommodation in a yurt, (I'd already stayed in an unusual array of places ranging from a Premier Inn to a shepherd's hut), the next day was just a case of walking along the Severn riverbank. The sunshine stayed with me but not so the river bank. I rounded a corner to find the entire path had been washed away! So much for the easy route finding.
Almost famous
At Gloucester I popped into the cathedral and, for an hour or so, became an accidental celeb. Apparently I'd arrived just ahead of a school trip who were going to be learning about pilgrimages, so I was photographed, questioned and even got to make my own badge. I also spotted a stained glass image of St James high up on the transept. I'd see a lot more of him along the way in Spain, of course, but it was uncanny at times how often I would find references to St James and pilgrimages on my route through England. Coincidence or some deeper power?
Walking in established hiking areas in England (and, as I was to find later, in Spain) is an entirely different experience to walking elsewhere. The transition from Gloucester to the Cotswolds was fairly typical; intricate detours in order to cross a motorway (the M5 in this case), non-existent and poorly signed footpaths, dodgy moments on golf courses and close shaves with inconsiderate road users. Not to mention being looked at as if I'd just landed from Mars!

My next destination was the village of Slad, childhood home and final resting place of poet and writer Laurie Lee. As the author of Cider With Rosie, Lee will probably be remembered by many, for good or ill, from their schoolday english literature classes. For me, As I Walked Out One Midsummer Morning, the story of Lee's travels from his Cotswold home to the south of Spain in the years before the Spanish Civil War, had long been a personal favourite and was a real inspiration for my own walk. Now, here I was, for a while at least, walking in his footsteps. Nothing had been developed as a tourist trap; the village was a lovely backwater, still happy in its own skin.
Somewhere around Stroud I rejoined the Cotswolds Way and for a while I felt the kindred spirit of fellow hikers; the first I'd seen since the Peak District. It was as I neared the end of the Cotswold Way, not far from Bath, that I stopped at a petrol station for provisions and a coffee from the machine. The accents of the cashiers sounded distinctly West Country to my northern ears and I suddenly felt as if I'd walked a long way from home. I celebrated by checking in at the YHA hostel in Bath for two nights and took a day off from walking to laze around in the Roman Baths, soaking my tired legs!
Watching the hills change shape over the next few days as I followed the route of the Kennet and Avon Canal into the downlands of Wiltshire was a thoroughly enjoyable experience. The white horses cut into the chalk hills gave me a real buzz, even though they were relatively recent replacements of an older tradition.
Walking into Amesbury, I learned some ancient history as I was waiting for the lights to change at a pelican crossing. By chance I'd met the mayor and soon I became very well informed about the oldest continuously occupied settlement in the UK, not to mention hearing his recommendation for a good café. I toyed with the notion of visiting Stonehenge but the rain was back again so I plodded on, following the valley of one of our many River Avons and finding myself back looking at rising water levels barely cleared by ancient bridge arches.
Sometimes my habit of booking accommodation a night ahead dictated my choice of route for the following day. Having spotted a youth hostel on the map at Burley, I turned away from the Avon after Salisbury and headed into the New Forest.
I was kept company on the lanes by wandering donkeys and cows for a few days and then, before I knew it, I'd arrived at the south coast at the quaint little town of Lymington.
On an impulse I decided to take the ferry to Yarmouth on the Isle of Wight and follow the coastal path as far as Ryde. I don't know what I'd expected but the cliff top walking was sensational, the weather excellent and the coastal path extremely well signed. Now I felt a new surge of energy and excitement; it was just a short hop by hovercraft from Ryde to Portsmouth and that meant I'd soon be setting off on a much longer sea crossing, all the way to Bilbao.
The end of the beginning
I'd walked around 430 miles through an amazingly varied landscape, past countless historic sites and also raised just over £2000 for Macmillan. I'd met a whole host of helpful, friendly and interesting people and I hadn't suffered from a single blister. Before the walk I'd expected the English stage of my journey to be interesting but less so than the Spanish one. Now I was on the ferry looking back on all the amazing moments of my English walk, thinking: 'Spain, you'd better be good, you've got a hard act to follow!'
After all the weeks of standing on my own two feet, now I had 26 hours pitching and rolling at sea to contend with. I whiled away the time, wondering what the next chapter had in store. I was excited to see how my plan to link together parts of three different Camino routes would work out and I hoped I'd find more details of the little-trodden Basque Interior Camino once I arrived in Spain, as that was surely going to be the climax of the whole trip. As I desperately tried to get comfortable enough to sleep on a reclining seat in the 'quiet' lounge, I had no inkling of the adventures lying in wait for me across the other side of the Bay of Biscay.
'There is no road, the road is made by walking'
Caminante by Antonio Machado
Caminante, son tus huellas
el camino y nada más;
Caminante, no hay camino,
se hace camino al andar.
Al andar se hace el camino,
y al volver la vista atrás
se ve la senda que nunca
se ha de volver a pisar.
Caminante, no hay camino
sino estelas en la mar.
Wayfarer
Traveller, your footprints
are the only road, nothing else.
Traveller, there is no road;
you make your own path as you walk.
As you walk, you make your own road,
and when you look back
you see the path
you will never travel again.
Traveller, there is no road;
only a ship's wake on the sea.
To read more articles like this get our newsletter
Sign up today for a 20% discount on your next purchase. Join over 30,000 enthusiasts from around the world. If you don't love our mix of new books, articles, offers and competitions, you can unsubscribe at any time. We will never spam you, sell your data or send emails from third parties.