New Europaweg bridge - A Bridge too far?
Kev Reynolds shares the news from the Alps that the world's longest pedestrian suspension bridge has just opened on the Europaweg.
If you've trekked in the Himalaya, one of your most vivid memories will probably be when you first crossed a suspension bridge strung across a raging torrent. We've all been there; the juddering sensation as you place one foot in front of the other on wooden boards that have seen better days; the view between those boards to a wild river crunching rocks far below, and the sense of relief on reaching the far side.

There are some good ones in the Alps too, but with better footing. On the alternative first day's stage of the Tour of Mont Blanc, for example, there's a suspension bridge over a glacial torrent before making the climb to Col de Tricot. And there's a corker that spans a gorge below the snout of the Grosse Aletschgletscher – the longest glacier in the Alps. Measuring 124m from one end to the other, the bridge is all of 80m above the glacier's outflow.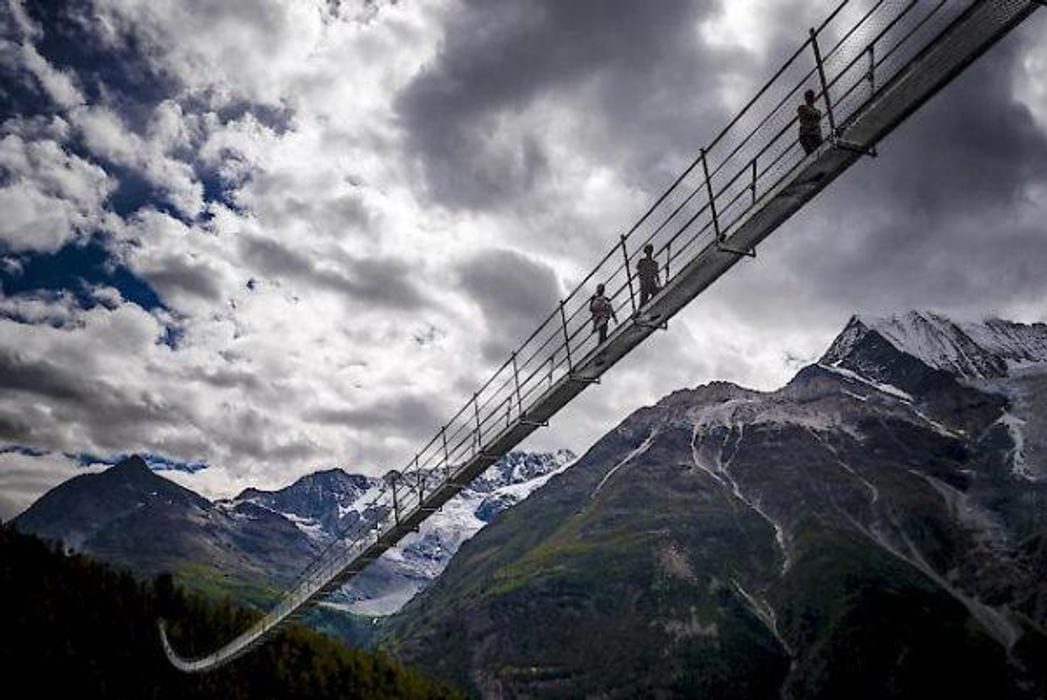 But there's a new one to add to the list of trekking's natural laxatives. Opened on 29th July, what is claimed to be the world's longest pedestrian suspension bridge takes walkers over a ravine that slices the east flank of the Mattertal, the valley that leads to Zermatt and the Matterhorn. This incredible 494m long bridge is not for the faint-hearted. Said to be suspended 85m above the ravine, it was constructed at a cost of 750,000 Swiss francs in order to reinstate the Europaweg as a continuous two-day high-level route between Grächen and Zermatt, after rockfall a few years ago forced a long descent to Randa, followed by a frustrating 1300m climb back up the mountainside to rejoin the original path.
The 32km long Europaweg was created in 1997 to link existing trails to form the Tour of Monte Rosa, and was adopted by the classic Walker's Haute Route from Chamonix to Zermatt two years later.
It's a wonderful high trail with incredible views every step of the way, but from the very start it was fraught with very real problems of rockfall danger. In the 20 years since it was first opened, sections of the route have been broken or swept away many times. An earlier 230m long suspension bridge was built at great cost in the summer of 2010, but just a few weeks later it was damaged beyond repair and diversions to the route put in place.
It is to be hoped that this brand new, ultra long, sturdily made world-beating bridge will last for many years to come and enable many hundreds of TMR and C-Z trekkers to reach Zermatt at the end of their trek safely and happily, and with a host of great memories to take home with them. But even if you are tempted by prospects of walking across this bridge, remember that in many places the Europaweg itself remains a difficult and potentially dangerous route and should be treated as such.
Kev Reynolds
Below is a video of the terrifying journey over the new Europaweg bridge. From www.1815.ch
To read more articles like this get our newsletter
Sign up today for a 20% discount on your next purchase. Join over 30,000 enthusiasts from around the world. If you don't love our mix of new books, articles, offers and competitions, you can unsubscribe at any time. We will never spam you, sell your data or send emails from third parties.