Hiking alone in Bettmeralp and the Aletsch Arena, Switzerland
An unexpected event meant a planned weekend away in Zermatt turned into two days hiking alone in Bettmeralp. But as Annalisa Mejetta describes, it couldn't have worked out better.
I used to spend my holidays or hiking days in Trentino or Valsesia in Italy. I discovered how amazing hikes are in the astonishing Swiss mountains during the Tour of Mont Blanc two years ago and, last summer, the Walker's Haute Route, from Zermatt to Chamonix. So, I studied Kev Reynolds' guides and decided to go to Bettmeralp.
I chose Bettmeralp for two reasons. First, because it's very easy for me to get to. I took a train from Gallarate to Brig, then a small red train (full of trekkers, bikers and paragliders) to Betten and then got a lift to Bettmeralp. After two hours I was there.
And second, Aletsch Glacier and the surrounding mountains, Jungfrau, Eiger and Monch, are legendary. I have read about them since I was young and I wanted to see them.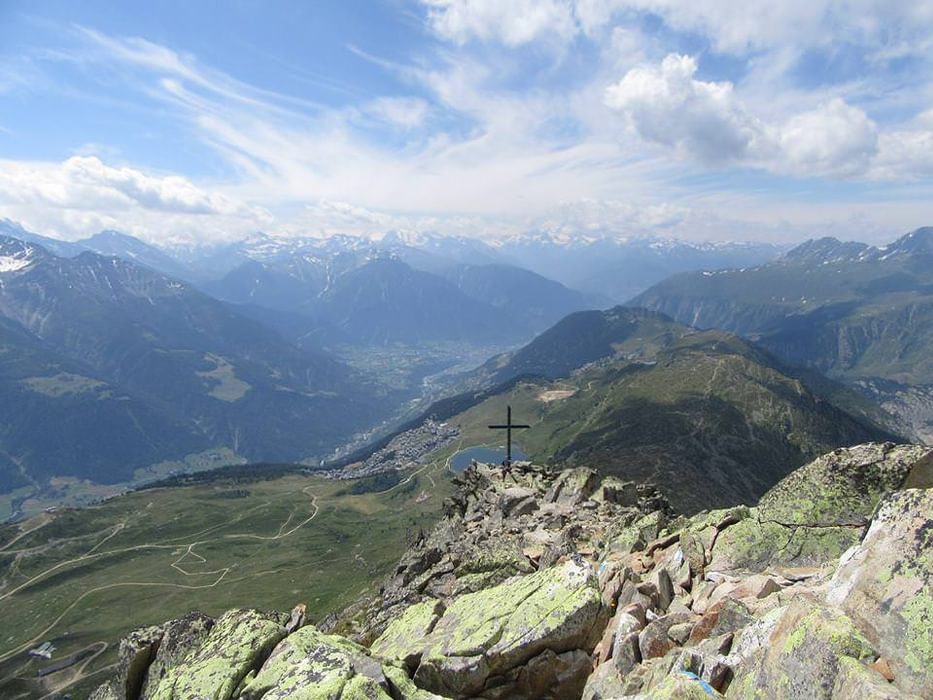 Bettmeralp is like a dream village: it is car-free and its typical wooden chalets are surrounded by colourful lupine flowers. From there you can see some of the Valais mountains, among them Matterhorn and Mishabel. The opposite side the village is surrounded by green fields.
On the first day I decided to walk the so-called Long Three Lake Hike. Through meadows I reached Bettmersee and Blausee, but it is when I reached the viewpoint of Moosfluh that I was astonished by the view of the approaching Aletsch Glacier. The direct way to Roti Chumma was closed and so I hiked up to Hohbalm and down again, which was very worthwhile. The path runs parallel with the glacier and you can see crevasses and small glacial lakes. Then it turns right and the landscape suddenly changes: you have snowy peaks behind you and the legendary Marjelensee Lake in front of you, along with Gletscherstube mountain hut, where you'll find food and drink.
From here I took a shortcut to Fiescheralp, following the trail through a tunnel: it was barely lit, and there were some puddles, but it was very useful. Then I hiked down to Fiescheralp, and on to Bettmeralp, between meadows covered by flowers and pastures.
Great Aletsch Glacier
Aletsch Glacier
On Saturday I was due to get the train back to Italy late afternoon so I could still have time to hike in this paradise. I was uncertain about where to go: everywhere was wonderful. In the end, I decided to try to reach the Bettmerhorn summit. From the eastern side of Bettmersee the trail climbs up to Schnobiel between meadows, black sheep and whistling marmots. Then I reached Bettmerhorn cable car station, where there is an astonishing view of Aletsch Glacier.

From here, the path becomes an alpine route, but I had read it was not difficult until Bettmerhorn's summit. Indeed, the track is well secured with cables and wooden steps where needed: only sure-footedness is required. When you reach Bettmerhorn peak, with its big metal cross, you can write your name in the summit book and, above all, enjoy the magnificent view, both of the Rhone valley and the 4000m-peaks of Valais and the Great Aletsch Glacier.
After taking a lot of pictures, I went down to the cable car station where I visited a (little frightening and dark) museum about glaciers, and then I decided to come back to Bettmeralp following the panoramic trail via Moosfluh and Blausee. I was so lucky that I saw also a roe deer and I arrived in the town just as it started raining.
Bettmeralp and the so-called Aletsch Arena are a real heaven for mountains lovers. There is a great variety of well-signed trails and most of them not difficult. You can choose according to your interests, ability and to how long you want to walk. You can also take advantage of a big network of lifts, well integrated in the landscape, if you want to reach the viewpoints without effort. I was also surprised by the great number of trekkers (and bikers) I met on the majority of the trails – groups of boys, older couples, families with children – so that even though I was a girl hiking alone, I was not afraid, neither on the mountain paths nor in the village.
Striking glaciers
Incredible views of the Aletsch Arena
A tranquil glacier lake
To read more articles like this get our newsletter
Sign up today for a 20% discount on your next purchase. Join over 30,000 enthusiasts from around the world. If you don't love our mix of new books, articles, offers and competitions, you can unsubscribe at any time. We will never spam you, sell your data or send emails from third parties.