Ramsay's Round Training: The Long Run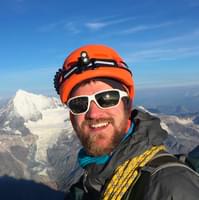 In this article, Joe shares some of his Ramsay's Round training. He will attempt Charlie Ramsay's Round as part of his preparation for the UTMB later in the summer. At 90km (56 miles) and 8500m of ascent, it's Scotland's answer to the Lake District's Bob Graham Round which, incidentally, he has blogged about too.
For mountain ultramarathons, most people would agree that the weekly 'long run' is the most important ingredient for a successful ultramarathon recipe. In the past, I have found that one or two key long runs are essential for physiological and psychological preparedness. In one month's time, my Charlie Ramsay's Round training will be put to the test. My run this past weekend and the planned runs next weekend are important steps in my preparation and will hopefully give me confidence for the big day(s).
Long runs for mountain ultramarathons are quite different to long runs for road marathons. For the shorter road race, one might have multiple 20 mile, 22 mile, or even longer runs planned in the buildup to the full 26.2 mile race. Often, these will be done at quite a pace. So, around 80% of the goal event's distance would be covered in a single training run. This sounds logical but 80% of Ramsay's 90km is 72km which would take 16 hours at my average pace! A 16 hour run would also take a long time to recover from; it might be better spent in doing more runs of a little less distance. I like to have a couple of runs of about half the distance/ascent/time of the goal event in the bank before the big day. It is this thinking that lead me to Sunday's run: 46km, 4500m ascent and 10 hours (and one minute) on the go over some of the roughest ground I could find in the Lake District.

I set off with the plan of visiting some new summits, exploring some scrambles and searching out ruthless ascents and descents that would prepare me well for Ramsay's. For those that know the Lake District and want to check my route, these were the checkpoints:
Old Dungeon Ghyll pub (Great Langdale) - Pike O' Blisco (normal route) - Crinkle Crags - Upper Eskdale (via a direct line west off Crinkle Crags) - Scafell Pike (Via the grade 2 scramble on Pen) - Scafell (via Fox's Tarn) - Illgill Head and Whin Rigg - Wast Water - Yewbarrow (via south ridge, descending Dorehead Screes) - Kirk Fell (via Highnose Head) - Great Gable - Sty Head Pass - Sprinkling Tarn - Angle Tarn - Old Dungeon Ghyll. The GPS data for my run can be found here: http://www.movescount.com/moves/move106517870
Langdale - Crinkle Crags - Scafell Pike
It turned out to be a tremendous tour of many of the Wasdale fells, with some absolutely savage climbs and ascents. The first two summits passed without issue, but a lack of care in descending to the west from Crinkle Crags proved time wasting. Not looking carefully at the map, I made two route finding errors, finding myself on steep, serious ground which forced a lot of backtracking and traversing. The ascent of England's highest mountain was a real treat: the grade 2 scramble to the east of the Central Buttress of Dow Crag lead to the little visited peaklet of Pen, itself an off-shoot of Scafell Pike. The way to the summit from here is on tiny traces of path, making a little trodden and highly recommended route to the top. Scafell was ascended without incident and by the time I was descending towards Illgill Head, I was finishing the last of my cookies and fruit cake. That left me with a large ziplock bag full of dry crumbs; the result of a failed flapjack baking experiment.

Illgill Head and Whin Rigg (the hills above Wasdale Screes) provided the best and smoothest running of the day. However, it was here, after hour and a half hours on the go that I started feeling tired, and the many miles and metres I had in my legs from the previous weeks were making themselves known. There was nothing in particular wrong with me, but everything was getting worn down. Before reaching the southern end of Wast Water, I refilled my water bottles (for the second time in the day), ready for the 5km run along the Wasdale road to then go up and over Yewbarrow. I ran along the road at a decent clip, but felt the sun sapping my energy. All too soon the merciless ascent of Yewbarrow was upon me. The summit was reached after 39 minutes of climbing, but I was really flagging now. The flapjack crumbs were unappetising (I had to pour the oaty, fruity crumbs straight into my mouth, so fine was the consistency), but it was all I had left. Instead of taking the (faster) Bob Graham route to Dore Head, I went over Yewbarrow's northern summit and down the steep rocks to the pass. My heart (slightly) sank as I saw my planned descent route: a 500 meter scree run with all the good scree at the bottom. I tackled it as fast as I could, falling repeatedly, but knowing that the end would come soon. Reaching the bottom, I took my shoes off, emptied out the stones and waded across Mosedale Beck before sitting down to change my socks.
Electrolytes and the toughest ascent in the Lake District?
My new shoes weren't looking so fresh after the Dore Head Screes descent!
Looking back along the length of Wast Water from Yewbarrow
Three climbs and three descents were all that remained. The horrendous prospect of the climb to come was slightly mitigated by the lovely feeling of fresh socks (that I promptly got wet after five minutes). The ascent of Kirk Fell by Highnose Head may well be the definition of purgatory. Here's what Cicerone author Mark Richards has to say about it in the Lakeland Fellranger series: "it's an in-your-face unremitting climb, with loose scree a torment on the final third. You will be chuffed that you did it, but will enjoy it more in hindsight than during the ascent." This ascent climbs 700m in the space of 1.5km, with almost every step the same as the one before it. I shook some dry crumbs into my mouth and washed it down with water, now putting in calories every 20 minutes instead of every half hour. I wished my water had something... well... more. At the time I wasn't sure what this was, but I now think that it was electrolytes that I needed (a 10 hour run without any sodium? Yeah, I definitely needed electrolytes!). I shuffled off the summit of Kirk Fell, spurred on my by the fact that there were only two more climbs to go, and that I would soon see one of my favourite Lakeland views: The hulking mass of Great Gable from above the pass of Beck Head.
Great Gable from Kirk Fell
The rest of the journey was uneventful. I ran down the maintained paths smoothly, but struggled to manage a good pace on the flats. The crumbs kept me going, but didn't seem to hit the spot. After pulling myself along Mickleden, the pub finally came into view. Like many thousands of walkers, climbers and runners before me, I walked straight into the bar to order a pint of coke, a pint of water and a plate of chips. Thank goodness the chips - that I immediately coated in vast quantities of salt - arrived quickly. Life soon returned and a feeling of contentment took hold as I drove back through the evening sunshine to Kendal.
Mickleden at the upper end of the Langdale Valley. Pike O'Stickle on the left.
To read more articles like this get our newsletter
Sign up today for a 20% discount on your next purchase. Join over 30,000 enthusiasts from around the world. If you don't love our mix of new books, articles, offers and competitions, you can unsubscribe at any time. We will never spam you, sell your data or send emails from third parties.