A run with my heroes? Trail running with the Salomon team.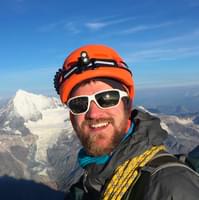 Cicerone's Joe Williams goes trail running in the Lake District with the Salomon team and reports back for the rest of us.
On Thursday last week I found myself back in a Keswick car park, dressed in running gear, with a slight tingle of nerves in my stomach. Nine months before, I had been here to begin my attempt at the Bob Graham Round. I managed it successfully and ended up having a great day out on the hills of the Lake District with friends.
This time I was back to take part in a 'community run' with the Salomon International Running Team on the trails around Keswick. I had spotted the invitation to join the run through Facebook and had secured my spot as fast as possible, desperate not to miss out on this chance to run with the big boys and girls. I was certainly excited about this run, with its chance to meet and chat to some of the best mountain and ultra runners on the planet, but I also felt a bit awkward and embarrassed about my 'hero-worship' feelings. I felt a bit silly...
Of course, I'd seen a few famous ultra runners [is famous the right word? Surely there are only a few thousand people in the world who know or care about these elite athletes], often trail running in Chamonix. The bearded, topless Adonis of Anton Krupicka cruising below Brevent, or the determined Emilie Forsberg jogging back to town after a climb up the Vertical Kilometer course. But now I was going to get to see these elites at close quarters: How skinny were they all? How effortlessly did they climb up the hills? Were they reserved, focussed, professional athletes all the time? How big and toned were Kilian Jornet's calves?
It was Kilian that I was most interested to see. Not a once in a generation athlete, but probably a once in a century athlete. A man who engages in every mountain endurance activity at the highest level.

— Joe Williams
As the 100 or so 'community' runners congregated around the entrance to George Fisher's, the Salomon runners arrived into the crowd one by one, each one met by a couple of us, saying hello, asking for selfies. They were all lean, mostly below average height and dressed in various Salomon tracksuits and more relaxed running attire. Down the street Kilian appeared, looking small, weathered and somewhat shy. As he walked past me, I managed a nervous half-smile as we made eye contact. I glanced down to his calves: Not as big as the rumours.
The run went off for a 10km loop up Latrigg. I jogged along, thinking of interesting things to say to the Team runners who I could pluck up the courage to speak to. As we began to leave town, I found myself alongside Ricky Gates, a tremendous shorter-ultra-distance runner from the US. I knew he knew my uncle as a result of him having done the Bob Graham Round two years ago, so I struck up a conversation. Obviously, like most human beings and especially mountain folk, he turned out to be kind, fun, warm and as interested in me as himself, and we spent five minutes happily talking as we ascended (looking at my heart rate monitor readings afterwards, it seems that I managed to have a decent conversation whilst having my heart explode at 203 beats per minute!).
Throughout the run there were several still and video camera operators buzzing around filming. We were getting a behind-the-scenes glimpse of the Salomon marketing machine in full swing, never missing an opportunity to promote the brand. On reflection afterwards, the overt branding that surrounds everything that Salomon do seemed a bit excessive, and I have started to question whether this commercialisation fits with the general ethos of fell and trail running we have here in the UK. It would be interesting to know other people's thoughts on this.
As we ran along the old railway track back to Keswick, I kept an eye out for the unusually tall figure of Francois D'Haene, a man who - among countless other races - has won both UTMB and Grand Raid Reunion twice. Introducing myself in French, after asking him if he had enjoyed his week of running in the Lakes, I wondered whether he had any advice for me, given that I am running UTMB for the first time this year.
"Start fast. But don't start too fast." Right, ok, slightly cryptic but I see what he means.
"Be prepared for the conditions." Makes sense I suppose given the extremes of weather that can occur.
"Make sure you are completely fresh when you start." Ok, I think this means don't overtrain or do any last minute panic runs right before the race.
In the end, I decided not to bother Kilian for a quick chat or a photo. He actually looked rather uncomfortable with the whole affair, reserved and barely able to muster much of a smile for the endless selfies that were requested of him.
Now back to town, run over, I quietly sloped off back to my car for a stretch before the drive back to Kendal. The event left me pensive and thoughtful about my own running: How could I train to float up the hills like these elites? Do I need to be able to fit in a quick 20 mile run before work most days (like one of the runners, Max King told me he did that morning)? Should my calves look more like Kilian's...?
To read more articles like this get our newsletter
Sign up today for a 20% discount on your next purchase. Join over 30,000 enthusiasts from around the world. If you don't love our mix of new books, articles, offers and competitions, you can unsubscribe at any time. We will never spam you, sell your data or send emails from third parties.