Sample Route from Scrambles in Snowdonia: Notch Arête 2***
A Sample Route from Scrambles in Snowdonia, Steve Ashton's classic guidebook that has been fully updated by Rachel Crolla and Carl McKeating.
A joyful bound up a distinctive wide slabby ramp.

| | |
| --- | --- |
| Location | Tryfan, Ogwen (SH 664 596) |
| Grade | 2*** |
| Altitude and aspect | 780m, west |
| Route length | Sustained but free-flowing and always seems to be over too quickly. Normally a component of longer outings. Height gain approximately 150m. |
| Conditions | Quick-drying on solid slabby rock that takes no drainage. More precarious in the wet. Perfect on a sunny afternoon when it is bathed in light and feels closer to Yosemite than North Wales. |
When seen from the Gribin Ridge, Y Garn or Pen yr Ole Wen, the Notch Arête that bounds the right-hand side of Notch Rocks is an unmistakable feature high up on Tryfan's West Face. It is not actually an arête at all, but rather a wide slabby ramp leading to the summit of Notch Rocks, set at the perfect amenable angle for sustained but never strenuous grade 2 scrambling. The route consistently delights and every move seems to offer the perfect hold. Its only drawback is that it will almost certainly leave you wanting more… you could always descend and do it again.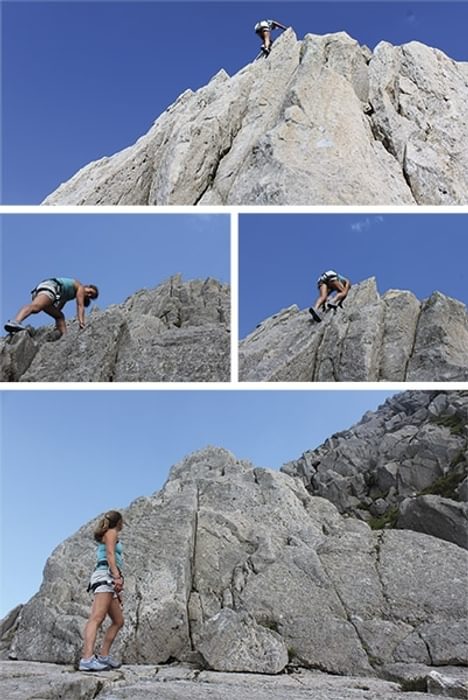 Approach
A large tower can be seen at the bottom of Notch Rocks on their West Face side; Notch Arête begins on a platform above the tower. The platform is gained by traversing rightwards beneath the tower then moving up boulders and scree. A number of approaches are possible:
Notch Arête is best approached by one of the lower routes on the West Face (Routes 24–26 and 28). See the combination sections at the end of those routes.
The route can be accessed directly from the valley floor by following the V Buttress (Route 25) approach but bypassing that route by means of the grade 1- path to its left – thereafter refer to the initial approach description above.
A descent can be made from the large cairn below Notch Rocks on the North Ridge. Follow the couloir down until able to move round beneath the tower described above (see Route 24 descents).
From the Notch in the North Ridge – a point reached from the East Face by Nor' Nor' Gully or Nor' Nor' Groove (Routes 12 and 13) – a 150m path of fairly steep scree runs down parallel to Notch Arête and leads to the start of the route, which is on the right looking out. Any continuation of this descent is hazardous unless already familiar with the topography and orientation of the West Face.
Ascent
Getting onto the slabby face proves the trickiest part of the route. At a point where the scree in the gully bed becomes smaller, walk onto a nearly-level slanting platform above the tower. A stubborn buttress bars access to the slabby ramp of Notch Arête. On the right is a tempting wide corner crack – tougher than it looks (3S). The middle of the buttress is far too hard, so move to the left side of the platform and identify a very clear 3m chimney just wide enough to fit in. (This could be fought up directly if you wish to shed skin and test your range of vocabulary.) By coming in from slightly left of the chimney and moving onto its left-bounding edge, a clean white slanting platform above can be accessed (a little technical, but not exposed). Standing – foreshortened – before you is the beginning of a 150m-long stretch of pure gold; head up its middle and enjoy.
Descent by this route
Possible with prior knowledge, but a considerably more daunting prospect.
To read more articles like this get our newsletter
Sign up today for a 20% discount on your next purchase. Join over 30,000 enthusiasts from around the world. If you don't love our mix of new books, articles, offers and competitions, you can unsubscribe at any time. We will never spam you, sell your data or send emails from third parties.