Snowshoeing in the Alps near Chamonix
International Mountain Leader Hilary Sharp describes the fun and techniques of snowshoeing in the French Alps near Chamonix – 'one of the most enjoyable activities you can do in the snow'.
But it's not just avalanche safety that dictates whether a walk will go on snowshoes. People are tempted to look the summer trails marked on maps and to think they will be good objectives in the winter. However, this is often not the case. Remember all those wonderful trails that traverse high above the alpine valleys – known as balcony trails? These need to be avoided because they often cross steep gullies – and in the winter these will either be dangerous or just very tricky: the one thing that is rather difficult and uncomfortable on snowshoes is traversing.
In addition, those conveniently waymarked summer trails are often impossible to locate in the winter when the nice little painted waymarks are under metres of snow. The ascent to Loriaz is a case in point: a pleasant summer footpath can be taken in good and stable conditions, traversing around the hillside across a deep gully, but this trail is regularly raked by hot sloughs of snow and can become banked out and difficult to follow on snowshoes. If this is the case then the much easier forest track is the way to go.
So start by looking in snowshoe guide to the area, asking at the local tourist office (although they will almost certainly suggest only the easiest of strolls) and maybe even sneaking a look at a local guide's snowshoe programmes.
It is a mistake to just take off and follow any snowshoe tracks that you may come across leading out of the woods.
There are some very adventurous snowshoers around these days and you could end up in extremely challenging terrain. Added to which these could be snowboarding, rather than snowshoeing, tracks and, finally, that clear snowshoe track you followed on a whim in the morning could become totally invisible if the fog comes down or it starts to snow.
Anyway back to Loriaz. A circuit from Le Buet (1329m), in the Vallorcine Valley, up to the Loriaz alpage is a perfect snowshoe walk. It has varied terrain – forest, then clear meadows; there is a good way to get up there – via the forest track which is usually relatively safe from avalanches – and once at the hut you can make a wonderful loop and add in a summit ascent if you're up to it.

It's a real classic. The forest path gives way to easy-angled slopes before the triangular roofs of the farm and hut are seen above; The views are stunning and other slopes beckon all around the hut. If you come along the footpath ascent, the hut is directly above you; if you come the forest track then it emerges from the trees just under the fine Tête de la Chevrette and the Plan de la Chevrette must be crossed before a final climb to the hut.
The hut itself is closed in winter but any sunny day in the winter will usually see a couple of locals up there for a picnic. Most people go right back down again but the Plan de la Chevrette does deserve to be explored.
This area of boulders and streams in the summer is transformed in winter into a wonderland of soft gentle slopes, dotted with dwarf Arolla pines and larches.
Mid-winter afternoon light creates fantastic shadows and a stroll around there is not only unforgettable but also gives you some great opportunities to hone those downhill techniques.
On our day up at Loriaz, after blasting down our first slopes we are unable to resist a final ascent to the summit of the Tête de la Chevrette (2197m). Here again the snow conditions dictate – the west-facing powder slopes can be unstable and although usually devoid of tracks and therefore very tempting, sometimes have to be left alone. An ascent up the south ridge is often more feasible followed by a crazy run back down among the alder bushes. (The alder is the only 'tree' that will grow on an avalanche slope – because it likes wet and mobile ground. Something to bear in mind when you're on your snowshoes looking for that perfect descent.)
On this occasion we left those perfect powder slopes free of tracks by ascending the ridge in crusty sun-touched snow. The summit gave us even better views and despite its relatively lowly altitude, we felt on top of the world.
A short walk along the flat of the summit ridge leads to the top of the convex slopes – always the most exciting! On skis you get three turns if you're lucky. On snowshoes you get a lung-bursting leg-burning ride in deep over-the-head powder, which leaves you gasping, laughing and desperate for more!
And so we did, and so we were.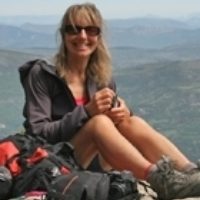 Hilary Sharp
Hilary Sharp is British, a qualified Accompagnatrice en Montagne (International Mountain Leader), and is based permanently in France. After 23 years living in the Alps she now lives in northern Provence, within easy driving distance of the southern French Alps. She runs her own trekking business, Trekking in the Alps and Provence, guiding walks in winter, spring and summer (hilaryalp@gmail.com; www.trekkinginthealps.com; www.trekkinginprovence.com). Her love of walking and climbing has taken her to many parts of Europe and further afield. Hilary occasionally contributes to British walking magazines and is author of Trekking and Climbing in the Western Alps (New Holland, 2002).
View Articles and Books by Hilary Sharp