Snowshoeing in the Alps near Chamonix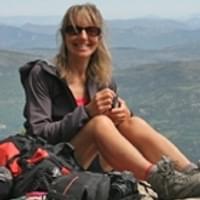 International Mountain Leader Hilary Sharp describes the fun and techniques of snowshoeing in the French Alps near Chamonix – 'one of the most enjoyable activities you can do in the snow'.
It's late January, mid-afternoon, the sun is low in the sky but its rays are still strong and cast a beautiful light on the untouched slopes of pure white powder snow all around us. We've spent the day hiking up to this point, high above the Chamonix Valley, and are now about to be rewarded for our hard effort.

Our day began in the freezing cold of an alpine morning, deep in the shady depths of the Bérard Valley, which doesn't see the sun from November to February. We made our way along the valley next to the Eaux Noire river, still flowing but frozen in parts on rocks and shrubs. The ice had formed twisted sculptures which fringed the edges of the streambed. We admired the meringue-shaped snow caps of the boulders along the way and commented on the striations in the profile of the snow-pack, visible on rocks and roofs.
Gaining height in the forest, we felt the temperature rise quickly as soon as we gained height and reached the sun and as we climbed the zigzag trail through the trees we frequently stopped to admire the peaks of the Mont Blanc massif. At first our view was limited to the north faces of the Argentière summits and the nearby Aiguillette des Posettes, but soon we could also see the Chamonix Needles and behind, in the far distance, the characteristic flat snowy top of Helbronner, over in Italy.
There are many reasons to toil uphill, but one of the most satisfying is to see the ever-widening vista and on this occasion we were not disappointed. The Aiguille du Chardonnet, the Aiguilles du Tours, the Dent du Géant and then finally Mont Blanc - all these summits accompanied our ascent and gave us cause to stop and stare (and an excuse to get our breath back).
Now up at the Loriaz alpage (summer farm and refuge) 2020m, we have reached our objective for the day, and the real fun is just about to begin.
In my opinion there is little more exciting than standing at the top of an untracked slope of powder, snowshoes poised for action, ready to lunge.

Perhaps I've had a sheltered life but until you've tried it, hold judgment. There's a lot more to snowshoeing than you imagine. But then most people don't imagine anything about snowshoeing at all. It remains little-known and much misunderstood: images of tennis rackets spring to mind, or maybe eldery folk trudging around the forest or, even less inspiring, clumping along on prepared trails in the valley. The most romantic notion might be of north American Indians crossing high plateaus on huge shoes crafted from willow branches and animal skins. But forget all that. Snowshoeing is one of the most fun activities that exist in the snow – as long as you enjoy hiking in the hills with great views. The descent is just the icing on the cake.
It's true that not everyone likes to run downhill – people have knee issues, they are scared of falling or not being able to stop – all valid reasons to question the wisdom of launching off onto the beautiful snow-slope that awaits us up at Loriaz alpage. However, the fact is that running on snowshoes is as natural as running down a sand dune, falling doesn't hurt and sore knees can be all but forgotten when underfoot (or rather under snowshoe) there are several metres of cotton-wool soft powder snow.
So with all excuses out of the way it's time to launch. Legs very slightly apart, knees just bent, poles in front and off we go. And what a blast it is. Running down on snowshoes is something that has to be experienced to be believed – huge smiles are the order of the day.
It's amazing what can be descended, depending on the snow conditions and the stability of the snow-pack.
But given good stable conditions and deep uniform snow, we can take on pretty steep slopes, including those too narrow or tree-encumbered to be pleasant for skiers.
The main thing to be aware of when if you're choosing a snowshoe walk in the Alps is avalanche risk.
You need to be able to assess whether a walk will be safe and know how to use avalanche safety gear if you're unlucky. The details are beyond the scope of an article like this, but it is important before setting out anywhere away from secured ski areas in the Alps in winter to have this basic knowledge and it's best gained by going out with a professional in the mountains.
Once you know what to look for, you need to study the map. Avalanches are most common on big slopes of around 30°. Forested slopes are safer, but only comparatively so – and being caught in an avalanche on a tree-strewn slope would not be good. You really have to use your judgement and err on the side of caution. The local tourist offices in alpine resorts display a printout of the avalanche risk evaluation. This will give a good indicator of which slopes are to be avoided – or at least treated with caution.
But it's not just avalanche safety that dictates whether a walk will go on snowshoes. People are tempted to look the summer trails marked on maps and to think they will be good objectives in the winter. However, this is often not the case. Remember all those wonderful trails that traverse high above the alpine valleys – known as balcony trails? These need to be avoided because they often cross steep gullies – and in the winter these will either be dangerous or just very tricky: the one thing that is rather difficult and uncomfortable on snowshoes is traversing.
In addition, those conveniently waymarked summer trails are often impossible to locate in the winter when the nice little painted waymarks are under metres of snow. The ascent to Loriaz is a case in point: a pleasant summer footpath can be taken in good and stable conditions, traversing around the hillside across a deep gully, but this trail is regularly raked by hot sloughs of snow and can become banked out and difficult to follow on snowshoes. If this is the case then the much easier forest track is the way to go.
So start by looking in snowshoe guide to the area, asking at the local tourist office (although they will almost certainly suggest only the easiest of strolls) and maybe even sneaking a look at a local guide's snowshoe programmes.
It is a mistake to just take off and follow any snowshoe tracks that you may come across leading out of the woods.
There are some very adventurous snowshoers around these days and you could end up in extremely challenging terrain. Added to which these could be snowboarding, rather than snowshoeing, tracks and, finally, that clear snowshoe track you followed on a whim in the morning could become totally invisible if the fog comes down or it starts to snow.
Anyway back to Loriaz. A circuit from Le Buet (1329m), in the Vallorcine Valley, up to the Loriaz alpage is a perfect snowshoe walk. It has varied terrain – forest, then clear meadows; there is a good way to get up there – via the forest track which is usually relatively safe from avalanches – and once at the hut you can make a wonderful loop and add in a summit ascent if you're up to it.

It's a real classic. The forest path gives way to easy-angled slopes before the triangular roofs of the farm and hut are seen above; The views are stunning and other slopes beckon all around the hut. If you come along the footpath ascent, the hut is directly above you; if you come the forest track then it emerges from the trees just under the fine Tête de la Chevrette and the Plan de la Chevrette must be crossed before a final climb to the hut.
The hut itself is closed in winter but any sunny day in the winter will usually see a couple of locals up there for a picnic. Most people go right back down again but the Plan de la Chevrette does deserve to be explored.
This area of boulders and streams in the summer is transformed in winter into a wonderland of soft gentle slopes, dotted with dwarf Arolla pines and larches.
Mid-winter afternoon light creates fantastic shadows and a stroll around there is not only unforgettable but also gives you some great opportunities to hone those downhill techniques.
On our day up at Loriaz, after blasting down our first slopes we are unable to resist a final ascent to the summit of the Tête de la Chevrette (2197m). Here again the snow conditions dictate – the west-facing powder slopes can be unstable and although usually devoid of tracks and therefore very tempting, sometimes have to be left alone. An ascent up the south ridge is often more feasible followed by a crazy run back down among the alder bushes. (The alder is the only 'tree' that will grow on an avalanche slope – because it likes wet and mobile ground. Something to bear in mind when you're on your snowshoes looking for that perfect descent.)
On this occasion we left those perfect powder slopes free of tracks by ascending the ridge in crusty sun-touched snow. The summit gave us even better views and despite its relatively lowly altitude, we felt on top of the world.
A short walk along the flat of the summit ridge leads to the top of the convex slopes – always the most exciting! On skis you get three turns if you're lucky. On snowshoes you get a lung-bursting leg-burning ride in deep over-the-head powder, which leaves you gasping, laughing and desperate for more!
And so we did, and so we were.
To read more articles like this get our newsletter
Sign up today for a 20% discount on your next purchase. Join over 30,000 enthusiasts from around the world. If you don't love our mix of new books, articles, offers and competitions, you can unsubscribe at any time. We will never spam you, sell your data or send emails from third parties.