Springtime walks in confinement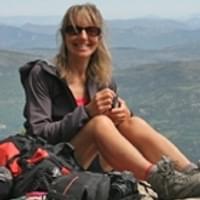 Confinement has put normal life on hold in France. But for Cicerone author Hilary Sharp, who lives in Provence, brief walks in the local area to enjoy the spring sunshine and flowers are still a vital part of her daily routine.
We're on day 2 of confinement here in France. Let me just present myself first: I love to hike and I love to climb, those are my passions and the former is also my work – I am a self-employed trekking guide and I run my own business. For 23 years I lived in the Alps near Chamonix, and now I live in Provence. My business depends on tourism and obviously, like so many others, I suddenly have no work for the foreseeable future. Hopefully my Cicerone guidebooks will sell massively this year to give me some income!

In France we received the confinement order on Monday evening when President Macron announced that, in addition to the closure of all but essential commerces, which had been in place for a few days, we would be in lockdown. We are to stay at home unless we absolutely have to go out for work, for hospital or doctor's visits, for essential family visits, or for brief outside exercise staying close to our homes (not going by car or bike). When we go out we must take an attestation with us in case of a police control.

I fully agree with these measures; we have to stay at home now so we can do all the things we love later.
I live in a beautiful place and am very lucky to have a garden. I can also walk out of my door and go uphill into the countryside. Even so, it takes a major mental adjustment to realise that you really do have to narrow down your world to just a few kilometres around where you live. I was thinking maybe I could ride my bike just for a short circuit, maybe 20km… but no, that is not acceptable. We must avoid any unnecessary risk; the hospitals and medical services must be allowed to concentrate solely on those that are already sick or affected by Covid-19.
So how did my first day go? I took a walk to town to try to get bread; yesterday the queue at the boulangerie was too long to make it reasonable to stand in line. Today I succeeded! Then back up to the house for a spot of weeding – even leaving all the dandelions for the bees, there is more than enough to occupy me there, but my poor old body can only take so much crouching down. I also made a homemade mask for when I go to the grocery store. After a few pull-ups – and there really is work to be done in this area!! – I took off on my afternoon walk, armed with my attestation.

Like I said, I can walk out the door – up the lane and then onto a dirt track. It's only a very short walk but right now I am so grateful to be able to do this. There is so much to see: spring is here, the trees are in blossom – in fact, the almond trees are already going to leaf and almonds are forming. The rosemary bushes are stunning, as are the forsythia. I spotted lots of orchids, too. As for views, from here I can see the dinosaur-shaped Rocher du Saint Julien, the north face of which has several via ferrata routes – thankfully, deserted right now. The Baronnies hills, which surround where I live, are beautiful, the bushes and pines on their lower slopes giving way higher up to rocky summits. And in the distance, almost always visible, the iconic Mont Ventoux, its north slopes now almost snow free.
Yesterday I had seen griffon vultures landing on a ledge on a not-so-far-away cliff. I wondered if they had a nest there. So today I was armed with my camera, which has a great zoom. In fact, as so often happens, what you see one day is not the same the next; no vultures on the ledge but two flew over as I rested at the top.
Time then to come back. Doing a circuit would be pushing the confinement rules too far, but I don't mind there and back walks as what you see is always different on the way down. I came back buzzing from the exercise. I need that every day, even though it's only very short.

But I am left wondering, how many times will I need to do this exact same walk? What about people in apartments in towns? They will have to walk around the block for example, the same circuit each day, or do exercise programmes in their houses. There is always something to see that's for sure, wherever you are. But one thing I do recommend is podcasts. I am new to the podcast world having previously listened to music or audio books. But these last few weeks I have discovered podcasts and I think now they are going to be really important. I will give a shout out to the two I am really enjoying right now: Of Mountains and Minds and Tough Girl Podcasts – listening to the latter today the host, Sarah Williams, announced she is doing a multi-day hike in Tasmania sponsored by Cicerone – I had no idea Cicerone Press would pay for our holidays; must follow that up :)
While out exercising now, doing the same route every day, I find these conversations really focus my mind and I can honestly say that for the duration of my walks I do not think about COVID-19 at all – that is the only time during the day when I don't. I am absorbed in these exploits of other people, their adventures, their struggles.
It's going to be a very long pull for all of us. I realise the UK is behind the EU in its reaction to this crisis and my experience is that it really does take time for us to accept that the only way to beat this is to avoid social contact and to let the emergency services to their jobs. I am angry to see some people still climbing on the French crags, for example, and boasting about it on social media. There has been such a push back about the confinement here, the police have really had to react today.
We must accept that we stay home now so we can live all our outdoor adventures later.
My heart goes out to all those who live alone. Although couples and families confined to barracks will doubtless have their share of bickering, it must be very hard to be alone. We need to interact on social media. I had a few emails today from friends and clients and it really cheered me. Let's all talk to each other more during this very trying time. And hope and believe we're all going to come through it ready to get out there and enjoy the mountains again.
To read more articles like this get our newsletter
Sign up today for a 20% discount on your next purchase. Join over 30,000 enthusiasts from around the world. If you don't love our mix of new books, articles, offers and competitions, you can unsubscribe at any time. We will never spam you, sell your data or send emails from third parties.