The best time to go to The Hebrides
When is the best time of year to go to The Hebrides? Peter Edwards, author of the new Cicerone Press guidebook to The Hebrides, explains that each season offers its own special reasons to visit this incredible island group.
In this beautiful guide to 50 walking and backpacking routes there is something for all weather - as long as you are well prepared.

50 walking and backpacking routes on The Hebrides
In early spring and autumn you are more likely to benefit from mild weather, although rain can be a feature – and rain results in wet, boggy ground. Another important advantage gained by visiting in these seasons is that in early spring the bracken has not yet sprung up and in the autumn it dies back. Bracken forms a serious natural obstacle in some areas on many of the islands and is often festooned with deer ticks. Furthermore, midges and horseflies don't generally appear until mid-spring and disappear again in autumn. There are fewer visitors at these times of year than in summer and there is a reasonable amount of daylight to be getting on with.
Late spring and summer - busy and bitey but beautiful
In late spring and summer you will have to contend with bracken, ticks, midges and horseflies and you're less likely to have the place to yourself. In hot weather – really, it can happen – walking over the difficult terrain often encountered in the Hebrides can be gruelling, especially when backpacking. On the plus side, the days are long and evenings around a campfire are more viable. The ground is generally less boggy and the colours can be fantastic – the combination of sparkling blue–green seas, silver sands, emerald green bracken ferns and the explosion of wild flowers is wonderful. On several islands, including Skye, Mull and Harris, there is a trade-off between the risk of fine weather breaking out and significant visitor numbers. If you're after getting away from it all it's probably best to avoid the visitor 'hotspots' during the high season.
Winter in the Hebrides
Winter can be a fantastic time for walking in the Hebrides, but this depends to some extent on the type of walking you aim to do and also how experienced, robust and well-equipped you are. Winter hillwalking in the Hebrides can be wonderful, but you must be a competent navigator and go properly equipped for the conditions. In the hills, winter is defined less by the calendar season so much as conditions on the ground. The temperate maritime climate also means that conditions may change quickly. Short winter days are another important factor to consider. It is doubly important to check the weather, let others know your planned route, allow plenty of time to complete your walk in daylight and be properly equipped before setting out. Stormy weather can be a factor and you will also be vulnerable to the elements when walking in coastal areas. Ferry cancellations are also common in the winter months. However, you're much more likely to have the place to yourself in winter and if you're lucky you might enjoy some days of crystal-sharp, winter sunlight. It can also be surprisingly mild in winter, thanks to the Gulf Stream, although the terrain can be very boggy in places, with December and January being the wettest months on most of the islands.
A quick note on deer stalking:
On those islands where deer are culled it is advisable to contact the estates where you will be walking during the deer stalking season, which runs from 1 July until 15 February, both for your own safety and as a matter of courtesy. Contact numbers for the relevant estates are included in the guidebook.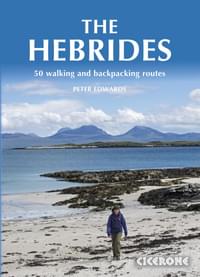 The Hebrides
50 Walking and Backpacking Routes
£18.95
Inspirational guidebook to 50 varied walking and backpacking routes in the Hebrides, featuring classics such as the Skye Cuillin and the Paps of Jura, but also many lesser-known routes on Jura, Scarba, Islay, Colonsay, Rum, Eigg, Canna, Muck, Coll, Tiree, Mull, Skye, Raasay, Harris, Lewis, Berneray, North Uist, South Uist, Barra and St Kilda.
More information
To read more articles like this get our newsletter
Sign up today for a 20% discount on your next purchase. Join over 30,000 enthusiasts from around the world. If you don't love our mix of new books, articles, offers and competitions, you can unsubscribe at any time. We will never spam you, sell your data or send emails from third parties.