The England Coast Path: The challenge of plotting a path by the sea
In two years' time the England Coast Path National Trail is due to be completed, but as Andrew McCloy discovered at Spurn Head, the shoreline is a dynamic and challenging place for path-builders.
The other day I walked to the far end of Spurn Head, a narrow finger of land that arcs out into the mouth of the River Humber near the city of Hull on England's east coast. I was researching a route for a Cicerone title due out in two years' time to mark the official opening of England's newest National Trail – a continuous 4500km (2,795-mile) long-distance path around England's entire coast.
The book will introduce this ambitious and exciting new trail and feature a selection of its best one-day and weekend coastal walks, such as a there-and-back route to Spurn Head along the 6km spit. Except that, to borrow Facebook terminology, Spurn's status has changed. In 2013 a powerful storm surge broke through the spit, barely 150m wide at its narrowest point, and washed away a considerable amount of material. This included rock defences and a protective bank, as well as the surfaced road built a century ago that led to the lifeboat station and coastguard buildings on the far end of the point. Overnight, England's newest tidal island was created, since when it has been regularly cut off from the mainland by very high tides and visitors now have to time their journeys accordingly.
Spurn's story highlights the challenge of plotting a sustainable coastal trail, but it also helps to explain why the legislation that allowed for the creation of the England Coast Path was cleverly framed to cope with a vulnerable and constantly shifting shoreline.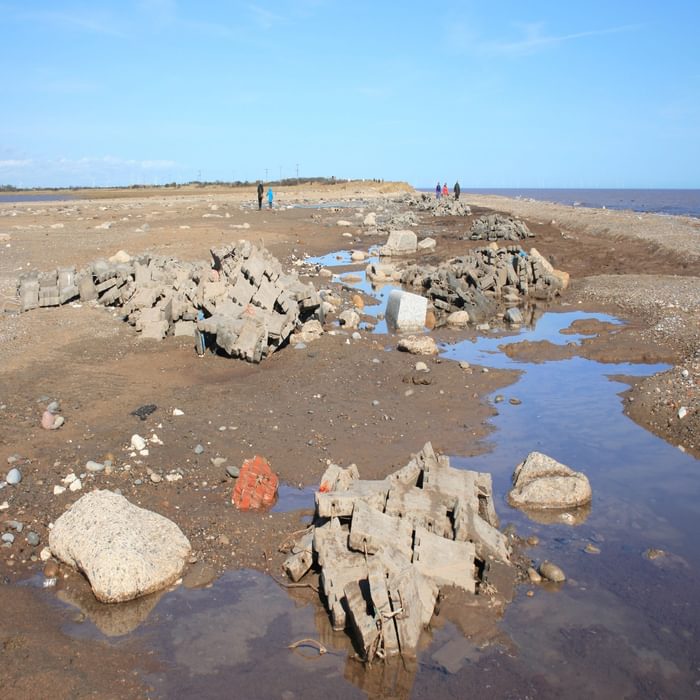 A coast path for England
Unless Spurn is permanently marooned by another catastrophic weather event over the next couple of years, the England Coast Path will probably incorporate a short spur out to the end of Spurn Head. The section around the Humber Estuary is 'under development', according to Natural England, the government body tasked with developing and delivering the new trail. Under the approved coastal access scheme that followed the Marine and Coastal Access Act of 2009, the new route will extend to any tidal island it's possible to walk to from the mainland or another accessible island – like Lindisfarne, for example, further up the north east coast in Northumberland.
The first stretch of the England Coast Path to be opened was at Weymouth Bay in Dorset in 2012. Since then there has been periodic wavering over core funding for the project, as well as the political will to see it out. But persistent lobbying from the Ramblers and others eventually extracted a promise from the government to complete the full trail and work has now started on every section. This will mean, therefore, that eventually a continuous walking route will be created around the entire shoreline of both England and Wales, following the opening of the Wales Coast Path six years ago. However, the English version will be different to its Welsh counterpart in some important ways, and much of it has to do with the long-term instability of England's southern and eastern coasts, which I witnessed first-hand at Spurn.
The Wales Coast Path is just that – a continuous linear walking route along the seaboard, sometimes on the actual shore or clifftop, but at other times simply as close to the sea as possible – even if that occasionally means some distance inland. By contrast, although the England Coast Path will also provide a continuous waymarked route, the legislation also allows for the creation of a strip of public access land along the wider coastal margin, or what's known as 'spreading room'. Not only will it create legal access to more of our beaches, dunes and cliffs, but when (not if) coastal erosion takes place it will allow the linear trail to be repositioned to a more sustainable line without recourse to what is presently a difficult and time-consuming process of creating a new right of way.
The Top Of Spurn Head From The Lighthouse
Looking Back To The Mainland From Spurn Head Lighthouse
The shifting shoreline
Back at the mouth of the Humber I made my way along the narrowing mainland and crossed the open strand, perhaps up to 1.5km long, which is now periodically submerged.
It's called the Wash Over, a nicely prosaic term that leaves visitors in no doubt as to what might happen if they don't time their walk properly.
In the storm surge of 2013 the sea rose by 2m, on top of a high tide, and there's still evidence of the destruction, with broken-up bits of stone and tarmac littering the beach. Eventually, I reached the slightly higher ground on the far side where, beneath dunes where the road resumes, a small wooden hut is a designated High Tide Shelter.
Spurn is basically a series of sand and shingle banks bound together by marram grass and sea buckthorn. It's a national nature reserve managed by Yorkshire Wildlife Trust, and despite some token waymarked wildlife and heritage trails it's hard to get lost on such a narrow cul-de-sac. Plus, there's a massive lighthouse in sight for most of the way (for a small fee I climbed to the top for terrific views). Access to Spurn Head on foot is free and on that warm, early spring afternoon it was pleasant just to amble about, inspecting this and that, until eventually I arrived at the far point. From here there are tremendous big sky views – the yawning mouth of the Humber one way, with its busy shipping and far-off industrial outlines; north Lincolnshire's gentle green slopes straight ahead; and the glittering North Sea, replete with neat rows of little white windmills. My vantage point, on a very low sandy cliff surrounded by scrub, seemed secure and permanent enough, but in fact Spurn Head's profile and location have been constantly changing over time and there have been three recorded breaches in the spit since the Norman Conquest.
As repeated storms and the tidal action of longshore drift have constantly deposited new material along the coast, so Spurn has shape-shifted from one century to the next.
In medieval times a settlement called Ravenser Odd stood on the sandbanks at the mouth of the Humber near present-day Spurn, but it was eventually washed away and all traces of a port once more important than Hull and Grimsby have completely vanished. The same fate befell the Suffolk town of Dunwich, which is another location that I'll be featuring in my coastal walking book.
The dramatic change to Spurn that that took place overnight on 5 December 2013 saw the Victorian sea defences swept away to such an extent that the authorities concluded it was futile to try to restore them in the face of such dynamic natural forces. It's the same dilemma that the Environment Agency and landowners have faced up and down England's east coast over recent years – whether to shore up expensive sea defences or let the sea naturally reshape the coastline via a co-ordinated 'managed retreat'. With rising sea levels and powerful and destructive weather events becoming more common, there is an argument that by deliberately allowing some relatively low value coastal land to flood you can better protect more vulnerable or valuable sites and at the same time create important wildlife habitats. But try telling that to some residents in Norfolk, whose clifftop properties began falling into the sea earlier this year.
The Wash Over At Spurn
High Tide Shelter
Former Sea Defences On Spurn Head
Damaged Road On Spurn Head
The best of the coast
The coast of England is endlessly fascinating and always a stimulating place to walk, so the completion of a 4,500km trail to join it all up is a mouth-watering prospect. There's still much hard work to be done if the whole task is to be completed by 2020, but already England Coast Path signs have appeared at locations on the shores of west Cumbria, Kent, Norfolk, Dorset and north Somerset, where stretches of the trail are now officially open and walkable. The new route will create what has been described as the longest coastal walking trail in the world, especially if you add on the Wales Coast Path. Obviously, there will be sections that are more appealing than others, and I'll be cherry-picking a cross-section for my own book, from the cliff paths of Devon and Cornwall, Sussex and North Yorkshire, to the sandy bays of Norfolk and Northumberland and the atmospheric expanse of Morecambe Bay and the Solway Firth.
However, for me the real and lasting value of the England Coast Path will be twofold. First, it will allow direct access to the sea and shoreline on foot for everyone, in both urban and rural settings, whether you just want to walk the dog, wander about and gaze at the sea or stride out for the day. It's about making the coast more accessible and encouraging people to exercise and explore their island nation on foot. Second, it confirms a legal right of access to the entire coast of England, excepting the obvious such as industrial complexes, military ranges, sensitive wildlife sites and the like. The foresight to include spreading room – the wider coastal margin – was an acknowledgement that lasting access to a dynamic environment such as the coast requires a dynamic and innovative approach.
I'll go back to Spurn Head again before I finish writing the book to learn more about this unique place and experience again this lonely, fragile finger of coastline. But I just hope it's still there.
To read more articles like this get our newsletter
Sign up today for a 20% discount on your next purchase. Join over 30,000 enthusiasts from around the world. If you don't love our mix of new books, articles, offers and competitions, you can unsubscribe at any time. We will never spam you, sell your data or send emails from third parties.