The Big Rounds
Running and walking the Bob Graham, Paddy Buckley and Charlie Ramsay Rounds
Guidebook to walking and running the 'Big Rounds' - The Bob Graham, the Charlie Ramsay and the Paddy Buckley. Includes practical information and advice, notes on access and environmental impact, tales from the Rounds, plus insights and strategies from the likes of Jasmin Paris, Nicky Spinks, Charlie Ramsay, Jim Mann and Paddy Buckley.
Seasons
Predominantly spring and summer, but with advice on timed round attempts in the winter from the current record holder, Jim Mann.
Centres
England: Keswick/Ambleside/Wasdale Wales: Capel Curig/Blaenau Ffestiniog/Betws Coed/Llanberis/Ogwen Scotland: Fort William/Fersit
Difficulty
Each of the three rounds is presented as a 24-hour running challenge, and a week-long backpacking circuit. Both of these options are genuine challenges for experienced outdoors people. However, there is additional information for those who prefer a more relaxed pace. All of the routes are also described as day trips and/or as 'sections' of smaller running or backpacking routes.
Must See
The Big Rounds - running and walking the Bob Graham, the Paddy Buckley and the Charlie Ramsay rounds - is a guide to Britain's three most challenging long-distance mountain rounds, and the people who love them. These routes are grand, circular tours of the Lake District, Snowdonia and Lochaber, and the book includes a full guide to each round for both walkers and runners, the history of each round, and advice from running and backpacking experts.
Overview

Contents

Updates

Reviews

Where to Buy

Downloads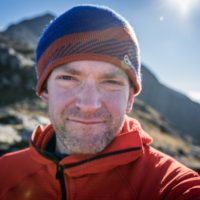 David Lintern
David Lintern is an award-winning photographer and writer, an average mountaineer and a below average runner. He has previously been a cinema projectionist, a sound engineer, a youth music worker and a university lecturer, founded a small refugee charity and fundraised for the John Muir Trust. After a lifetime spent in cities he now lives in the Cairngorms, writes about the uplands, and both guides and teaches outdoor photography. The Big Rounds is his first book.
View author profile