The High Atlas
Treks and climbs on Morocco's biggest and best mountains
Inspirational book packed with anecdotes and insights about the best treks and climbs in the High Atlas mountains of Morocco, in North Africa, and drawn from the author's 50-year experience. Illustrated with dazzling photographs of the mountains and also the mountain people, the Berbers. 48 routes including Jbel Toubkal, Tazekka and Igdat.
Seasons
If you can cope with snow climbs, winter into spring is a good time to visit; spring is the perfection, with blossom and life awakening, and as late as June alpine flowers will still be colouring high ground; by July the temperature is soaring and tends to stay so until the autumn equinox; autumn is harvest time, and storms are less likely, but you'll find a burnt-up landscape; November, December and January are the least good months
Centres
Marrakech, Fes, Imlil, Ouarzazate, the Bou Guemez, Tinerhir and Boumalne des Dadès
Difficulty
routes suitable for any experienced mountaineer, as long as they respect the altitude and the strong summer sun
Must See
Jbel Toubkal the highest mountain in North Africa; Tazekka; Igdat; Ouaougoulzat; the Cathedral rock tower; Tizi Mkorn and the Tichka Plateau; the colourful Berber culture and people
Overview

Table of Contents

Maps

Updates

Reviews

Downloads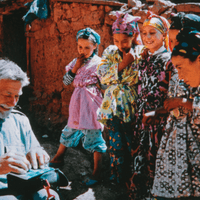 Hamish Brown
Hamish M Brown is a professional writer lecturer and photographer specialising in mountain, outdoor and travel topics, topography, prehistoric sites, historical interests and travel worldwide. He has written or edited over 20 books, ranging from poem (his own and anthologies) and short stories, well- researched and illustrated guidebooks, to narratives on major expeditions (Munros in a single trip, the Groat's End Walk, Atlas end- to- end). He has also appeared on radio and TV.
View author profile