The joy of walking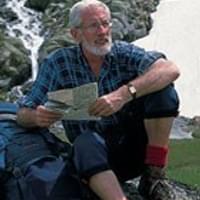 Kev Reynolds has been reflecting on why he fell in love with walking many, many years ago and, despite only being allowed to walk circuits of his miniature garden, he is still daydreaming of walking holidays.
I don't remember a time when I didn't go walking. One of my earliest memories is toddling from the house where I was born (in the same room as my dad) to the wheelwright's shed in the Market Place nearby. Apparently my mum never turned a hair, nor did she when I was about ten years old, when I'd climb over the garden fence and go wandering through the neighbouring fields and woodlands.
A few years ago I asked her if she ever worried about me going off like that. 'No,' she said, 'I knew you'd find your way home again once you became hungry!'
I was inquisitive, I guess. Having a free-range childhood I was intrigued to know what lay beyond the limits of all I could see from my bedroom window, and never gave a thought to losing my way, or the danger of climbing trees, paddling in streams or sliding across the ice stretched over a frozen pond in winter. But it was during nature rambles led by my Primary School Headmaster that the gate to adventure was thrown open. Although he didn't express it in words, he showed there was a wonderful world 'Out There' and encouraged me to go off to explore it. And the best way to do that was on foot, whether exploring the local park or a remote part of the Himalaya.
Walking is such a natural thing to do we rarely think about it. After all, it's only a case of standing upright and putting one foot in front of the other. And we can master that when little more than a year old. But for most of us it's not the walking itself that's important. It's what we see and experience when putting one foot in front of the other that counts.
When our daughters were small we'd take them out every day. When little more than knee-high to a donkey they would see a different world from the one we were used to looking at as adults. They'd see parasols of blossom towering over them, when all we grown-ups could see was cow parsley growing along the field margins. They'd see jungles in a tangle of woodland undergrowth, and as their horizons were closer than ours, they'd concentrate on what they could see properly (and I mean, properly), while our adult eyes were focused on distant hills. For each one of us, 'Out There' was where we were (and still are) at our happiest.
One of our daughters has a birthday in bluebell time, so when she was small we'd carry her cake and candles with us and have a picnic on the edge of a bluebell wood. It seemed like a natural thing to do; we were 'Out There' – of course. And we had to walk to get there.
One day we decided to join a local stream emerging from its source as a spring on the hillside, then followed it down through the fields and woodlands towards the Medway. When that stream was channelled through a pipe beneath a country lane, we simply got down on our hands and knees and crawled through it!
I say this to all you parents: Don't be a boring old fart, make life fun, retain a sense of wonder for the world around you, and pass it on to your children.

Now they're young women, those daughters of ours still go walking almost every day; one has trekked a few times in Nepal, once in Peru, and explored the jungles of Borneo. The other shares our passion for the world 'Out There' and has indoctrinated her children to it too. It's in their genes, I guess; that tendency to stand upright and place one foot in front of the other. And absorb all the wonders on offer.
From where I write these words I can see a range of tree-covered hills. By linking two or three footpaths I could be standing on their highest point in a little over an hour. I reckon I know every step of the way; every stile and kissing gate, every woodland shaw, every hawthorn bush, each and every oak tree… And there's a good chance I'd hear a green woodpecker making his 'yaffling' sound as he flies low across one of the meadows. Not to mention the buzzards circling overhead, and every finch that claims ownership of a hedgerow where we'll go blackberrying in the late summer.
Getting there involves walking. I wouldn't dream of taking the car and parking it five minutes' from the top. The reason for going from here to there has little to do with being there, despite its magic; it's the sheer delight of the physical journey that makes the urge irresistible.

Let me confess. I've stood on the summit of that hill a thousand times, I reckon. Maybe more. The view it reaches out to embrace is as good as any I know down here in the 'over-crowded' south-east. For more than fifty years I've had a passion for mountains, and spent at least thirty of those years writing about them, recording some of the world's most spectacular landscapes among the Alps, the Pyrenees, the Andes of Peru or the sky-scratching Himalaya, Almost every time I came home from an expedition, I'd dump my rucksack and walk up to that local viewpoint to remind myself that the world 'Out There' is wherever you happen to be, and the beauty to be found in Kent or Sussex, in Cumbria, Dorset, Suffolk or Norfolk, is no less exciting than the most exotic of distant locations.
After all, the rarest orchid is no lovelier than a rose. And if you find one of those when out walking, you'll know precisely what I mean.
In another life I worked in an office with a view across a quadrangle of buildings to a red-brick toilet block across the way. If I wanted to see the sky, I'd need to hang out of the window while one of my colleagues held my legs. Sometimes I'd grab a manila file, thrust it under my arm and, with a serious expression on my face, leave the building and make for the local park. And there I'd wander for half an hour or more, feed the ducks in the lake and sniff the flowers and bushes.
I guess I was never cut out for office work. Or convention.
I blame my old Primary School teacher for that. And the love of walking and being 'Out There' that he bequeathed to me all those years ago.
Walking enables me to get up and go in an instant. Need to clear a muzzy head? There's a ten-minute stroll that'll do just that. Or perhaps half an hour so I can stand in one particular meadow and be absolutely certain (at this time of year) to be serenaded by half a dozen skylarks rising from the grass.
If I have a morning to spare, there's a much-loved circuit that'll take me from breakfast to lunchtime with a coffee in a friend's garden along the way, while a full day with nothing in my diary opens a world of possibilities. It'd take the rest of the afternoon to list them all.
Give me a week and at this very moment I'd choose the South Downs Way, walking from Winchester to Eastbourne in order to finish in six or seven days' time by striding across the gorgeous Seven Sisters.
Give me ten days or a fortnight and I'll go to the Alps and trek the Tour of the Jungfrau Region, the Vanoise or Tour of Mont Blanc. Or maybe I'd make for the Pyrenees and hike from Lescun to Gavarnie and sleep some nights beneath the stars.
Three weeks to a month? I'm torn between a circuit of Alpamayo in the Cordillera Blanca (Peru) and a trek through the 'hidden land' of Dolpo in Nepal. Or perhaps to the north and south base camps of Kangchenjunga that keep calling me back.
But who am I kidding? This is lockdown time, I'm considered by the NHS to be 'vulnerable' and instructed not to leave home. Like so many others my horizons have shrunk. But I'm lucky. We have a small garden, about ten paces by a dozen; most of it is grass, but there's a flower border full of colour, and a ten-foot maple with newly unfurled leaves that catch the morning light to shine a brilliant scarlet.
Ten paces by a dozen. There are no high mountain passes to aim for, no long distance paths to lure me on for a week or so. Just a turn around the lawn that takes less than a minute.
But there's a world to explore 'Out There', and every day when I go walking my ten by twelve, I'll discover something new in the flower border, or try to discover what it was the long-tailed tit found so interesting in the maple tree this morning.
As for Kangchenjunga or the TMB – they can wait. I'm content for now, just being here. 'Out There' is only a few steps away.
To read more articles like this get our newsletter
Sign up today for a 20% discount on your next purchase. Join over 30,000 enthusiasts from around the world. If you don't love our mix of new books, articles, offers and competitions, you can unsubscribe at any time. We will never spam you, sell your data or send emails from third parties.