The Westweg
Through Germany's Black Forest
Guidebook to the Westweg (Westway), a 285km walk across Germany's Black Forest from Pforzheim to Basel. This classic route, which includes Feldberg, Black Forest's highest peak, takes 13 to 14 days, each day stage ranging from 15 to 28km. Two variants are described, both well way-marked and suitable for those new to long distance walking.
Seasons
The Westweg is a Höhenweg, or 'high route', so it is best to walk this trail during the main hiking season between April and the end of October.
Centres
The Westweg starts in Pforzheim or in Basel, but it is possible to do half the route and start in Hausach
Difficulty
A medium-sized mountain range, the Black Forest's highest peaks are just under 1500m. The terrain is easy, although some of the ascents are steep. Anyone with a good level of endurance and some hill walking experience would be able to enjoy this long distance trail.
Must See
Feldberg - highest mountain in the Black Forest; Belchen - sacred mountain of the Celts; the source of the Danube; Lake Titisee; Herrenwieser See; Burg Rötteln castle; Sausenburg; Wolsfsschlucht gorge;the vineyards and orchards of the Markgräflerland; Kaltenbronn nature reserve; Mummelsee; Murgtal; Black Forest National Park; Ruhestein; Dachsberg; Herzogenhorn; Hochblauen
Overview

Table of Contents

Updates

Reviews

Downloads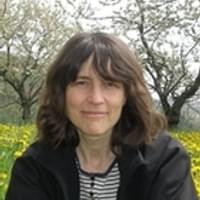 Kat Morgenstern
As a herbalist and ethnobotanist Kat spends a lot of time walking and exploring, while smelling the herbs and flowers along the way. After spending many years living, studying and working abroad, Kat has found a special place in her heart for the Black Forest region in the southwestern corner of Germany. As a writer and nature mentor she never tires of sharing her knowledge and passion for this delightful and fascinating corner of our beautiful planet.
View author profile