The Danube Cycleway Volume 1
From the source in the Black Forest to Budapest
The first in a two-volume set, this guidebook describes cycling the first 1269km of the Danube river from its source in the Black Forest to Budapest, passing through Germany, Austria, Slovakia and Hungary. Suitable for all levels of cyclist, the route visits the great cities of Vienna and Bratislava before arriving in the Hungarian capital.
Seasons
Apart from the upper part of Stage 1 in the Black Forest, where snow may lie until April, the route can be cycled at any time of year, but is best between April and October.
Centres
A point-to-point route with no particular bases.
Difficulty
A straightforward cycle ride, mostly off-road on well-surfaced (mainly asphalt) cycle tracks with virtually no gradients, except for a steady 500m ascent to reach the start. Suitable for all levels of cyclist, on all types of cycle, though racing cyclists may wish to use alternative routes to avoid a few short sections of gravel surface.
Must See
Black Forest, Danube sinkholes, Blue lagoon, Ulm cathedral spire (world's highest), Donaudurchbruch gorge, Regensburg medieval altstadt, King Ludwig's Walhalla, Passau, Melk and Klosterneuburg abbeys, Wachau vineyards, Wien (Hofburg, Schönbrunn and Belvedere Palaces, cathedral, Spanish Riding School), Prater Ferris wheel, Bratislava, Esztergom basilica, Danube bend, Budapest (Fishermen's bastion, St Mathias church, Europe's largest synagogue)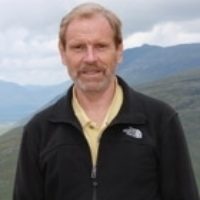 Mike Wells
Mike Wells has been a keen long-distance walker and cyclist for over 20 years. He has walked all the major British trails, the GR5 through the Alps from Lake Geneva to the Mediterranean and has explored the Italian Dolomites' Alta Via routes. He has also walked in Poland, Slovakia, Slovenia, Norway and Chilean Patagonia.
Mike has cycled the C2C route across northern England as well as the Camino and Ruta de la Plata to Santiago de la Compostela. He has completed an end to end traverse of Cuba, a circumnavigation of Iceland and a trip across Lapland to the North Cape.
View Articles and Books by Mike Wells