Top 10 Easy First Treks in the UK
Thinking of doing your first long-distance walk but need some advice? Have a look at our top ten easy first time treks.
One thing we are asked all the time is for advice on long-distance walking. From the relaxed and easy to the more advanced and technical, there is a long-distance route that is likely to appeal to you and we encourage you to try one!

Do your research carefully, ask friends who may have done some of the routes you are considering, build us some fitness by doing a series of day-walks, then make a decision and go. You may not find everything is perfect first time, but if you start with something that just takes three or four days, you will learn a lot, and will be confident in taking on something a little longer or more challenging next time. We certainly believe you will want a 'next time'!

Top ten easy first treks

Here is just a short selection of easy first treks - they are not remote or too difficult to navigate, can all be completed within about a week, and, most of all, take you on a journey through some delightful scenery, with a selection to choose from in England, Scotland and Wales.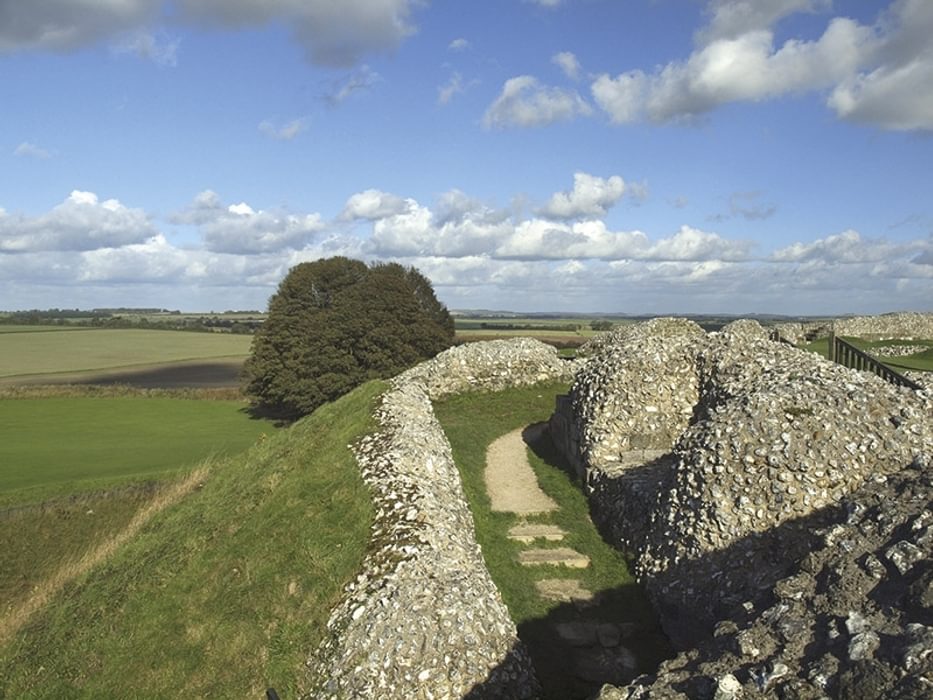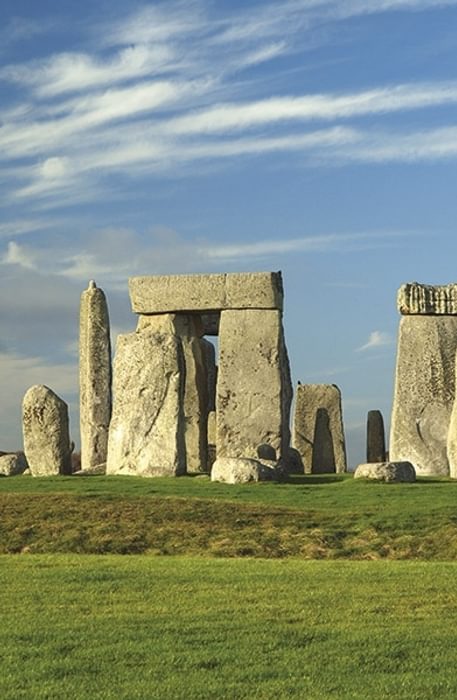 The Great Stones Way
Vital Stats:
Days: 3
Kilometres: 70 (36 miles)
Region: Southern England
Guidebook: The Great Stones Way (out of print)
The Great Stones Way long-distance route opened in 2014, and runs from Barbury Castle, near Swindon, to Old Sarum, near Salisbury. However the route can be made longer, depending on the options taken. The guidebook includes an optional start at Coate Water, while variant loops visit Avebury, the Alton Barnes White Horse and Stonehenge. There's also an optional finish to take in Salisbury's magnificent medieval cathedral.
The Great Stones Way passes over comparatively gentle terrain, each stage having less than 250m of ascent. Described in 6 stages, it's perfect for an energetic long weekend or take up to a week to enjoy the prehistoric landscape, Neolithic henges and stone circles, Bronze Age barrows and Iron Age hillforts.
Must See
Great views including the Vale of Pewsey and Salisbury Plain; the tranquil River Avon; picturesque villages; prehistoric sites at Avebury and Stonehenge; Salisbury cathedral.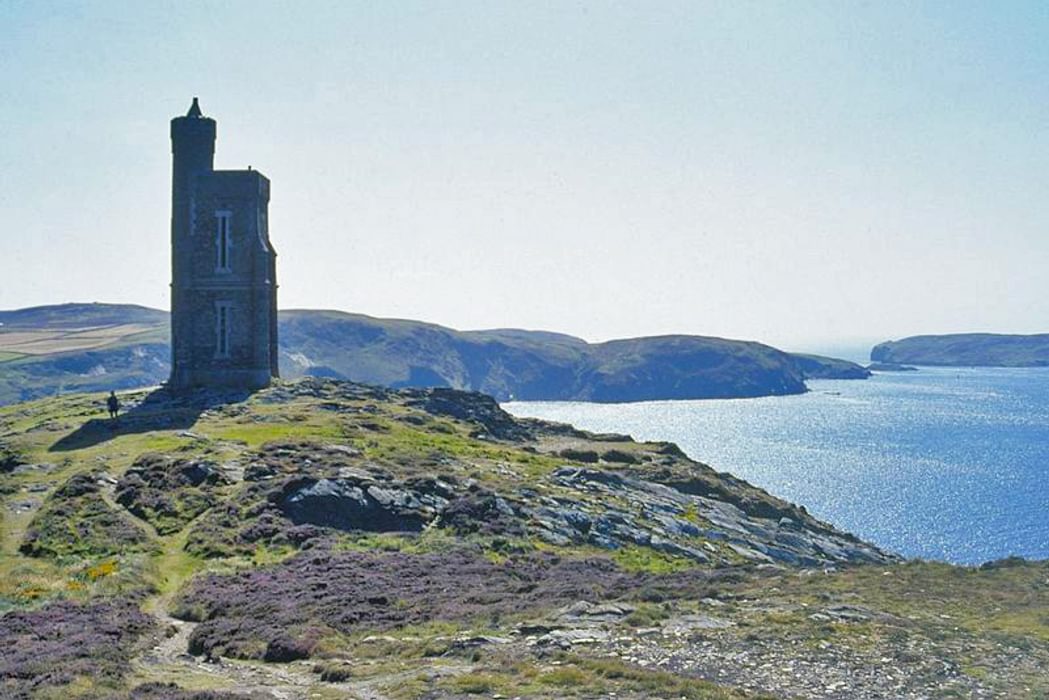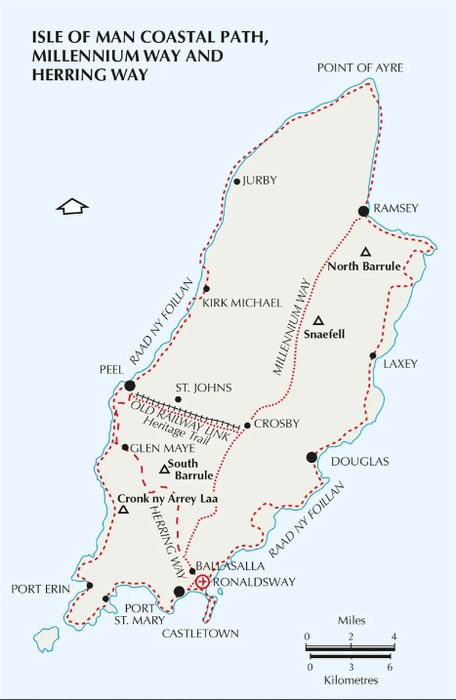 The Isle of Man Coastal Path
Vital Stats:
Days: 5
Kilometres: 154 (98 miles)
Region: Isle of Man
Guidebook: Isle of Man Coastal Path
The Raad ny Foillan (Way of the Gull) is a coastal footpath around the Isle of Man. There is splendid scenery to be encountered throughout the walk, from rugged sea cliffs and mountain moorland in the south, to the glens, beaches and dunes of the north. It passes sites of historical interest, colourful fishing villages, historic towns and peaceful havens.
In its journey around the Isle of Man, the Raad ny Foillan offers a variety of scenery, it wends its way through several nature reserves and along a disused railway. The footpath is never far from the sea or the cry of the gull. It is suitable to do in short day-walk sections which together complete a delightful circuit of this beautiful island. The longest stage of the route is 15.5 miles and the shortest is 7 miles. Faster walkers may wish to complete two stages per day, while those progressing at a more leisurely pace may decide to amble along and take in the splendid attractions along the way.
Must See
Point of Ayre, historic Laxey, the cliffs and secluded bays and inlets of the south and west and the remote west coast. Sea life and birds.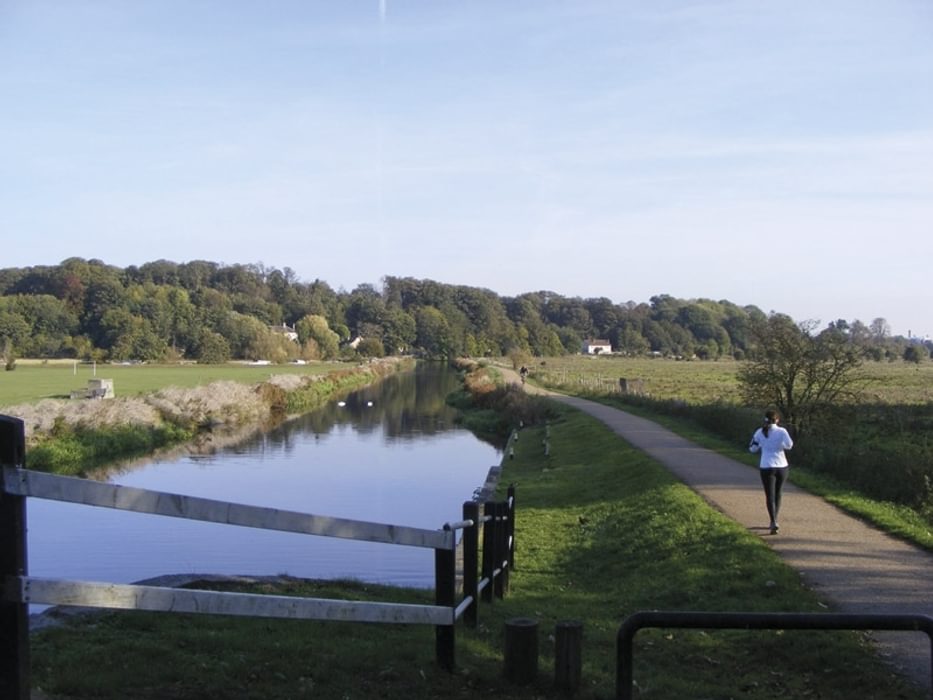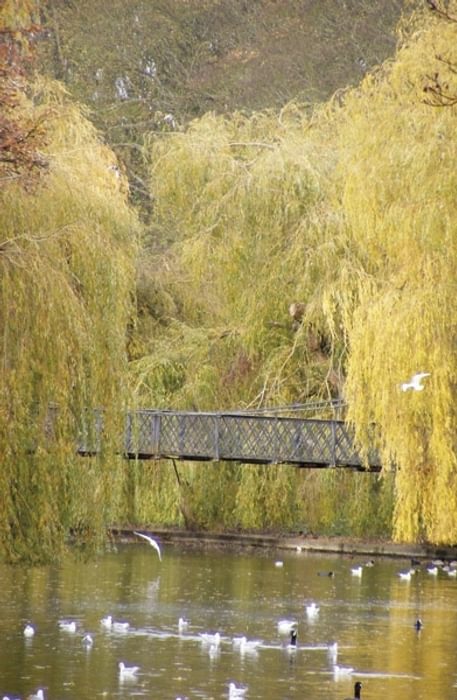 The Lea Valley Walk
Vital Stats:
Days: 3-6
Kilometres: 85 (53 miles)
Region: Southern England
Guidebook: The Lea Valley Walk
The Lea Valley Walk is a long-distance path from Luton to the Thames. It follows the River Lea from its source near Leagrave to East India Dock opposite Greenwich, with an alternative finish at Limehouse and an optional tour of the Olympic Park. On the way it passes through a blend of quiet countryside, nature reserves and urban landscapes.
The Lea Valley Walk offers level, waymarked walking for all abilities. The complete trek is presented in nine stages with suggestions for three, four, five and six day itineraries. For those looking for an easy-to-access traffic-free day or half-day walk, the route is divided into sections with convenient railway stations close to each end.
This fine and varied walk traces the river as it passes through Bedfordshire and Hertfordshire towards the bustle of London. It takes in historical towns and villages, stately homes and castles, including Waltham Abbey and Hertford Castle, Luton Hoo, Brocket Park and Hatfield.
Must See
Surprisingly wild Bedfordshire, Waltham Abbey, the industrial landscape through east London, the Thames itself.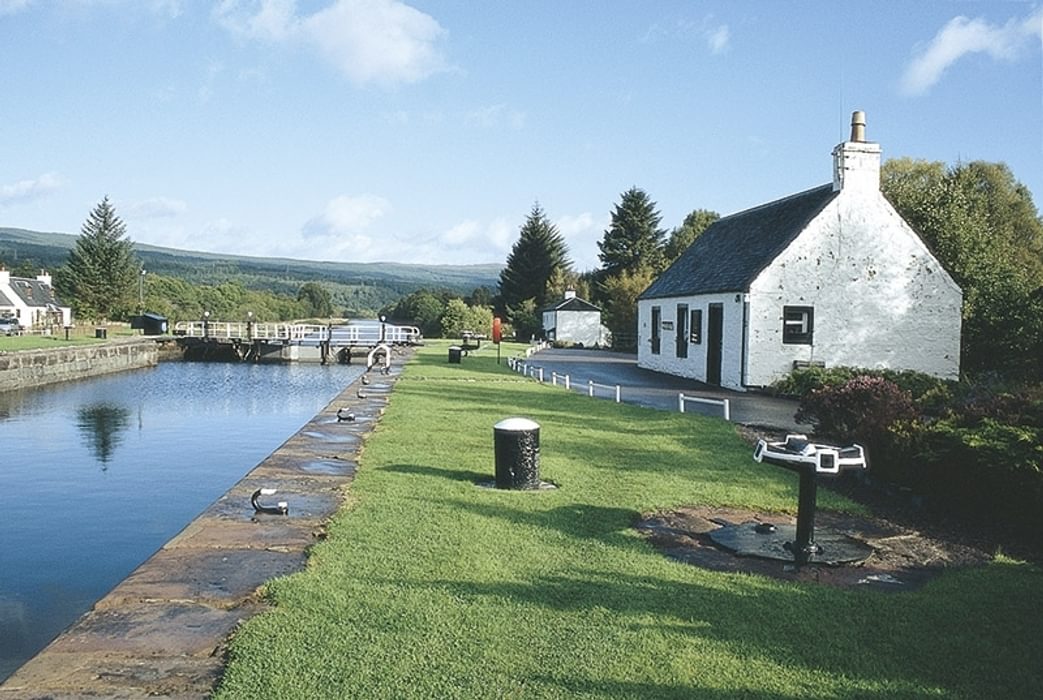 The Great Glen Way
Vital Stats:
Days: 5
Kilometres: 117 (73 miles)
Region: Scotland
Guidebook: The Great Glen Way
The Great Glen is one of the most remarkable features in the Scottish landscape – a ruler-straight valley along an ancient fault line through the Highlands. The glen is threaded by the scenic Caledonian Canal, which links Loch Lochy and Loch Oich with the famous Loch Ness.
The route is an ideal introduction to long-distance walking, with a range of facilities along the way. As a low-lying trail, most walkers could complete it at most times of the year, and there is always ready access to accommodations, food, drinks and transport services. The Great Glen Way can easily be walked within a week, and most walkers will aim to complete the route in five or six days. The first thing to decide is whether to walk from Fort William to Inverness, south to north, or Inverness to Fort William, north to south.
Must See
Views of the highlands, clan history, Caledonian canal, wildlife (including, possibly, Loch Ness monster)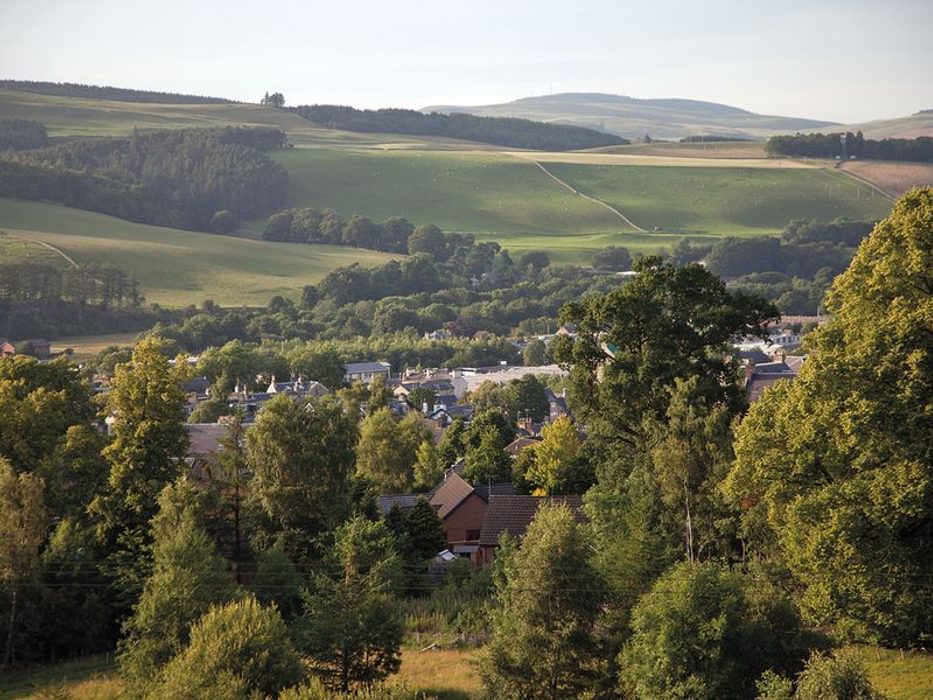 The Borders Abbeys Way

Vital Stats:
Days: 6
Kilometres: 109 (68 miles)
Region: Scottish borders
Guidebook: The Borders Abbeys Way
One of Scotland's Great Trails, the Borders Abbeys Way links four of Britain's grandest ruined medieval abbeys: Melrose, Dryburgh, Kelso and Jedburgh. Described over six stages – with each stage ranging from 5 to 15 miles – the route is suitable for people with a moderate fitness level, and can be walked all year round.
The perfect distance for a week-long walking holiday.
Must See
Follow in the monks' footsteps on riverside paths, forest tracks and open hills where great views abound. This route traverses part of the Tweed Valley before heading up to rolling hills. The variety of terrain will delight any walker.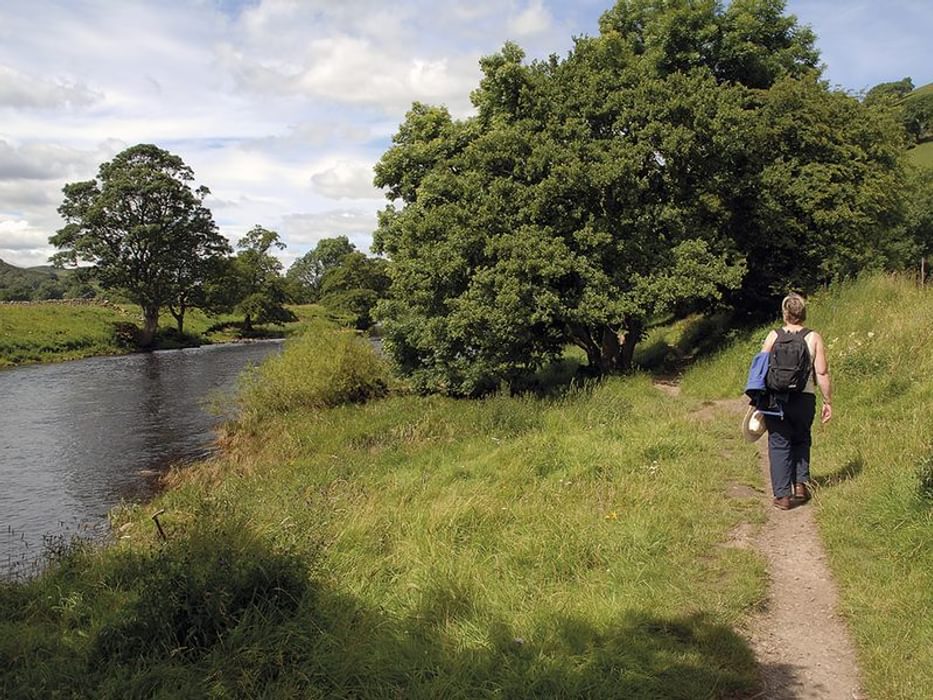 The Dales Way

Vital Stats:
Days: 6
Kilometres: 125 (78 miles)
Region: Northern England
Guidebook: The Dales Way
The Dales Way is a delightful multi-day walk through the Yorkshire Dales and the eastern fringe of the Lake District between Ilkley and Bowness on Windermere. One of the gentlest multi-day walks in Britain, the Dales Way route is suitable for all ages and an excellent introduction to long-distance walking.
The route makes the most of delectable Wharfedale, travelling virtually to the source of the great river before crossing into the equally delightful Dentdale. This too is followed as it fashions a lovely course through the village of Dent and on to Sedbergh, where it joins the Rawthey. From here, the Way strikes westward into the fringe of Lakeland.
The great attraction of the Way is that it is rarely far from features of architectural, social, ecological or historic interest, with churches, ancient bridges, manor houses, shooting lodges, Roman roads, stone circles, packhorse routes, viaducts and nature trails - the Dales Way has them all.
Must See
Historic buildings, roads, bridges, etc. Landscape, flowers and wildlife. Bolton Abbey, Dent, Dales villages.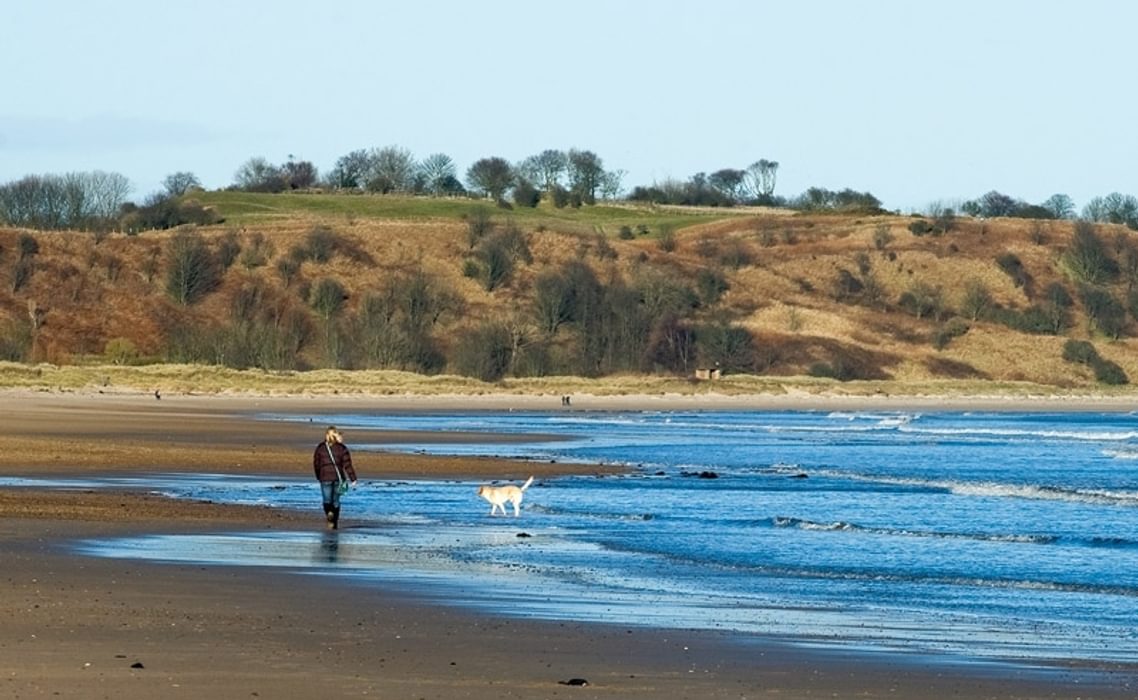 St Oswald's Way

Vital Stats:
Days: 6
Kilometres: 157 (97 miles)
Region: North East England
Guidebook: St Oswald's Way and St Cuthbert's Way
St Oswald's Way runs for 157km (97 miles) from Heavenfield, near Hadrian's Wall, passing through the Northumberland National Park and the Northumberland Coast Area of Outstanding National Beauty to end at Holy Island (also known as Lindisfarne). From rugged hills to coastal dunes, Iron Age forts to medieval abbeys and a scattering of exceptionally impressive castles, this is one of Britain's most beautiful landscapes for walking and backpacking far away from it all.
Must See
Holy Island, Lindisfarne Priory and Castle, Northumberland Coast AONB, Northumberland National Park, Lindisfarne National Nature Reserve, Bamburgh Castle, Cheswick Sands, Melrose Abbey, Rothbury, Simonside Hills, Coquetdale, Hadrian's Wall, Cheviot Hills, Farne Islands, Dunstanburgh Castle, St Cuthbert's Cave, Druridge Bay, Yeavering Bell.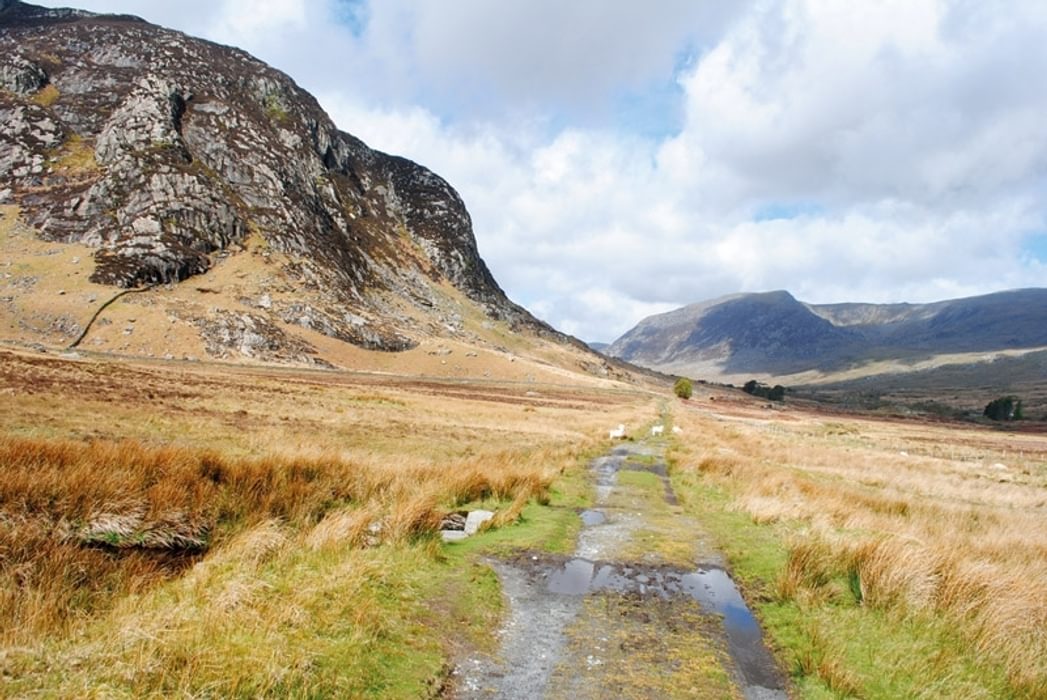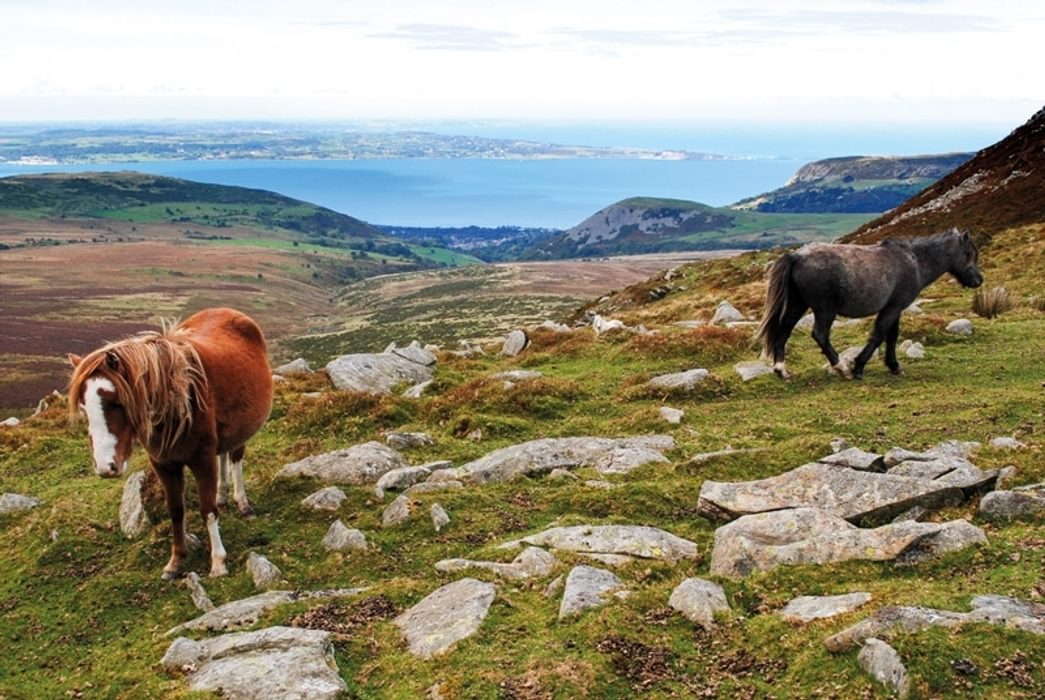 The Snowdonia Way
Vital Stats:
Days: 6-8
Kilometres: 156 (97 miles)
Region: Wales
Guidebook: The Snowdonia Way
Described in 6 days of between 13 and 21 miles from Machynlleth to Conwy, it is the only long-distance low-level route through Snowdonia. It takes the walker right into the heart of the mountains and includes key sights such as the Pass of Aberglaslyn, the Ogwen Valley and Aber Falls.
The main route is mostly easy to navigate and stays at a low level, although the walking days are long, so walkers should be used to full days out. There are also options for more difficult and higher mountain routes described in the guidebook, but these require good navigation and include a considerable amount of ascent, sometimes with no path.
Must See
Snowdon, Cadair Idris, The Glyders, Lake Trawsfynydd, The Ogwen Valley, The Vale of Ffestiniog, Aber Falls, The Pass of Aberglaslyn, The castles of Llewelyn the Great, The myth of King Arthur, Llyn Gwynant, Llyn Ogwen, Nantgwynant, Coed y Brenin, The Moelwyns, Moel Siabod, The Carneddau, Slate quarrying, Owain Glyndŵ.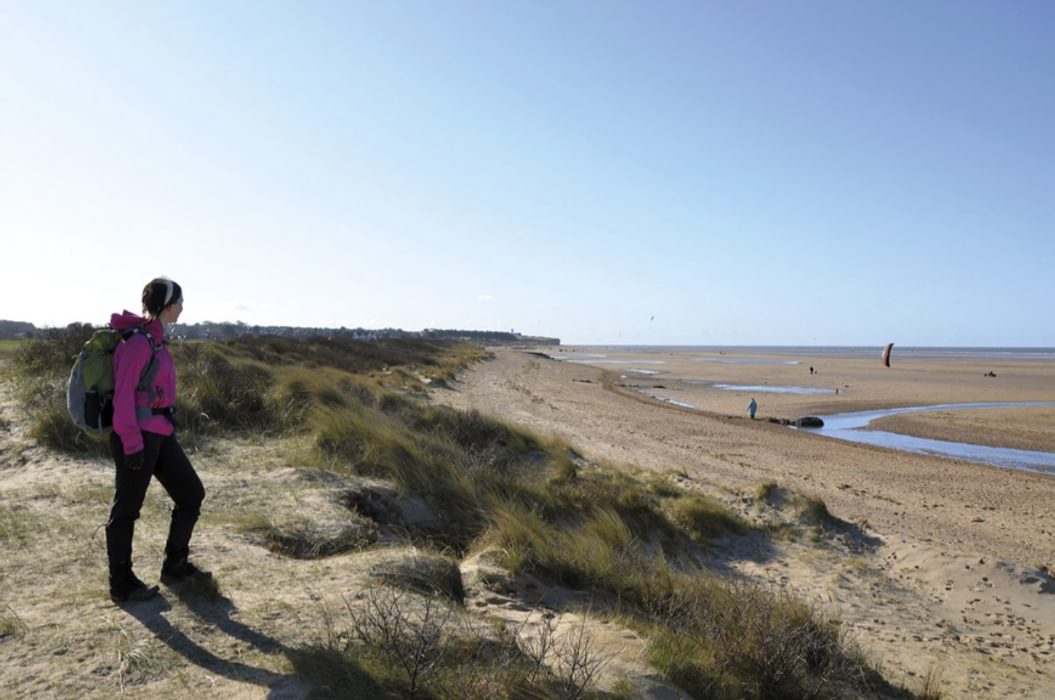 The Peddars Way and Norfolk Coast Path

Vital Stats:
Days: 8
Kilometres: 154 (96 miles)
Region: Southern England
Guidebook: The Peddars Way and Norfolk Coast Path
With big skies, wild marshland, dramatic clifftops and sandy beaches, the 96 miles of the Peddars Way and Norfolk Coast Path National Trail offers eight delightful days of accessible walking with good transport links and accommodation, making it easy to tackle as a series of day walks or a few long weekends.
The Peddars Way starts in the heart of East Anglia near Thetford and follows the route of a Roman road through rural Norfolk. Passing picture-perfect villages accessed by walkways lined with Scots pine, it ends in Hunstanton, where it joins the Norfolk Coast Path.
From here the 47 mile Norfolk Coast Path follows a spectacular coastline, Hunstanton's dramatic striped cliffs gradually giving way to the wildness of a less commercial coastline, with the opportunity to glimpse rare sea birds above the salt marshes on the approach to the trail's end at the pier in Cromer.
This National Trail is fully waymarked on well-established paths and bridleways. There are no steep hills, but care should be taken on or near crumbling clifftops. The route can be undertaken at any time of year, the Coasthopper bus providing and easy escape from anywhere along the coast should the weather turn bad.
Must See
An old Roman Road, an array of birds (observatories too), windmills, churches, picturesque villages, castle ruins, earthworks, Bronze Age tumuli, carved stone sculptures, sand dunes, striped cliffs, extensive sea views, salt marshes and traditional British seaside resorts.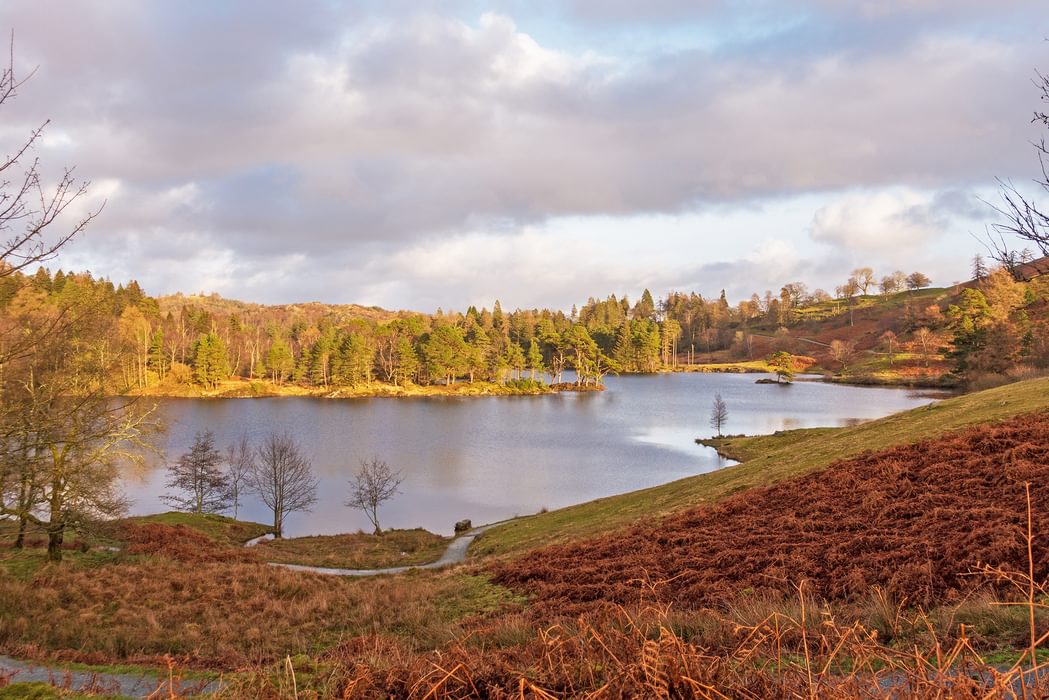 The Cumbria Way

Vital Stats:
Days: 5-7
Kilometres: 117 (73 miles)
Region: Lake District
Guidebook: The Cumbria Way
The Cumbria Way is a walking route from Ulverston in the south west of Cumbria to Carlisle in the north. The main route visits superb Lake District scenery such as Coniston Water, Tarn Hows, Great Langdale, Derwentwater and Caldbeck. The guidebook also offers some high mountain alternative routes, which provides options in the Coniston Fells, Glaramara and Skiddaw.
One of the British Isles' prettiest and easiest long-distance walks, the Cumbria Way features undulating paths that ease past picturesque villages, memorable lakes and low mountain tarns. The official way is easy and suitable for all; the higher routes require mountain experience.
Must See
The village of Coniston and its lake, Tarn Hows, Great Langdale, Stake Pass, Borrowdale, Derwentwater, Keswick, Back o' Skiddaw and Caldbeck, while the mountain route adds the Coniston Fells, Glaramara, Skiddaw and Knott.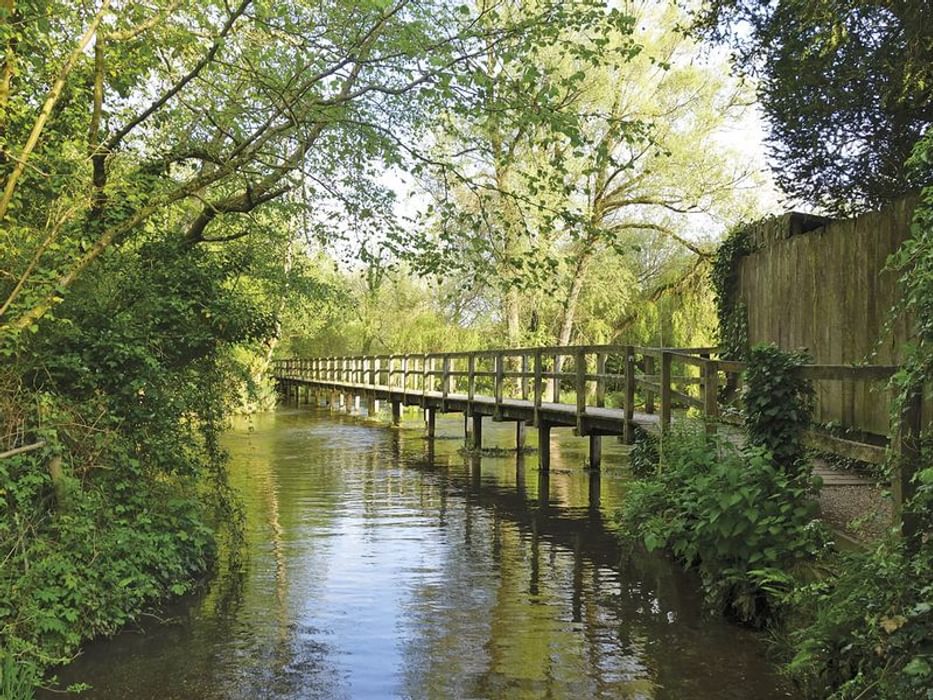 And one for luck:
Hampshire's Test Way

Vital Stats:
Days: 4-8
Kilometres: 71 (44 miles)
Region: Southern England
Guidebook: Hampshire's Test Way
The Test Way in Hampshire traces a wonderful route from high on the chalk downs of Inkpen Beacon to the Eling Tide Mill near Southampton Water. Following the beautiful, crystal clear River Test, it passes picturesque villages and fascinating historic sites.
The walk, which is described over eight stages, takes in many of the region's natural, historical and architectural delights, from the ever famous 'Sprat and Winkle' railway to the River Test itself – a stunning example of the exceedingly rare chalk stream.
The Test Way passes through areas of intriguing history and remarkable natural beauty. There are sites of Special Scientific Interest (SSSI) and Areas of Outstanding Natural Beauty (AONB) as well as Iron Age hill forts, medieval churches, age old abbeys, relics from a long passed railway era and quaint villages brimming with thatch and flint and individual 'hostelries' to match.
Must See
Inkpen Beacon; Whitchurch Silk Mill; Chilbolton Common; Longstock Park Water Garden; Danebury Iron Age hill fort; Stockbridge Down; Mottisfont Abbey; Romsey Abbey, Romsey Signal Box - restored - formerly part of the dismantled 'Sprat and Winkle' railway; Broadlands House Romsey; Lower Test Nature Reserve; Eling Tide Mill Totton.
To read more articles like this get our newsletter
Sign up today for a 20% discount on your next purchase. Join over 30,000 enthusiasts from around the world. If you don't love our mix of new books, articles, offers and competitions, you can unsubscribe at any time. We will never spam you, sell your data or send emails from third parties.