How to train for the Ultra Trail du Mont Blanc - Part 1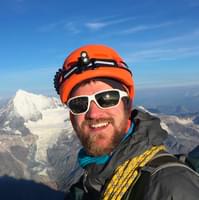 To celebrate the launch of Trail Running - Chamonix and the Mont Blanc region, Cicerone's Joe Williams, will be sharing his training for his first attempt at the Ultra Trail du Mont Blanc (UTMB) in August. He will cover his approach to mental and physical training, nutrition, gear, rest & recovery and racing. Keep checking in to learn more and follow his journey to Chamonix this summer.
In this first post, I will introduce who I am, what my running background is, and give you an idea of my overall plan to prepare for my first 100 mile race.
I have been running consistently for only the past four years, having previously focused most of my physical efforts into mountaineering in all its guises. After running three big-city road marathons (Baltimore 2009 - scarred me so deeply that I didn't run for years after; Hamburg 2013 - only eight week's training, not ideal; Marathon des Alpes Maritimes 2013 - glorious race from Nice to Cannes), I had an urge to discover whether I could do ok in longer mountain races, reasoning that they would suit my background better, with their steep and long ascents, technical terrain and a focus on endurance rather than speed. It was highly unlikely that I could ever be a good marathon runner, but could I become a good Mountain Ultra Trail (MUT) runner? Dare I take on the Ultra Trail du Mont Blanc?
In the past two years I have run several 50Ks in the Alps, a 50 miler in the Pyrenees, the Bob Graham Round (100km) in the Lakes and one of the UTMB sister races, the TDS (119km). The general theme for most of these races is that I start well, have an extended rough patch in the middle, and then inexplicably seem to get stronger towards the end. The TDS in August 2015 was by far my biggest challenge. I battled injuries and low motivation for 14 hours before quietly finding the resolve to make it to the finish line, no matter how long it took me. The suffering I endured and camaraderie found along the way had a profound effect on me: Although I physically finished in under 23 hours, it was many weeks before I mentally returned to the real world. Strangely, I feel very grateful to have experienced this self-imposed adversity.
I do not believe that I am particularly talented athletically, but figured that a lifetime of walking up hills fast, scrambling and climbing could serve me well in mountain races. I would encourage many readers who are thinking about running an ultramarathon to consider their past experiences: do you enjoy long ascents? Do you like to 'beat' guidebook time? Do you sometimes jog down the hill after a climb or after cresting a col? Have you been out in the hills for 12 or 15 hour days? If so, then - with training - it's perfectly possible to start running MUT races or have your own ultra adventures.
Now, an outline of my approach to training this year: I have three races on my calendar this season, each one being big challenges in their own right, but providing a particular training stimulus:
London Marathon
This has been a chance to work on my biggest weakness: flat running speed. 5K races, Lactate Threshold runs and marathon-pace long runs being the name of the game. This has - grudgingly - taken my attention away from the fells for a month or so, but I know it will help my performance at UTMB this summer by allowing me to run the flatter sections at a slightly faster pace than I could have managed before.
Charlie Ramsay's Round
In the middle of June I will attempt the classic Scottish mountain running round in Lochaber: 24 Munros up Ben Nevis, the Aonachs, the Grey Corries, Loch Treig hills and finally all the Mamores. It's a similar challenge to the Bob Graham at around 90km and 8500m of ascent. I will run alone but be supported at a couple of points along the way. The preparation for and execution of this run will prepare me physically for multiple long ascents on rough ground, being on the go for around 24 hours and carrying a light pack. Mentally, it will help me because I will have to motivate myself and control my emotions while being on my own for many hours at a time.
Ultra Trail du Mont Blanc
After spending a few weeks recovering from Ramsay's Round, I will increase my weekly mileage to my safe upper limit, aiming to mimic the kinds of trails and hills that I will find in Chamonix. I will do specific sessions to 'downhill-proof' my quadriceps and spend four days recceing the UTMB route. Then, taking the advice of two-time winner of the race, Francois D'Haene, I will taper my training so as to arrive at the start line fully rested and ready to go!
To read more articles like this get our newsletter
Sign up today for a 20% discount on your next purchase. Join over 30,000 enthusiasts from around the world. If you don't love our mix of new books, articles, offers and competitions, you can unsubscribe at any time. We will never spam you, sell your data or send emails from third parties.