Trekking in the beautiful Silvretta and Ratikon Alps
Over the past ten years, Cicerone author Kev Reynolds has spent many happy weeks trekking and exploring in the Silvretta and Ratikon Alps. Defining the borders of Switzerland, Austria and Lichtenstein south of Lake Constance, the Ratikon Alps give the appearance of an abrupt wall of limestone erupting from meadows and screes full of flowers.
Despite many contrasts, the Ratikon and Silvretta Alps share glorious scenery, a wealth of alpine flowers, attractive villages in the their outlying valleys and fine selection of mountain huts , and abundance of walkers' passes and, wonderful trekking opportunities.

Here Kev talks to Jonathan about the delights of the area, as he introduces his new guidebook for Cicerone, Trekking in the Silvretta and Ratikon Alps.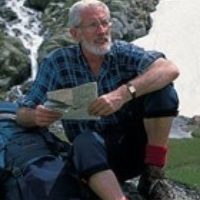 Kev Reynolds
A lifelong passion for the countryside in general, and mountains in particular, drives Kev's desire to share his sense of wonder and delight in the natural world through his writing, photography and lecturing.

Claiming to be The Man with the World's Best Job, he has enjoyed a fruitful partnership with Cicerone since the 1970s, producing over 50 books, including guides to five major trekking regions of Nepal, and to numerous routes in the European Alps and Pyrenees, as well as walking guides for Kent, Sussex and the Cotswolds.
View Articles and Books by Kev Reynolds