Walking and Trekking in the Gran Paradiso
Alta Via 2 trek and 28 day walks
This guidebook presents 28 day walks in the Gran Paradiso National Park in the Italian Alps south of Mont Blanc, and the 12-day Alta Via 2 trek. The Alta Via covers over 148km of rugged mountains and valleys between Chardonnay and Courmayeur. The graded walks vary from 2 to 33km and range from easy paths to routes for the experienced alpine walker.
Seasons
The summer months - late June to late September - are the time to go. That's when the mountain huts are open, providing meals and accommodation for trekkers. However, outside that period the valley villages can be used as a comfortable base for day routes
Centres
Cogne, Rhêmes-Notre-Dame, Pont Valsavarenche, Valgrisenche, La Thuile, Chardonney, Ceresole Reale, Ronco Canavese
Difficulty
The walks are all graded for difficulty - ranging from straightforward paths to high and exposed routes for experienced alpine walkers. No special equipment is needed
Must See
Alta Via 2 trek through the Gran Paradiso National Park, parallel to the Aosta valley. Glittering glacial lakes, old royal hunting trails, ascent of Becca della Traversiere, Punta Basei, belvederes onto Mont Blanc, the trad southern valleys and Ceresole Reale
Overview

Table of Contents

Updates

Reviews

Downloads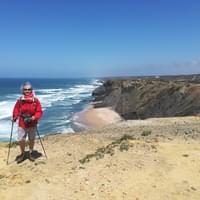 Gillian Price
Gillian Price has trekked throughout Asia and the Himalayas, but now lives in Venice and is exploring the mountains and flatter bits of Italy. Starting in the Italian Dolomites, Gillian has written outstanding Cicerone guides to walking all over Italy as well as Corsica and Corfu. An adamant promoter of public transport to minimise environmental impact, Gillian belongs to Mountain Wilderness and is an active member of the Venice branch of CAI, the Italian Alpine Club.
View author profile