Walking in Britain's extremities: Orkney and Shetland
Walking in the most remote parts of Britain offers something unique and different wherever you choose to go. In particular, walking on Orkney and Shetland is like visiting another world where nature still governs - but midges don't! In this blog post we look at some of the highlights of walking on Orkney and Shetland.
Orkney and Shetland
Orkney and Shetland are collectively known as the Northern Isles due to their location of the northern coast of Scotland. However, they are so remote that residents of the islands do not consider themselves British, or even Scottish but are defiantly and proudly Orcadians and Shetlanders. (In fairness, Shetland is as close to London as London is to Barcelona.)
Orkney and Shetland are composed of 170 islands, with only 35 of them inhabited. You shouldn't struggle for a quiet place to sit and watch the birds and the walking will feel remote and calm compared to the hustle and bustle of the Lake District, the Cairngorms or Snowdonia.
The walking is varied on Orkney and Shetland, with many opportunities to explore the clifftops and the inland moors. Good map and compass skills will help on the sometimes blank and bleak moorlands but it's quite hard to get lost as the islands are quite small and if your navigation fails you can usually drop back down to the coast to return to your startpoint.
The language
Shetland is closer to Norway than Scotland and was only given to Scotland in 1469, in lieu of a dowry. Before then it was a Norwegian province and the language reflects this relatively recent history. The official language may be English but the prevalent local dialect sounds Scandinavian, and littered with Old Norse words.
History and archeology
Orkney and Shetland both have some spectacular remains of very early human life - Scara Brae on western Orkney and Jarlshof on Shetland give clear insights into the domestic lives of Mesolithic farming communities that settled here. Their elaborate burial chambers and cairns are great fun to explore.
Later, larger tribal units constructed the major monuments of Maes Howe, the Stones of Stenness and the Ring o' Brodgar. The Mousa Broch, a fortified dwelling, is the most complete example of a broch that can be seen today.
The archeology of these islands is world renowned and Rousay is dubbed the 'Egypt of the North' due to the staggering number of historical sites. Orkney has also been awarded a UNESCO World Heritage site for its archeology.
Wildlife
Walking around Orkney and Shetland is often the best way to appreciate the immense variety of wildlife here. Puffins, gannets, guillemots and kittiwakes are in abundance and cannot be missed. Watching gannets dive at speed into the ocean is astonishing whereas watching puffins crashland and stumble around on wobbly feet is comical. Meanwhile kittiwakes and terns will peck at your head to deter you - it's advisable to wear a hat to offer some protection.
Orkney is a great place to go to spot birds of prey, including hen harriers, merlins and short-eared owls. Shetland is a better area for glimpses of otters, either in the water or on land close by. Both islands offer ideal locations for spotting whales, porpoises and dolphins. If these prove elusive then seals are an almost guaranteed sight and it is possible to see them quite close-up as they are friendly inquisitive animals.
The views
The panoramic views of the land and sea are breathtaking. Orkney and Shetland are also in an excellent position for the Aurora Borealis - the Northern Lights. Your chances of seeing the Northern Lights are very good, apart from during the near 24 hour daylight of summer.
Climbing the Old Man of Hoy
If you're into climbing then the tallest sea stack in Britain offers a 140 metre high challenge. The sandstone Old Man of Hoy was first climbed in 1966 by Tom Patey, Rusty Baillie and Chris Bonington and only remains standing due to its basalt base.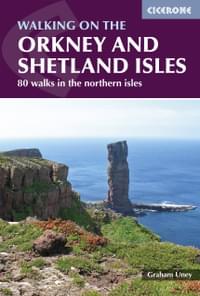 To read more articles like this get our newsletter
Sign up today for a 20% discount on your next purchase. Join over 30,000 enthusiasts from around the world. If you don't love our mix of new books, articles, offers and competitions, you can unsubscribe at any time. We will never spam you, sell your data or send emails from third parties.