Notify me
Enter your email address to be notified when this title becomes available.
This guidebook of 19 day walks and 7 multi-day treks focuses on Croatia's Dinaric Alps and some of the Croatian islands. The terrain varies from gently sloping hills to rugged tops and limestone crags. Each route is graded by difficulty ranging from very easy to difficult so there is a route to suit every ability.
Seasons
Spring, summer and autumn are all fine – but routes near the coast such as Mosor can become extremely hot in July/August; winter also possible, turning the uplands into a beautiful snow-bound landscape, and waterfalls into cascades of ice.
Centres
Zagreb for Medvednica and Samobor; Osijek for Kopacki rit; Gornja Klada, Karlobag and Starigrad-Paklenica for Velebit; Delnice for Gorski kotar; Split for Mosor; Makarska for Biokovo; Korcula, Bol and Cres for the islands.
Difficulty
Routes range from easy, straightforward rambles on the islands and in well-known national parks, to extended and at times quite stern mountain routes, with some (frequently avoidable) scrambling. Some cabled and pegged sections; single- and multi-day options.
Must See
Northern Velebit, in particular Rožanski kukovi and the area around Zavižan, for its outstanding karst scenery; Gorski kotar for its beautiful forested mountains; Pelješac and Hvar for high routes with amazing views on the coast and islands.
Availability
Out of Stock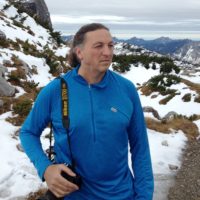 Rudolf Abraham
Rudolf Abraham is an award-winning travel writer and photographer specialising in Croatia, Central and Eastern Europe. He is the author of over 10 books, and his work is published widely in magazines. He first visited Croatia in the late 1990s, returned to live in Zagreb for two years, and continues to make several trips a year to his favourite country in Europe.
View Articles and Books by Rudolf Abraham