Walking in the Engadine: a valley for all seasons
There are many wonderful places to walk in Switzerland and some are more touristy than others. Here, author Kev Reynolds sings the praises of the Engadine, a valley he first knew when he lived and worked there as a younger man and has since revisited many times.
It was mid-winter when I first set eyes on the Engadine. A week before Christmas, snow lay deep and crisp and even, and metre-long icicles were suspended from every gutter. My train arrived in the late evening and outside the station the frost-laden air cut right through my inadequate sea-level clothing. At 1800 metres I'd never known cold like it. But a big moon hung in the sky and across the frozen lake mountains reached up to stars that sparkled like diamonds. By the time I'd reached the end of the lake and found the hostel where I'd be working for the rest of the winter, I knew I'd made the right decision. A conventional office career at home was not for me.
I skied at every opportunity that winter. Mostly downhill on battered, second-hand skis, but on days with more time to play with I'd make my own way into side valleys: Val Fex where one of my heroes, the guide Christian Klucker, lay buried; Val Roseg opposite Pontresina, a dazzling gem of a valley that became one of my all-time favourites; and the Morteratsch valley with Piz Palü, Bellavista, Piz Bernina and Roseg drawing me ever deeper into its snow-bound recesses.
Spring came, the snow melted and soldanellas filled meadows I'd only imagined before. But my contract ran out and I traded Switzerland for Austria. Until the following winter, that is. Then I returned to the Engadine to begin married life among mountains that had become my neighbours and friends.
And there we'd stay as winter turned to spring once more, spring became summer and slid gently into golden autumn proving, if ever proof were needed, that the Engadine is a valley for all seasons.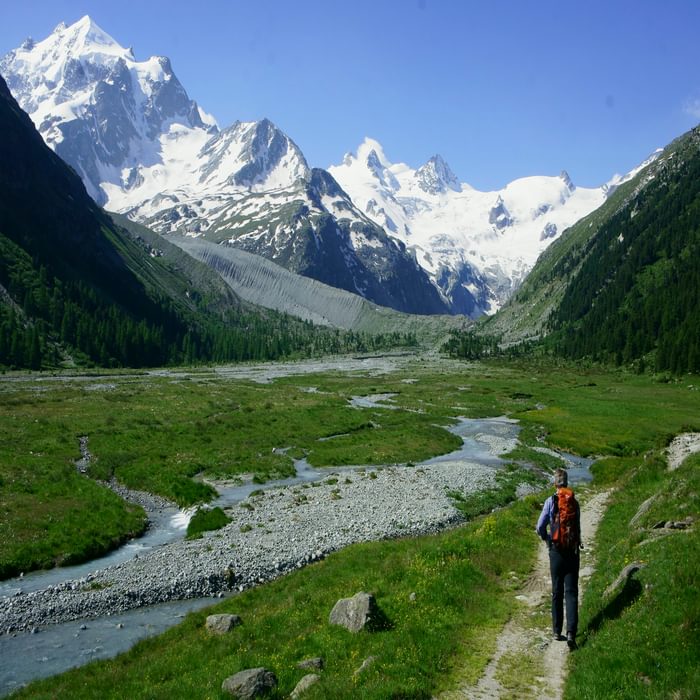 Commanding the southeast corner of Switzerland, the valley stretches almost 100km from Maloja to the gorge-like narrows at Martina. Below the tortuous Maloja Pass lies the steep-walled Italian-flavoured Val Bregaglia, guarded by the granite slabs of Piz Badile and Cengalo. Southeast of St Moritz, Val Bernina seduces in view of the snowy Bernina massif. There are four great lakes in the upper valley, Switzerland's only national park in the Lower Engadine, and at both ends of this wonderland, some of the most attractive and unspoilt villages in all the Alps.

Oh yes. And the walking's not bad, either.
Over the years I've known the Engadine I've climbed some of its highest summits, slept out on a few of them, visited its huts, crossed its glaciers, trod its pastures and explored its villages and lonely alps. I've watched ibex head-clashing in the autumn rut, chamois and roe deer drinking from tiny pools at daybreak. Marmots have posed for a photograph and I've been bewitched by meadows so full of flowers it was sacrilege to walk among them.
Unrivalled outlook
Almost into Italy, Soglio sits high above Val Bregaglia. Reached by a special short-wheel-base postbus to deal with incredibly tight hairpins, the village has an unrivalled outlook. The 19th century painter Giovanni Segantini reckoned it was on the threshold of paradise. He could have been right, for it gazes over chestnut woods and across the valley to Val Bondasca, headed by the Sciora aiguilles and Piz Badile. A fabulously wild valley, Bondasca is closed due to a massive rockfall from Piz Cengalo, but when it reopens it will be worth exploring all over again.
If Soglio is on the threshold of paradise, what about Alp Tombal, 450 metres above it – or Plan Vest, another hour's stiff hike above that? They could very well represent paradise itself, if the sound of paradise is the dull clonk of a cowbell and heaven a view to take your breath away.
Up at the Maloja Pass a track cuts through meadows and woodland to the pretty Lägh da Cavloc (the Cavolocciasee). A path that continues beyond the lake soon divides. One branch climbs to the 2562m Muretto Pass and crosses into Italy, the other beckons into Val Forno, a wild glen with a fast-receding glacier above whose moraine wall stands the Forno Hut with another tremendous outlook to a cirque of shapely peaks dashed with snow and ice.
The rocky cone of Piz Buin is reflected in an icy pool near the Furcletta pass
Reached by cablecar from Val Bernina, Diavolezza is a popular excursion for visitors wishing for a close view of the Bernina range
In the early summer, the Coaz Hut is sometimes half-buried by snow
The cosy, atmospheric dining room in Hotel Roseggletscher
At the confluence of Val Bernina and the Upper Engadine, Muottas Muragl makes a splendid viewpoint and the start to several fine walks
Maloja is flanked by two walkers' mountains: Piz Lunghin and its higher neighbour, Piz de la Margna which, at 3158m, serves as an extraordinary lookout over a sea of peaks and the string of lakes that give the upper reaches of the Engadine its identity. Those lakes have shoreside paths ideal for family outings, while more demanding options offer ways into parallel valleys. Of these, it has to be said that the route to Fuorcla Surlej from the Engadine side is not the most attractive, but when you arrive on the pass itself, a full-in-the-face view of Piz Bernina across the depths of Val Roseg will have you reaching for your camera.

The quickest descent into Val Roseg leads to a hotel and restaurant full of charm at the end of a motor-free track from Pontresina. Better by far is the longer, high level route heading upvalley across scant pastures to the Coaz Hut, then down to a milky-blue glacial lake and a fabulous valley walk below giants. Although truth to tell, this valley walk is even more scenic when tackled in the other direction.
The mountaineering centre of Pontresina stands at the junction of Val Bernina and the Upper Engadine and has access to a number of great walks; some of which are along high level trails reached by funicular or chairlift. But a short way down the Engadine the attractive village of Madulain sits below Piz Kesch, the undisputed 'king' of the Albula Alps at 3418m, its southeast face soaring above the Es-cha Hut, partially blocked by a monstrous wall of moraine. To reach that hut involves a delightful day's walk, while on the mountain's glaciated northern side, the Kesch Hut is gained by a long valley walk from Cinuos-chel that takes you into a sublime landscape that, to me, is one of the unsung, unspoilt beauties of the whole Engadine region.
There, in the upper reaches of Val Funtauna, you can almost hear the blood coursing through your veins.
On the eastern side of the valley, opposite S-chanf, a pleasant stroll of a little more than an hour leads to the Varusch Hut on the edge of the Swiss National Park. The park's boundary runs north to Zernez where its visitor centre is located, then continues thumb-like as far as Val S-charl, a charming back-of-beyond accessed from Scuol, the main resort of the Lower Engadine. Interrupted only by the Ofenpass road leading to Val Müstair, the national park makes no concessions to human activity; here Nature is free to develop unhindered. Because of this there are some pretty rigid rules to comply with, but if you follow existing trails you'll be amazed at the amount and variety of wildlife you can see, while Blockhaus Cluozza (the Cluozza Hut) provides the only opportunity to sleep within the park itself, giving a very special experience.
Piz Buin, best known of the Silvretta Alps, at the head of Val Tuoi
The Tuois Hut, overlooked by Piz Buin
Walkers relax on the Furcletta pass above the Tuoi Hut
The old Romansch village of Guarda in the Lower Engadine
Guarda window
Alive and thriving
It's in the Lower Engadine that the Romansch language is heard in village streets. Spoken by only 1% of the Swiss population, it's alive and thriving here. There's a unique architectural style to the buildings, and Romansch names to the villages. The landscape is different from that in the valley's upper regions. Different yes, but no less attractive – and walks are as rewarding as any of those in view of snowfield and glacier.
Take Val Tuoi, for example. Reaching into the mountains above and behind Guarda, it's a gentle valley of flower-filled meadows at its entrance, then rough pastures in its middle section, and blocked at its head by the handsome Piz Buin, best-known of all the Silvretta Alps, at whose base sits the comfortable Tuoi Hut.
It takes only 2½ hours to walk from Guarda to the Tuoi Hut, but it can take that long to escape the delights of Guarda itself. Not that the village has any of the tourist trappings found in so many other lovely Alpine villages; Guarda is unashamedly, uniquely and exquisitely simple – and breathtakingly handsome with its old bowed, thick-stone houses with their deeply-set, petunia-bright windows; some hidden behind wrought iron grilles and decorated with traditional patterns of Romansch sgraffito. Large wooden doors open to tiny inner courtyards from which individual rooms are reached; the streets are cobbled, and stone troughs, formerly used by local women for their laundry, are full of the purest water that will make your hands numb if submerged in it for too long.
Yes, set on a natural terrace some way above the Inn, Guarda is worth every minute spent there. But it's only one of a number of decorated Romansch villages at this lower end of the valley, so if your walks are interrupted by inclement weather, go village-hunting instead. You'll not be disappointed.
To read more articles like this get our newsletter
Sign up today for a 20% discount on your next purchase. Join over 30,000 enthusiasts from around the world. If you don't love our mix of new books, articles, offers and competitions, you can unsubscribe at any time. We will never spam you, sell your data or send emails from third parties.