Walking ON the Italian Lakes
This is not exactly what our author Gillian Price meant when she wrote about Walking the Italian Lakes.... The Bulgarian artist Christos has just opened his floating piers on Italy's Lago d'Iseo. So now you can walk 3km on the tranquil lake.
Walk on Water
Open from the 18th June until 3rd July "The Floating Piers" allows you to walk on water between Sulzano on the mainland and the two islands Monte Isola and San Paolo - normally only accessible by boat.
The walkway is created from 220,000 polyethylene cubes which move with the natural motion of the water - not sure how pleasant that sounds! Luckily there will be a team of volunteers on hand in case anyone falls into the water.
The artist is Bulgarian Christo Vladimirov Yavachev who came up with the concept in 1970 and has finally seen The Floating Piers realised in Italy.
Or try a dryer walk...
For walks on dry land, read Gillian's guidebook Walking the Italian Lakes.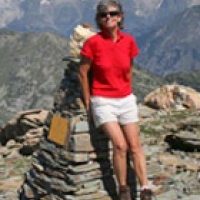 Gillian Price
Gillian Price was born in England but has lived in Venice for many years. Gillian has steadily explored the mountain ranges of Italy, and Corsica, and brought them to life for visitors in a series of outstanding guides for Cicerone. She is an active member of the Italian Alpine Club (CAI) and Mountain Wilderness.
View Articles and Books by Gillian Price