Walking the Arctic Circle Trail
If remote walking in isolated and pristine mountain wilderness is your thing read on. As two wilderness loving people, we decided to set off for the unknown shores of Greenland this summer.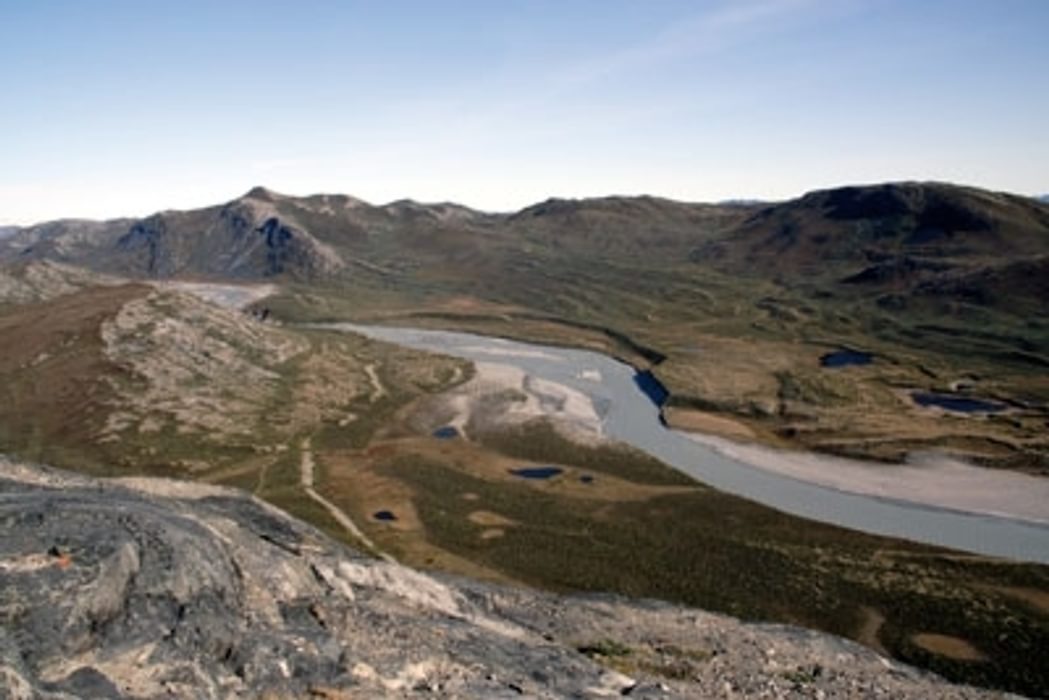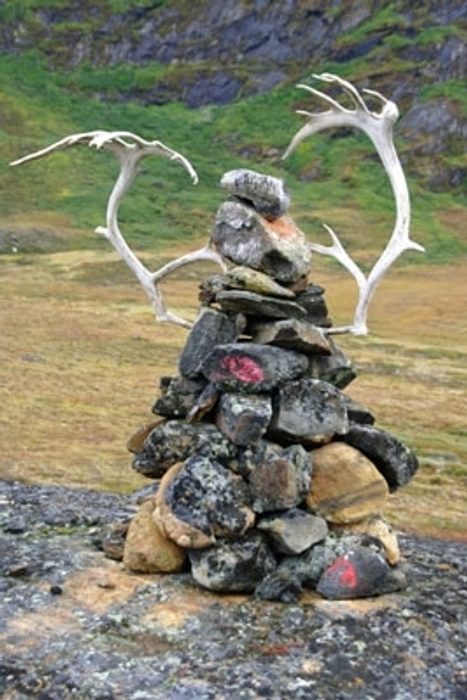 The following article appeared in the December issue of Strider magazine. Tony & Mary Cartwright reflect on this classic Greenland walk.
Wilderness has been defined as 'an area where the earth and its community of life are untrammelled by man, where man himself is a visitor who does not remain'. It has also been said that 'no such chaste land exists in Britain or Ireland … where thousands of years of living and dying have destroyed the possibility of the pristine wild'. So, as two wilderness loving people, we decided to set off for the unknown shores of Greenland this summer. If you're of the same mind we would highly recommend it!
Runs for 165km from Kangerlussuaq (an international airport in a settlement of only 500 people) to Sisimiut on the West coast, and sits 80km inside the Arctic Circle. The route traverses terrain very reminiscent of northern Scotland, hardly surprising given that some 100 million years they were joined. The real difference though is the sheer magnitude of the Greenlandic wilderness. It literally stretches for hundreds of miles with no roads, dwellings or any form of habitation. It is this very remoteness that makes the trail a serious but exciting undertaking.
Rather than a factual, day by day account this is primarily a collection of our personal reflections of an amazing walk in fabulously remote and ever changing terrain, and which, in all respects, surpassed our expectations.
For us, much of the fun was in the preparation and the planning - searching the web for the experiences of others, sorting out travel and gear, and organising and packing the food we would need to take. And this, always with an eye to weight! Our food was simple, but adequate, consisting in the main of pasta twirls, soup, flavoured cous-cous, trail mix with added dried fruit and a variety of cereal/nut bars. We carried food for 12 days, which included two extra days contingency for bad weather. One particular concern was the availability of gas for cooking since this can't be carried on the plane. We need not have worried since Kangerlussuaq, our start point, sported a well stocked supermarket with both puncture and screw types of cartridges. Although we were expecting much higher prices than in the UK, in practice most items, with the notable exception of alcohol, were not significantly more. Beer though was very expensive!
The window for walking the trail is quite short, from mid-June to mid-September. In early season the several rivers that have to be forded (only one has a bridge) may be swollen with melt water making for difficult, if not impossible, crossings. In mid season the main hazards are swarms of mosquitoes. In late season, when early frosts have put paid to these, you may encounter early snows. Either way, over this period 24 hour daylight is the order of the day. Head torches are not needed but starry nights are off the menu! We walked the trail during the first 2 weeks in August, the mozzie season, but we took the advice of others and carried mozzie hoods which rendered the little chaps hardly noticeable. Without hoods things would have been somewhat more fraught!
At the start, the camp area at Kangerlussuaq is literally just outside the terminal building mixed in with Air Greenland freight and sandwiched between the runway and a huge 1km long sheet of steep glaciated rock. There's an opportunity to visit the polar ice cap whilst you're there which we took, walking over the moraine to the chilly start of the snowy wilderness stretching all the way to the North Pole. It made us appreciate that life here is very different in winter. There are also a couple of 'tops' to climb, one at each end, if you have the time and inclination.
The trail is marked with distinctive and often elegantly built cairns which, in the main, are well located and make for relatively straightforward navigation. In misty conditions however route finding would be more difficult and one needs to be competent with map and compass. We were lucky, being blessed with excellent weather - sun and blue skies most days. The lack of rain in the weeks prior to our visit meant that not only had the bog to a large extent receded but the rivers were just about at their lowest. Potential chest-deep wading became for us only thigh-deep in Ole's Lakseelv!
We walked across tundra, smooth bare rock, grassy flower-strewn slopes, patches of snow, gravel, sandy beaches, mud, feather pillow-like vegetation, quicksand, lakeside paths; through dense willow scrub, varying depths of ice cold water, collections of boulders and rock-hopped across streams.
On Amitsorsuaq, a lake over 20k long, there are a few free canoes available. If you are lucky, and we were, you can paddle the length of the lake as an alternative to walking. We camped part way along the lake and spent the next day gliding over mirror smooth water with amazing reflections on all sides. Being inexperienced Tony was assigned to the bow whilst Mary, as captain, steered and supervised from the stern!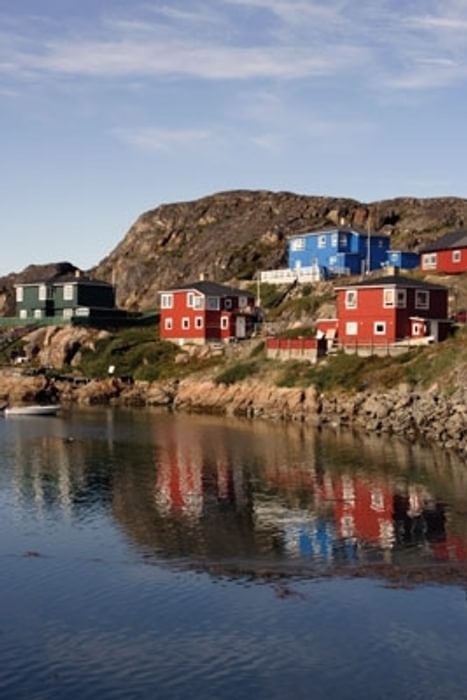 Along the trail are a series of little red huts primarily used by hunters, but in the summer affording very basic shelter for walkers. Unfortunately the 'pack-it-in, pack-it-out' philosophy had not, it seems, been adopted by all, resulting in much rubbish being left in and around these shelters. Cleaning up is carried out only annually and by members of the Sisimiut community who have to travel long distances to undertake this task.
As well as a plethora of reindeer carcasses and antlers, we spotted ptarmigans, reindeer, great northern divers, arctic hare and arctic char in the rivers, together with just 12 other travellers, but thankfully no polar bears. These had clearly read the guide, and so stayed well north, up in the white stuff. Not so the musk ox, which is apparently rare to meet on the trail. We did, a large bull, right on the path. Whilst Mary stepped forward to take pictures, Tony retreated to consult the guide book for advice! It said they were shy and would probably walk away. This one wasn't and didn't. It just snorted. We had to detour, which involved fording a stream and fighting our way through thick willow scrub to regain the trail. But we did see one!
Our 9 days on the trail were characterised by clear blue lakes, wide glaciated valleys, meandering rivers, bare rock sprinkled with erratics that had lain undisturbed for thousands of years and bright green bogs adorned with swathes of white cotton grass, And amazingly every day was distinctively different.
Now back walking the Surrey Hills, what do we most remember about the Polar Trail, and what would draw us back again to those far-off shores?
the rugged, isolated and seemingly endless wilderness
the huge glaciated valleys with blue lakes and winding rivers
the endless light
the amazing walking and fabulous camp spots
the obstinate musk ox and the haunting call of the great northern divers
standing on the icecap
canoeing Amitsorsuaq and the reflections in its waters
and above all, just the privilege of being there
Strider is the journal of the Long Distance Walkers Association (LDWA), an association of people with the common interest of walking long distances in rural, mountainous or moorland areas. Find out more about joining the LDWA.
To read more articles like this get our newsletter
Sign up today for a 20% discount on your next purchase. Join over 30,000 enthusiasts from around the world. If you don't love our mix of new books, articles, offers and competitions, you can unsubscribe at any time. We will never spam you, sell your data or send emails from third parties.