Walking the Corbetts Vol 1 South of the Great Glen
Walking the Corbetts describes routes up all 112 Scottish Corbetts (Scotland's 2500-2999ft mountains) south of the Great Glen, covering the Southern Uplands, Southern Highlands, Cairngorms, Jura and Arran. These Scottish hills are every bit as interesting as the Munros, and often clear when the Munros are in cloud. Part of a 2-volume set.
Seasons
The Corbetts can be climbed at any time of year, but this guide assumes readers are climbing when the hills are free of snow.
Centres
Southern Uplands, Southern Highlands, Cairngorms, Jura and Arran
Difficulty
Many of the Corbetts are rarely climbed which means that often the only paths are animal tracks. This does mean that the going can be relatively tough and navigation can be demanding in mist. Very few of the Corbetts in this volume involve any scrambling, but many involve ascents and descents on steep slopes.
Must See
112 highlights in 95 routes, including Merrick, The Cobbler, Goatfell, Morven and Ben Vrackie
Overview

Table of Contents

Maps

Updates

Reviews

Downloads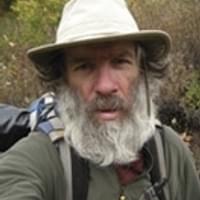 Brian Johnson
After taking early retirement from his career as a physics and sports teacher, Brian Johnson found time for three thru'-hikes of the Pacific Crest Trail, a 2700-mile round-Britain walk and a single summer compleation of the Munros (Scotland's 3000ft mountains), as well as climbing all of the Corbetts (Scotland's 2500–3000ft mountains) and Grahams (Scotland's 2000–2500ft mountains). He also completed a 2200-mile cycle tour of Spain and France and multi-week canoe tours in Sweden, France, Spain and Portugal. A keen climber and hiker, he led school groups in Britain, the Alps, the Pyrenees and California and completed ten traverses from Atlantic to Mediterranean on the Pyrenean Haute Route, GR11 and GR10. As a fanatical sportsman and games player, he competed to a high standard at cricket, hockey, bridge and chess. His crowning achievement was winning the 1995/96 World Amateur Chess Championships. Sadly, Brian passed away in 2021.
View author profile