Whinge along with me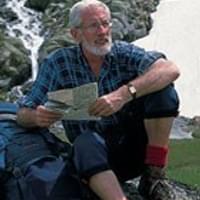 Kev Reynolds is famous among walkers and trekkers as one of the most prolific guidebook writers of all time (maybe). As a 'vulnerable' person he is limited to walking around his small garden and he's gone completely stir-crazy. Here he expresses his frustrations through poetry so please, whinge along with him!
Four weeks of isolation – or is it only three?
Time has lost its meaning – I'm sure it's not just me,
A week ago last Friday I knew where I was at
But now I've not the foggiest - what d'you think of that?
I no longer know what's right or wrong
And wish that I knew better,
I'm a postman in an unknown street
Who can't deliver a letter.
I'm a singer without a song to sing,
A gardener without a garden,
A traveller with nowhere new to go,
A prisoner without hope of a pardon.
I'm Moby Dick (the goldfish, not whale),
The Wizard who's forgotten his Oz,
Humpty Dumpty with a fence not a wall -
Because, because, because…
I can't decide what's up or down,
What's back or front or neither,
I'm like the man who's lost a tenner
And only found a fiver.
Okay, I guess I've lost the plot,
Don't say that's nothing new,
But there's something to be said for this madness
That will help to see me through.
See me through the weeks to come,
A smile upon my face,
There's no-one to stop me in the street
To tell me that I'm a disgrace.
So whinge along with me, I say
Give vent to all your madness,
Then try to ignore the way things are
And celebrate with gladness.
Life's a laugh if you let it be,
It's no good being downhearted,
Today's the best it'll ever be,
By tomorrow it will have departed.
To read more articles like this get our newsletter
Sign up today for a 20% discount on your next purchase. Join over 30,000 enthusiasts from around the world. If you don't love our mix of new books, articles, offers and competitions, you can unsubscribe at any time. We will never spam you, sell your data or send emails from third parties.