9 days fell walking in the Lake District
Lesley and Jonathan Williams walked the entire 9-stage route of Lesley's book, The Tour of the Lake District, which explores the very best of the Lake District's valleys and fells
Four days to go before our walking tour in the Lake District, and the weather forecasters were definitely firming up on their opinion. Our nine-day walking holiday in late October was not going to be blessed with good weather!
I had been checking the forecasts for Ambleside, Coniston, Eskdale, Wasdale and Keswick on a daily basis, and predictions had gone from mildly promising, to definitely very wet, with occasional short sunny spells, and temperatures between 7 and 14 degrees. Heavy waterproofs would be needed!

It turned out that the weather predictions were more or less accurate, but with the addition of wind, and one particularly cold morning. I had enjoyed some extraordinarily hot, sunny days between May and September walking, or re-walking day stages for a new guidebook describing a walking tour of the Lake District.
With the manuscript and photographs safely delivered to Cicerone, Jonathan and I were looking forward to the opportunity and freedom to walk and enjoy the entire route in a single nine-day trip, while having another chance to check times, distances and our gps recordings.
There's something very satisfying about a 'Tour of' multi-day walk, and the idea of a route exploring the very best of the Lake District's valleys and fells was something that I was keen to walk and develop.

The Tour of the Lake District is a suggested route linking many of the great valleys of the Lake District, providing a real flavour of the diversity of the landscapes within the national park in a little over a week of walking.
The main route is suitable for most competent hill walkers, but the book also describes higher level alternatives on five of the nine stages, providing opportunities to summit some of the highest peaks in England, including Scafell Pike, Helvellyn and Great Gable.
Using paths often originating as cattle drove roads, or trade routes developed from the stone age, the main lower route often climbs to around 600m, so is not to be considered 'easy', just lower than the alternatives!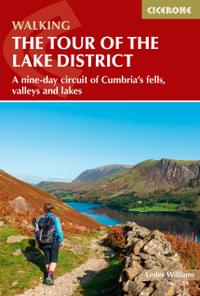 Classic Lakeland views
Ambleside, Monday. It was 9am and standing outside the Salutation Inn we were ready to start. Our route to Coniston took us over the southern flank of Loughrigg, through the Langdale valley to Elterwater, then over to Little Langdale and on to Tarn Hows. It's a 20km first day, but it's on easy paths, tracks and minor roads, which enjoy classic Lakeland views of the Langdale Pikes, pretty iconic villages and a landscape and series of beauty spots that have changed little since they were left to the nation by Beatrix Potter.

Highlights of our second day included the summit of Coniston Old Man (803m), a descent into the lovely Duddon valley and a visit to the Hardknott Roman Fort on the higher-level alternative route to Eskdale.
Hardknott Roman Fort is not the easiest place to get to by car, or on foot for that matter. An approach from the east involves two difficult road passes – Wrynose and then Hardknott, with gradients of up to 30% on a tortuous single-track road. The approach on this tour is easy, enjoying elevated views down into the Duddon valley and across to Grey Friar on a path that emerges onto the road just below the top of the pass.

At the beginning of the second century AD the Romans began construction of a major east–west road –known as the 10th Iter – to connect Kendal, Ambleside and Ravenglass, and the fort, known as Mediobogdum (the middle fort between Ravenglass and Ambleside) was built between AD120 and AD138 during the reign of Emperor Hadrian. It's an impressive sight, and well worth a visit.

The friendly Woolpack Inn provided an excellent meal beside a cosy woodburner, but the following morning we woke to low cloud and driving rain, predicted for most of the day, so instead of taking in a climb to Scafell Pike we walked the lower route together to Wasdale Head, enjoying beautiful Eskdale and the amazing variety of trees in Low Wood, then climbed over Irton Fell, while the rain gradually soaked us.

A welcome stop for hot soup in Nether Wasdale spurred us on up the valley beside Wastwater, and the drying room at Wasdale Head dealt with our wet boots and gear.
Higher level alternative
Better weather followed for two days, as we made our way over to Buttermere; one of us via Black Sail, the other via Great Gable, both of us enjoying the opportunity to be almost entirely alone on the fells until we reached the lakeside path around Buttermere.
A fine ridge route forms the higher-level alternative from Buttermere to Keswick, climbing onto the Whiteless Pike ridge, Crag Hill (839m) and Causey Pike then on to Keswick – an exciting day for us battling against a tremendous north easterly wind. Visibility was good, and the views from the ridge were well worth the effort. The descent off Causey Pike is an easy scramble, but there are alternatives for those preferring not to feel too exposed.

Castlerigg Stone Circle, Ashness Bridge and Watendlath are all locations on the 'highlights list' for visitors to the Lake District, and all three are visited in one day on the Tour from Keswick to the Borrowdale valley.

While Ashness Bridge is a pretty spot, and Watendlath is a tiny traditional hamlet nestling in a 'hidden' valley, Castlerigg Stone Circle is impressive, and also very calming and atmospheric. Constructed between 4000 and 5000 years ago it predates Stonehenge. Consisting of 38 of the original 42 standing stones, it occupies a high plateau area with commanding views in all directions.
This was the worst day for us however, as it was wet; correction, it was exceptionally wet – the wettest day on record for England! Despite having good gear, this was special Lake District rain, the sort that soaks through anything and everything. With clothes in stuff sacks, all wrapped in a bin liner, in a rucksack with an outer additional cover, thankfully our spare clothes remained dry to change into when we arrived in Rosthwaite.

Our final three days took us over the boggy ground of Greenup Edge to Grasmere, then a climb up and over Helvellyn and overnight in Patterdale, a demanding by very worthwhile day during which we were fortunate to have reasonable visibility and mainly dry conditions – desirable when negotiating either Swirral Edge or Striding Edge off Helvellyn. We chose Swirral Edge, which is actually only difficult for the first 60m of the descent, but required a good level of concentration and a head for heights!

Our last day from Patterdale back to Ambleside dawned grey and damp. My introduction to this stage reads:
'This stage provides a delightful final day of traversing the fells. While the lower route is a perfect mix of pastoral, lakeside and fell walking, the higher route via Red Screes makes a fitting finale to the Tour.
'It is the preferred route, with exceptional 360-degree views from the summit of Red Screes on a good clear day. The way from Patterdale begins with mostly level valley walking, with views towards Kirkstone Pass and the high fells of Fairfield and Hart Crag to the south-west. Passing to the west of Brothers Water, the route then enters Caiston Glen, rising to reach Scandale Pass…'
Sadly, the grassy ridge route from Red Screes that was to have given us 'exceptional 360-degree views' down to Windermere was marred by low cloud that only finally cleared as we approached Ambleside. My husband has yet to enjoy these views!
We had been lucky in having the opportunity to stay in B&Bs and traditional Inns, all of them spotless and taking the utmost care to keep guests safe. Less than two weeks after our trip England was placed under its second lockdown. We had enjoyed sunshine, clear skies, driving wind and rain, dense low cloud, spectacular double rainbows and a brief moment of what felt like hail.
Temperatures were probably average for late October, ranging between freezing and 14 degrees. We had kept our rucksacks as light as possible, but we were equipped with the right gear, and at one point we had worn just about everything at once; hats, gloves, waterproofs and a couple of layers underneath.
You never really know what the weather in the Lake District is going to throw at you, but I challenge you not to find enjoyment and satisfaction whatever the weather!
You can watch a video of our walk below.
To read more articles like this get our newsletter
Sign up today for a 20% discount on your next purchase. Join over 30,000 enthusiasts from around the world. If you don't love our mix of new books, articles, offers and competitions, you can unsubscribe at any time. We will never spam you, sell your data or send emails from third parties.