A day of synchronicity on one of the Big Rounds
David Lintern has written the first guide to Britain's 24-hour mountain challenges. It's a book about people and places and the magic that happens when they meet on equal terms. In this article, he shares one of many 'happy accidents' that occurred during the five-year writing process.
By 2016, I was already three years into the Big Rounds project, but it had been a start/stop affair. There were flurries of activity and then life would need my attention. It is my first book and there were several bouts of 'imposter syndrome'! But the fact that I was taking so long over the blessed thing had an unexpected advantage – while I slowly ploughed the same furrow, other people moved on and began to far surpass my own plans, hopes and expectations for the book.
Unbeknown to me, at the time I'd suggested the idea of the book to his dad, Joe Williams (Cicerone's business manager and son of owner Jonathan) had developed into a keen hill runner. Not only was he keen, he was good. Good enough to be contemplating a Ramsay Round of his own. Having banked the Bob Graham the year before, he was eying up the Scottish challenge.
The second Stob Ban (Grey Corries) from the path from the Lairig Leachach bothy (leg 3, Charlie Ramsay Round)
The blocky arête after the summit of Caisteil (leg 3, Charlie Ramsay Round)
He emailed and asked if I was free to support his attempt. Of course, I said yes – it was a good opportunity to get some photos and be a small part of a solo effort. Joe was planning to run without pacers and with only his parents helping out at two checkpoints on the way, so it would be useful to have an extra body around. Given this was a family affair, it was a disarming offer.
I put Charlie Ramsay and Joe in touch. Charlie is still very involved with the Scottish Round and had been supportive of the book from the start. Some dates were mooted, but it's in the way of these attempts that nothing is set in stone until nearer the time, when challengers can be more sure about their weather window.
Surreal inevitability
With a week to go and a high-pressure system looking likely, Charlie got in touch again, dropping me a note in confidence to say that Jasmin Paris would also be running that weekend, with an eye to the record.
Jasmin has since made a significant contribution to the book, but I didn't know her at that point. I would never have presumed to invite myself along to the start of her challenge if I wasn't planning to be in the glen already… and yet she and Joe were due to start at similar times.
This was a coincidence I could not have planned for, but there was a slightly surreal inevitability about it. Was another piece of the book puzzle about to slot into place?
Not assuming anything, I settled into the Glen Nevis campsite on Friday night for a few hours, said a brief 'hiya' to Charlie and his wife Mary, set my alarm for 1.30am and stumbled along to the youth hostel for Joe's start a little after 2am. Shortly after we'd seen him off into the dark on his own, a few more people gathered and a hush descended. I introduced myself to Jasmin and asked if photos were OK, and the answer was yes.
I took photos quietly and tried to keep out of everyone's way – there were more important things afoot than me and my camera. The atmosphere was palpable – it was clear that there was a serious attempt on the record underway.
The team for leg 1 gather before Jasmin's record-breaking run: (l-r) Tom Harris, Graham Nash, Mark Harris, Alena Vencovska (Jasmin's mum), Charlie Ramsay, Jasmin Paris, Jonathan Whilock.
Jasmin Paris, Charlie Ramsay and Graham Nash at Glen Nevis YHA
Just a few hours later, I was hurtling along the road to Fersit, trying to stifle yawns at the wheel. While Jasmin was running anticlockwise, finishing on the Ben, Joe had opted for the more usual clockwise route. I was due to meet him and his parents at 10am at the dam for his first changeover, before heading up onto the long, easterly shoulder of Stob a Choire Mheadhoin. There, I would await Jasmin and her team coming up from Fersit on their final stage, and try to catch a few shots with the Grey Corries as a backdrop.
In the zone
Right on cue, Joe appeared, red faced. He was clearly in the zone, but a little unsettled by the temperature and had run out of water. His parents had everything laid out just so and, again, my work was only to witness. Clothes and shoes were changed, bacon rolls were consumed.
It was seamlessly efficient. Within 10 minutes Joe was back on track and had vanished across the dam.
I bid my own farewell to Joe's mum and dad and began my saunter up the hill. It was now 10.30 but already sweltering. The nose of Meall Cian Dearg can be a tricky section on the round, as its 'bridge' is north facing and holds snow late in the season. This time it was easy, peaty going; very different to my previous visit a year before, when I had scared myself on its steep, icy slopes. Now it was a simple zig-zag walk on its northwest side and not the nasty, loose gully on the south east I'd ended up in previously.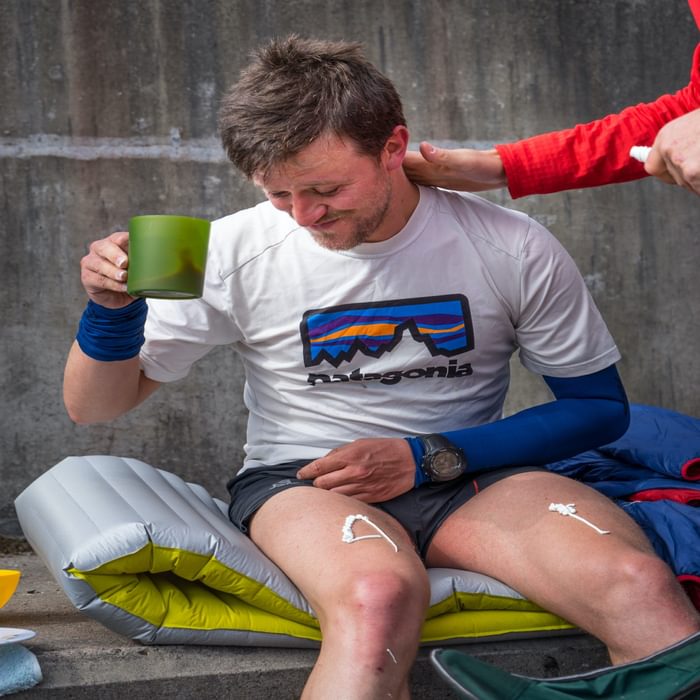 I hung around for half an hour or so, enjoying crystal clear views, with the odd Ptarmigan and some walkers for company. Then, quietly and quickly, three figures appeared on the horizon. Jasmin, with fresh new pacers from Fersit – Jon Gay and Finlay Wild. By the time I'd switched on my camera they were almost upon me. Jasmin looked flushed but was obviously running really well. I shouted something cheesy and encouraging – I can't remember what, but I saw Jon grin – and jogged along for just a few yards before they overtook me. I remember Finlay introducing himself as he ran past – 'Hi, I'm Finlay' – which tickled me no end.
Perfect doctor's manners, I thought. He wasn't even breaking a sweat, despite having just climbed 500m from Fersit.
There was no way on earth I'd be able to keep up with them, but as I walked down, I toyed idly with thoughts of intercepting them further along the ridge. If I ran down, drove along the road and jogged in from Torlundy, could I catch them on the CMD arete? It might make for great pictures. Then again, Jasmin had two of the strongest runners in the country with her. Joe was running solo. I was here to support him – a few shots of Jasmin's record-breaking attempt were just a bonus.
By the time I reached the car, it was past midday and incredibly hot. I couldn't imagine how the runners were coping. Driving around to Kinlochleven seemed to take forever. I joined the West Highland Way for a while, then climbed up through cotton grass into the remote-feeling Coire na-h-Eirhe, before accessing the Mamores ridge between Am Bodach and Sgurr an Lubhair.
I had some sweets that Joe's parents had passed on, plus a bottle of Lucozade I'd stopped for in Fort William. The plan was to try for some images of Joe with the Ben in the background as the light softened around teatime.
Jasmin Paris and pacers Finlay Wild and Jon Gay at the start of their leg 3
Joe Williams pauses briefly on the home stretch
I waited, then waited some more. Now the heat had ebbed from the day and I was stationary, it was surprisingly chilly. I ducked down into a hollow out of the wind. Reception was intermittent, but I heard from Joe's dad that he had struggled with the sun on stage two. He was due soon.

A speck appeared high on Am Bodach, making good progress in and out of the rocky veins that score the mountain's upper ridge. Into the bealach's low point and then out again, slowing ever so slightly but still strong. Joe kneeled, chatted for a minute or two, seemed to drink the Lucozade in one go without it touching the sides, took his small bag of sweets and was off. He was in high spirits, knowing that he was inside his schedule time. I was glad I'd gone up to cheer him on.
My final task was to try and beat him to the youth hostel. I jogged downhill a little but by the time I reached the West Highland Way again, I was feeling the lack of sleep myself. The drive to Fort William was thankfully clear of traffic and I made it in good time. Even as a supporter, it was quite something to see Joe jogging gently down the road in the gloaming. There was none of the razzmatazz that justifiably accompanied Jasmin's record-breaking finish – no bagpipes or champagne. It was just family and myself there – and the midges of course. A day of achievement for two passionate, persistent athletes, who had met the mountains with headlong honesty, and a day of synchronicity for me.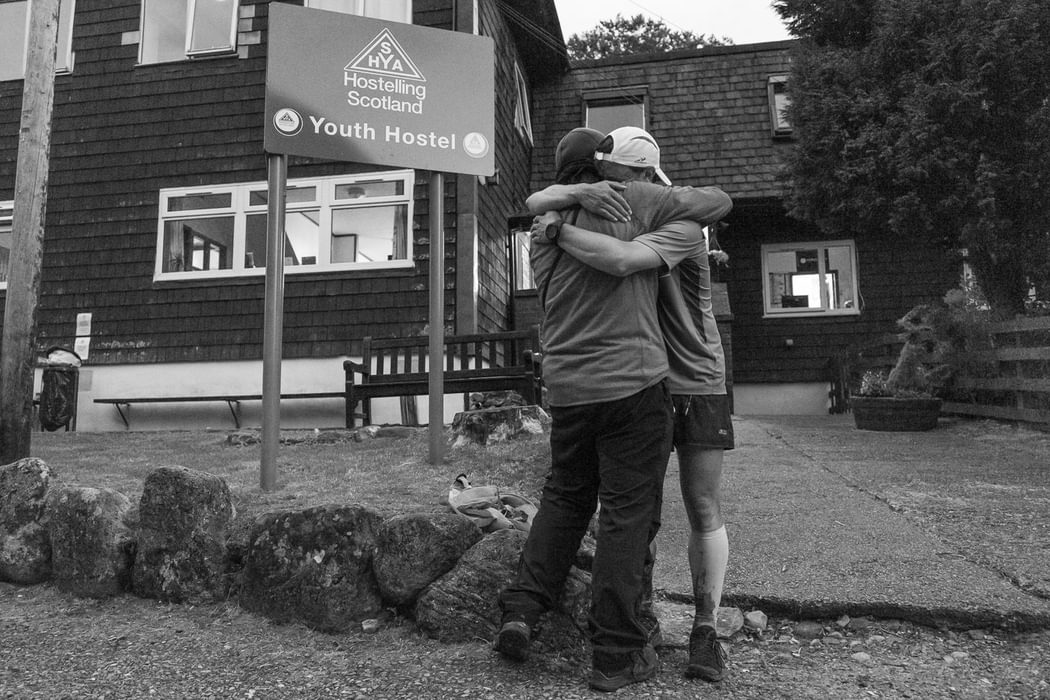 To read more articles like this get our newsletter
Sign up today for a 20% discount on your next purchase. Join over 30,000 enthusiasts from around the world. If you don't love our mix of new books, articles, offers and competitions, you can unsubscribe at any time. We will never spam you, sell your data or send emails from third parties.