A week on the Trilho dos Pescadores (Fisherman's Trail)
Somehow the Rota Vicentina, a collection of hiking routes through the south-west Alentejo and Vicentina Coast Natural Park of Portugal, entered the consciousness of Steve Barham. The more he read about it the more he knew he had to go and discover this web of trails.
Running down the Atlantic coast of southern Portugal, the constantly evolving network of trails now consists of 24 circular routes of over 250km all together, alongside the Historical Way, a 263km mostly inland path that has been certified Leading Quality Trail-Best of Europe by the European Ramblers Association, and the Fisherman's Trail, a coastal trek of about 226km.

Both are divided into 13 sections of around 20 to 25km, between towns or villages to sleep and eat in. Perfect if you don't want to carry all that camping and cooking gear, which we didn't given that it was going to be hot and we would be struggling through a fair bit of loose, energy sapping sand on the Fisherman's Trail.
As well as an excellent Cicerone guide to the network of routes there's a good website for anyone contemplating the Rota Vicentina, with a wealth of info and aids, and they both warned that the summer months were too hot to enjoy the route. Well a 'summer' at home in western Ireland made us yearn for blue skies and sun so against the advice we headed south towards the end of August.

Portugal's Rota Vicentina
The Historical Way and Fishermen's Trail
£18.95
Guidebook to walking Portugal's Rota Vicentina, a stunning yet remarkably little-visited 220km route down the south-western Atlantic coast, through the Alentejo and Algarve districts. The route, which is suitable for all fit walkers and is not technically difficult, is described across 12 stages, making it perfect for a 2-week holiday.
More information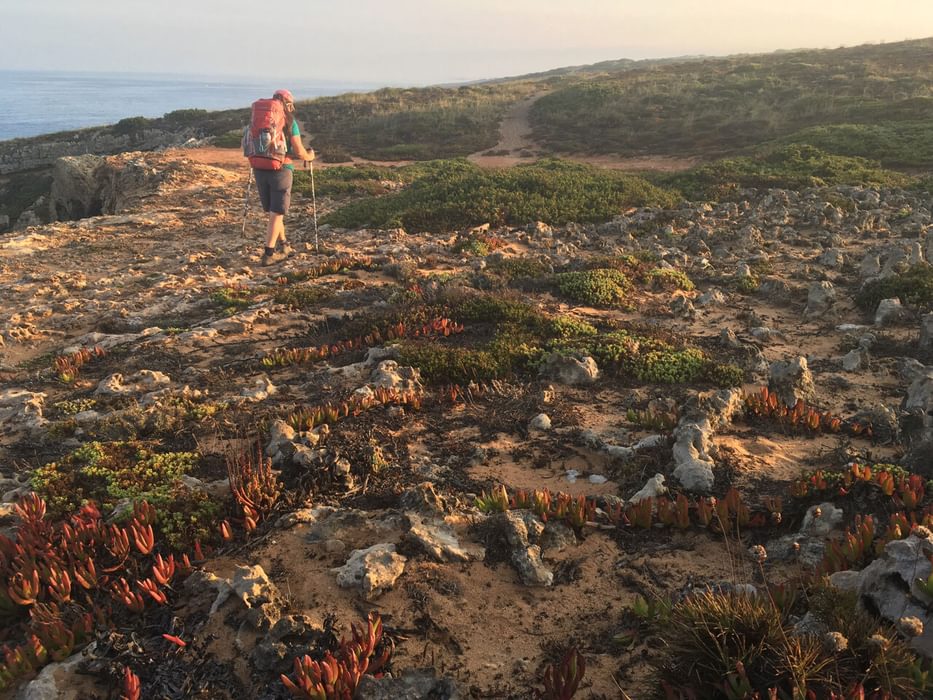 The route
Normally walked from north to south, with the route descriptions all orientated that way, we were going the other, south to north. Partly because of the transport links and logistics but also we thought it a good idea to have the sun behind us as much as possible and the tougher sections with more soft sand walking were at the northern end, so we would have time to get "track fit" before we tackled them.
We had also heard that the predominant wind in the summer was from the south and thought it a good idea to have that behind us. We planned on early starts and frequent cooling dips in the Atlantic to combat the expected heat.

Apart from some rather steep paths up and down between cliff top and beach the going is pretty level and easy, although both soft sand and jagged lumpy limestone can be challenging at times and there are a few places where people with vertigo or a fear of heights may feel uncomfortable.

Overall, the mix of rocky headlands, clifftop paths, fieldside tracks, sandy paths and beach walking make for a truly delightful trek.
There should be no problem navigating as the waymarking is excellent with the blue/green stripes of the wooden posts almost always in view when needed and good maps available.
Cliff top walk to Porto Covo
Accommodation
We started at an Airbnb in Rogil and overnighted in Ocedeixe, Zambujeira Do Mar, Longueira-Almograve, Vila Nova de Milfontes and Porto Covo before returning by bus and train to Faro for our final night.
There is a full gamut of places to stay at all the stage ends, from hostels to plush boutique hotels. Even though wild camping is forbidden throughout Portugal, and especially on the pristine and protected landscape of the Rota Vicentina, there are official sites in every stop of our route except Almograve.
I discovered later that there is even a baggage transfer outfit that will carry all your gear from campsite to campsite for you. We found most places would provide an early breakfast to allow us to get going before sunup.








Fishing and food
On arriving at their organic smallholding in Rogil our hosts Luis and Sophia kindly lent us some bikes with a recommendation we take a spin down to Barradinha beach where we shared the sea with some of the Fishermen whose tracks, paths and trails to their hunting grounds/waters have given this route its name.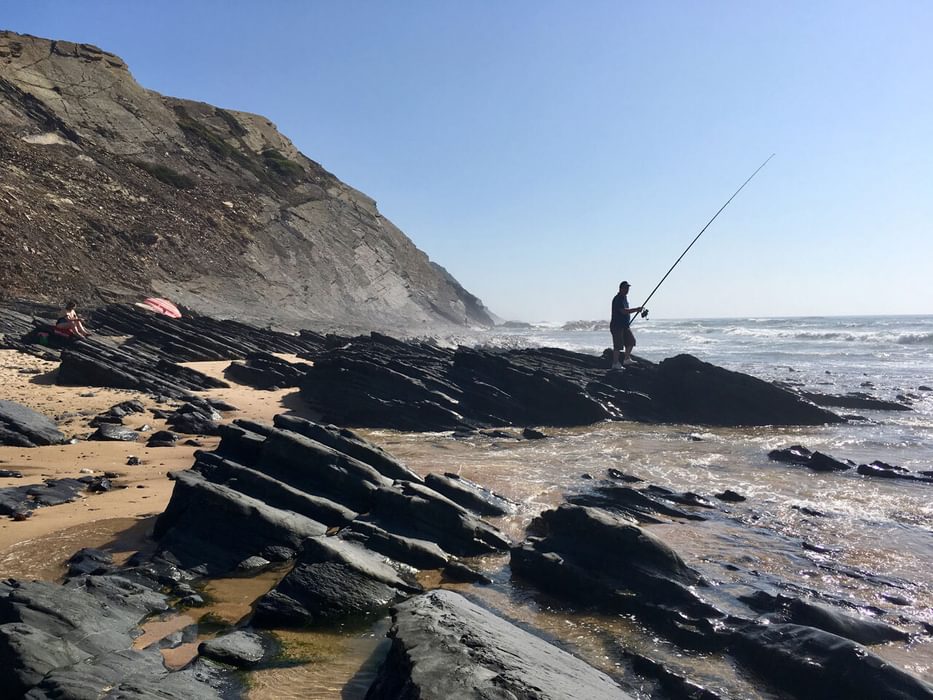 Over the next few days we would pass them walking in the early morning, rods over their shoulder, spy them and their tented encampments on sheltered coves and remote beaches far below our clifftop path, spot them incredulously perched on slivers of rocks way out among the crashing waves and marvel at the ropes and rickety ladders they used to gain access to a favoured spot below the precipice.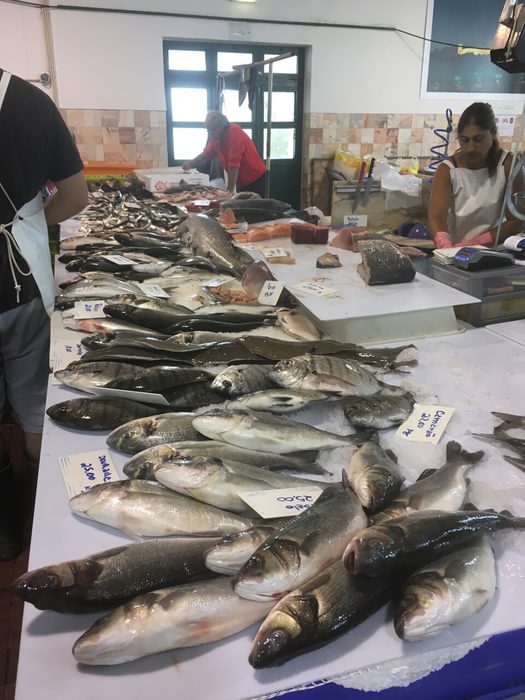 If the sea supplied riches in food so it seemed did the land. Coming from a wet and claysoil garden at home we were amazed at the wealth of fruit and vegetables happily growing in seemingly pure sand on the farms we past and at Luis's, alongside his pigs, sheep and chickens.
It all made for great ingredients to great meals and the energy we lost on the trail was always replaced handsomely in the restaurants in the evenings.
There are also some funky bars/cafes and seaside restaurants dotted along the route on the more accessible and popular beaches, tempting you to stop for an ice-cold drink or a delicious custard tart (a local speciality).
Flora

Our first day on the trail, from Rogil to Ocedeixe introduced us to the variety of plant life in store.The particular habitat here had ensured there were many endemic species found nowhere else.
Although from a distance it may seem like the landscape is covered with a monotone carpet of greenery, it fact the variety is astounding considering the somewhat inhospitable conditions.
Succulents, scrubs, herbs, grasses and trees suited and adapted to the harsh sun, salt, sand and wind all found a niche and exploited it. We wished we could see the flowering of late spring/early summer.
But even at the summer's end it was beautiful, whether wreathed by cobwebs and dewdrops in the early morning, bright and shining under the mid day sun or side-lit and red in the sunset glow.
A wonderful rock garden of mediterranean flora carpets the cliff tops
Sunrise on a sandy garden
One of the habitats protected as a priority is the rock rose maritime wet heath, which exists only in south-west Portugal. There is unfortunately a great threat to the fragile coastal dune ecosystem in the form of the aggressively invasive Acacia or Mimosa. Ironically introduced over 100 years ago as a method to stop dune erosion and loss of coastal habitat, it's gone on the rampage and is smothering huge areas.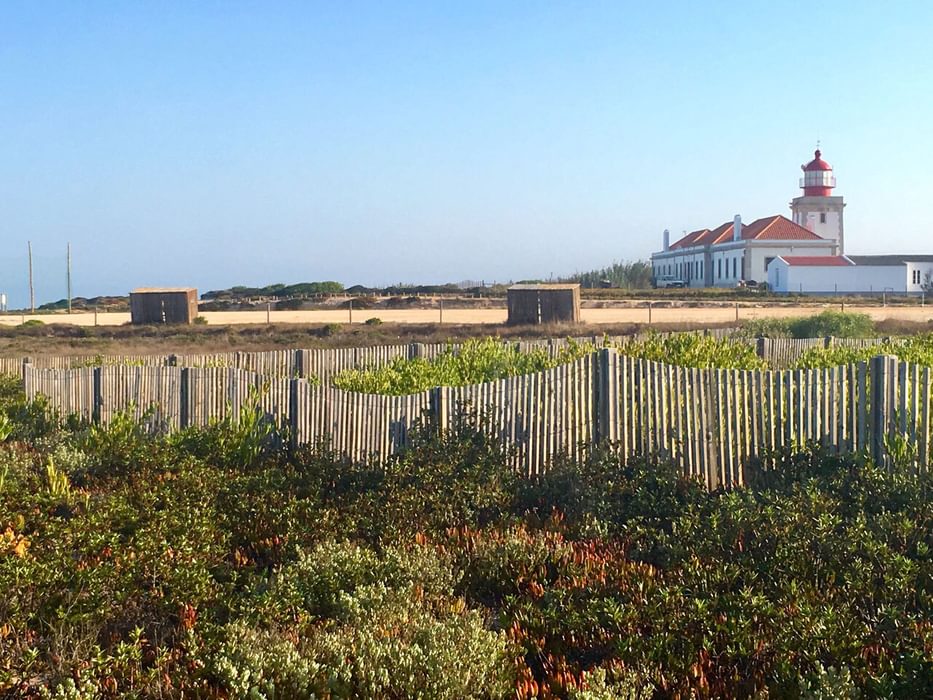 Fauna
Day 2, to Zambujeira Do Mar and day 3 to Longueira-Almograve.
An early start on the trail rewards us with the sight of a lot of rising fish in the river we follow out of Odeceixe and then, suddenly, four wild boar hurtling through the marshy fields on our approach. Later we caught glimpses of rabbits doing a vanishing act and learned that the dunes around here supplied the original stock of all rabbits worldwide!
Later still on the wild headland around the Cabo Sardao lighthouse we were informed that this was the original home of all the pigeons in the world!

Origins of the species not withstanding the area was a twitchers paradise as the coast is home to shags, kestrels, jackdaws, doves, falcon, black redstart, swift and many storks who famously build their nests atop the sea stacks and rocks above the foaming seas. Local mammals we didn't spot include mongoose, beech martin, genet, otter, and weasel.



People
We walked in the summer season so it was understandable that some of the beautiful beaches easily accessible from the towns would be busy with holiday makers.
However, most of the route was well away from roads and the many coves and beaches there were virtually empty as was the trail. The overall feeling was one of space, of remoteness, that you were in fact, 'off the beaten track'.
We met very few hikers doing the entire route, mostly day walkers out from the towns and villages but then we were walking in August so we could only expect mad dogs and the occasional Englishman! Day four ended in the biggest town on route - Vila Nova de Milfontes.
If you like wild coastal scenery, walking through a gently undulating landscape of exotic flora and geology under blue skies and glorious sunshine before splashing in the crashing breakers of the Atlantic to cool off on secluded sandy beaches - then like me you'll love this Fisherman's Trail.
To read more articles like this get our newsletter
Sign up today for a 20% discount on your next purchase. Join over 30,000 enthusiasts from around the world. If you don't love our mix of new books, articles, offers and competitions, you can unsubscribe at any time. We will never spam you, sell your data or send emails from third parties.