An Introduction to Glyndŵr's Way
Glyndŵr's Way is named after Owain Glyndŵr, and is one of three National Trails in Wales. Find out more about this historic route in our intro to Glyndŵr's Way.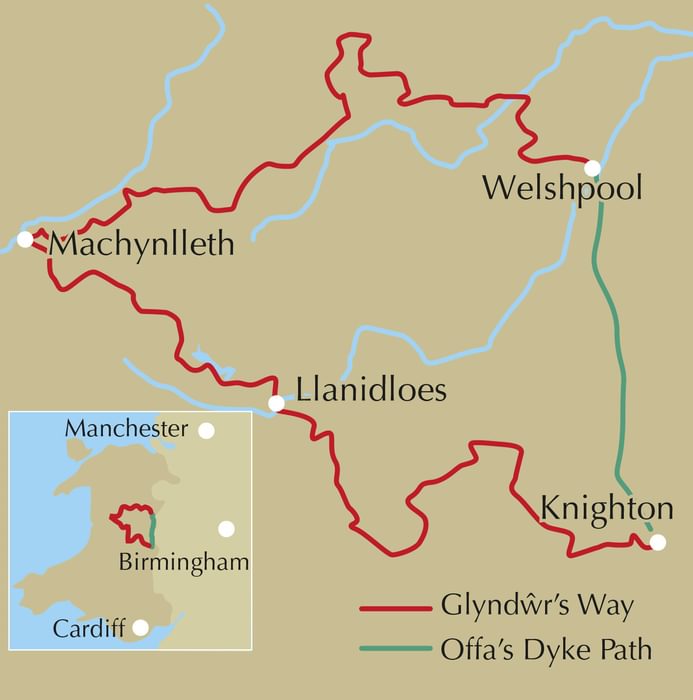 FAQs
Where is it and how far is it?
Glyndŵr's Way sits squarely in mid-Wales, extending from the Welsh–English border at Knighton almost to the coast at Machynlleth, and then back towards England with a finish at Welshpool.
The total route is 217km (135 miles) but this can easily be extended by walking an additional 47km (29 miles) from Welshpool to Knighton along the Offa's Dyke Path, creating a circular journey.
Who was Owain Glyndŵr?
The trail's namesake is Owain Glyndŵr, a Welsh leader in the late Middle Ages. Any commentary about Owain Glyndŵr quickly becomes a confusing and contradictory mix of history, myth and legend. There is no doubt that he existed, and that he waged war against English forces.
However, it is unlikely that he was gifted with supernatural powers, as was claimed, and no one can say for certain when he died or where he was buried. Like the proverbial old soldier, he just faded away.
The Dictionary of Welsh Biography has a detailed description of the significance of the legendary hero.

Why should you walk it?
Glyndŵr's Way is one of the quietest National Trails, exploring sparsely populated countryside, featuring a succession of hills and valleys largely used for sheep-rearing. The route meanders around, with frequent twists and turns, ascents and descents, so that the scenery changes continually.
'Welcome to Wales' – a notice outside Knighton, the town where Glyndŵr's Way starts
Scots pines stand beside a grassy track on the way towards Hope's Castle Farm
How difficult is Glyndŵr's Way?
In a sense, there aren't 'hard' or 'easy' days on the trail. Every day includes a number of hills, and ascents and descents may occasionally be steep, but are usually reasonably gentle.
Most of the surfaces underfoot are firm and clear, including tracks and minor roads, but sometimes there are pathless fields or occasional boggy moorland paths.
The fact that the terrain changes all the time means that some stretches can be covered quickly, while others prove slower, but overall each stage is likely to take the same amount of time.
When is best to walk Glyndŵr's Way?
Most walkers will aim for summertime in the hope of warm, sunny days and not too much rain.
Bear in mind that some short stretches cross permanently boggy ground, and after prolonged rain some paths and tracks become quite muddy. It is well worth checking daily weather forecasts during your walk.
What should I pack?
If you want to travel lightweight, there are walking holiday companies who can transfer baggage from place to place around the trail.
You will need to pack:
Warm and waterproof clothing, especially if travelling early or late in the year.
Cooler clothing, a sunhat and sunscreen might be more appropriate if blessed with sunny summer weather
Walking poles are a matter of personal preference, as is footwear.
Spare casual clothing for the evenings is useful, as it can be worn whenever the walking clothes need to be washed.
Phone/GPS/Map
Money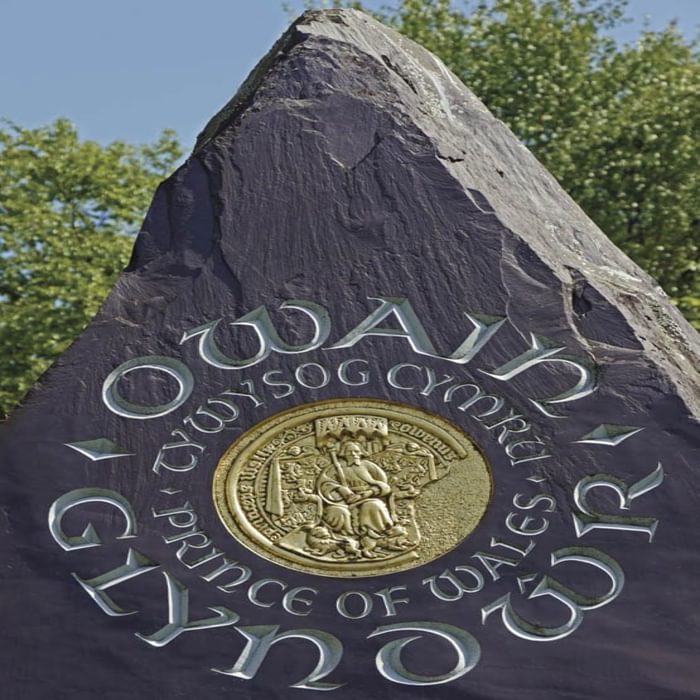 Useful notes:
Food and Drink
Unless food and drink can be guaranteed around lunchtime, carry a packed lunch and drink. Water from streams along Glyndŵr's Way is not guaranteed to be clean, as it often runs through sheep or cattle pastures, or through farmyards. Unless you are prepared to filter, treat or boil water, you should carry enough clean water for each day's needs.
Camping
If camping, a lightweight tent, sleeping bag and cooking equipment will be sufficient. Most campsites along the way are low level and sheltered.
Accommodation
There are several hotels, guesthouses and B&Bs in the towns along Glyndŵr's Way, but these can become fully booked on summer weekends, or whenever there is a local festival or wedding. In the smaller villages, there might only be a couple of lodgings, and if these are already full it could be half a day's walk to the next available place.
Transport
Bus services are patchy around the course of Glyndŵr's Way, being fairly regular and frequent in and near towns, and completely absent in some other areas. It is possible to walk for two days without intercepting a single bus route.
Communication
Rural telephone kiosks are quickly vanishing; they seldom accept coins, and have to be operated by entering credit/debit card details or an account number.
Mobile phone coverage is patchy around mid-Wales, and signals come and go at odd times. The towns have good coverage, but some villages have no signal, and being on high ground is no guarantee that a signal will be available.
Some accommodation providers offer internet/wi-fi.
Stage Summary and Detailed Breakdown:
This summary follows the Cicerone Guide, written by Paddy Dillon.
Stage
Start / Finish
Distance
Time
1
Knighton - Felindre
24km (15 miles)
8hr
2
Felindre - Abbey-cwm-hir
25km (15½ miles)
8hr
3
Abbey-cwm-hir - Llanidloes
25km (15½ miles)
8hr
4
Llanidloes - Dylife
23.5km (14½ miles)
7hr
5
Dylife - Machynlleth
23.5km (14½ miles)
7hr
6
Machynlleth - Llanbrynmair
25.5km (16 miles)
8hr
7
Llanbrynmair - Llanwddyn
29km (18 miles)
9hr
8
Llanwddyn - Meifod
24km (15 miles)
8hr
9
Meifod - Welshpool
17.5km (11 miles)
5hr 30mins
Detailed Breakdown of Glyndŵr's Way:
Stage 1: Knighton - Felindre
Distance: 24km (15 miles)
Time: 8h
Glyndŵr's Way quickly leaves Knighton, crossing Bailey Hill to reach the little village of Llangunllo. Those who start early will have plenty of time to continue over the sprawling moorlands of Pool Hill, Stanky Hill and Black Mountain.
Stage 2: Felindre - Abbey-cwm-hir
Distance: 25km (15½ miles)
Farm tracks and field paths cross grassy hills, over and over again, between the villages of Felindre and Llanbadarn Fynydd. The route crosses the shapely hills of Moel Dod, Yr Allt and Ysgŵd-ffordd, before dropping into a wooded valley.
Stage 3: Abbey-cwm-hir - Llanidloes
Distance: 25km (15½ miles)
Time: 8h
After leaving the forested environs of Abbey-cwm-hir, Glyndŵr's Way crosses the grassy Upper Esgair Hill and passes through the tiny settlement of Bwlch-y-sarnau. The route later zigzags in and out of wooded valleys, then a final road-walk leads straight into Llanidloes – the first town since leaving Knighton.
Stage 4: Llanidloes - Dylife
Distance: 23.5km (14½ miles)
Time: 7h
The reservoir was constructed in the mid-1960s and fills a convoluted valley, so it keeps appearing in view as other hills and valleys are crossed. Somewhere around Dylife, walkers will finish their day before reaching the highest stretch of Glyndŵr's Way.
Stage 5: Dylife - Machynlleth
Distance: 23.5km (14½ miles)
Time: 7h
Glyndŵr's Way climbs over a broad moorland gap, passing close to the isolated moorland lake of Glaslyn and the rugged hump of Foel Fadian. Valleys come one after the other during this stage, with a couple of steep climbs between them. There are no services whatsoever until the town of Machynlleth is reached.
Stage 6: Machynlleth - Llanbrynmair
Distance: 25.5km (16 miles)
Time: 8h
The course of Glyndŵr's Way plays hide and seek with the Dyfi valley for half a day. However, the first stretch from Machynlleth to Penegoes is low level, so views are confined. Later, views northwards from Bryn Wg and Cefn Côch reveal the length of the valley, with mountainous Snowdonia beyond.
Stage 7: Llanbrynmair - Llanwddyn
Distance: 29km (18 miles)
A fine grassy crest is followed, high above Llanbrynmair, that leads to a forested area high on Panylau Gwynion. After an easy road-walk through the broad valley of Nant yr Eira, the route crosses the boggy slopes of Pen Coed. The extensive plantations of Dyfnant Forest lie ahead, with a couple of scenic breaks. The mighty stone dam of Llyn Efyrnwy is seen at the end of the day.
Stage 8: Llanwddyn - Meifod
Distance: 24km (15 miles)
Time: 8h
A cursory glance at a map suggests that this entire stage follows the Afon Efyrnwy downstream. However, the route runs beside the river only on a couple of occasions, crosses it three times, and generally keeps its distance from the flow. Nearby hills are crossed, notably Allt Dolanog, and there are a succession of ascents and descents. Signposts for the Ann Griffiths Walk will be seen in some places, where it crosses Glyndŵr's Way or enjoys a stretch in common – notably at Pont Llogel, Dolanog and Pontrobert. This stage finishes at Meifod, at the lowest point on the route since Machynlleth.
Stage 9: Meifod - Welshpool
Distance: 17.5km (11 miles)
Time: 5h 30min
The final stage of Glyndŵr's Way is short, but remarkably convoluted, featuring a succession of small hills. The last hill, Y Golfa, is a splendid viewpoint, allowing views back into the heart of Wales, as well as across the Severn lowlands to Long Mountain, which is traversed by the Offa's Dyke Path. The end of the trail is in the busy market town of Welshpool.
To read more articles like this get our newsletter
Sign up today for a 20% discount on your next purchase. Join over 30,000 enthusiasts from around the world. If you don't love our mix of new books, articles, offers and competitions, you can unsubscribe at any time. We will never spam you, sell your data or send emails from third parties.