Annapurna: a walk on the wild side
The Annapurna Sanctuary Trek and the Annapurna Circuit route, despite the intrusion of much-talked-about dirt roads, remain the most popular treks in the country. The roads, one might argue, add to the choices of routes: they allow for shorter trips, aid the local economy and make life easier for all. The Annapurna region, however, is much more than just two famous trekking routes: it hides some astonishing and as yet little-visited areas.
Having been fortunate enough to trek in all the major regions of the Nepal Himalaya except the far west, we still find the Annapurna region one of the most enticing. It really does have the most diverse scenery, fascinating culture and variety of any trekking area in Nepal.
From the semi-tropical paradise of the Pokhara valley to the arid, windswept high plateau of Tibet, the Annapurna region is still a bright star among the glittering attractions of the world's highest mountain range.
Homestay areas
Close to Pokhara nearly all the trails in the foothills now have developed or developing homestays, where trekkers can stay in local homes and learn about the culture and lifestyle of the people. Favourite areas include the hills west of Ghorepani, the wider Lamjung area and around Siklis.
From Pokhara, the 'fishtail peak' of Machhapuchhre is seeing more visitors, who take one of two routes to its highest accessible shoulder. The western trail to Machhapuchhre Base Camp has small lodges, meaning the days of camping are numbered already on this airy, forested ridge walk.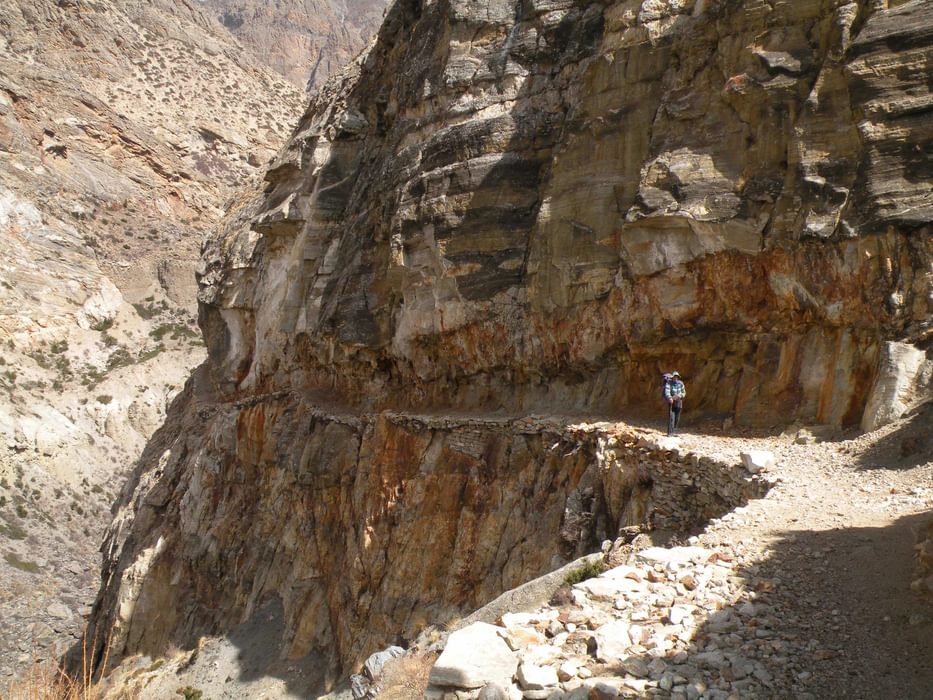 Nar-Phu
Entered by a secretive, forbidding-looking canyon near Koto on the Annapurna Circuit, the valleys of Nar and Phu are surely the most mysterious and extraordinary destination in the Annapurnas. Culturally and geographically remote, the region is Tibetan in nature: nudging the Tibetan border and retaining its ancient Tibetan-orientated culture, the Nar-Phu region is far removed from the modern world. The valleys are wild, almost uninhabited – save for a few herders – and exciting to trek in.
With so few inhabitants, the Nar-Phu region is a paradise for patient naturalists. The trails are carved from sheer-sided canyons, across massive dead moraines and below towering snow peaks: Pisang Peak, Kang Guru, Himlung and Lamjung. The whole trek is characterised by remote, thrilling and challenging trails that most will enjoy. However, many sections are narrow and exposed.
Treks operate here and across Upper Mustang during the usual season – mid-October to early December – but don't come too early after the monsoon rains in case heavy snow remains. Late December is very cold and many people migrate to warmer zones, meaning the few lodges could close.Tricky snow patches linger in dark corners through to late March. During April and May the trail is cleared for the pony goods caravans, and the approach from Besisahar will be hot. The monsoon period is not really recommended, as any walk through the rain-drenched middle hills will be very taxing, with leeches and landslides that could disrupt plans.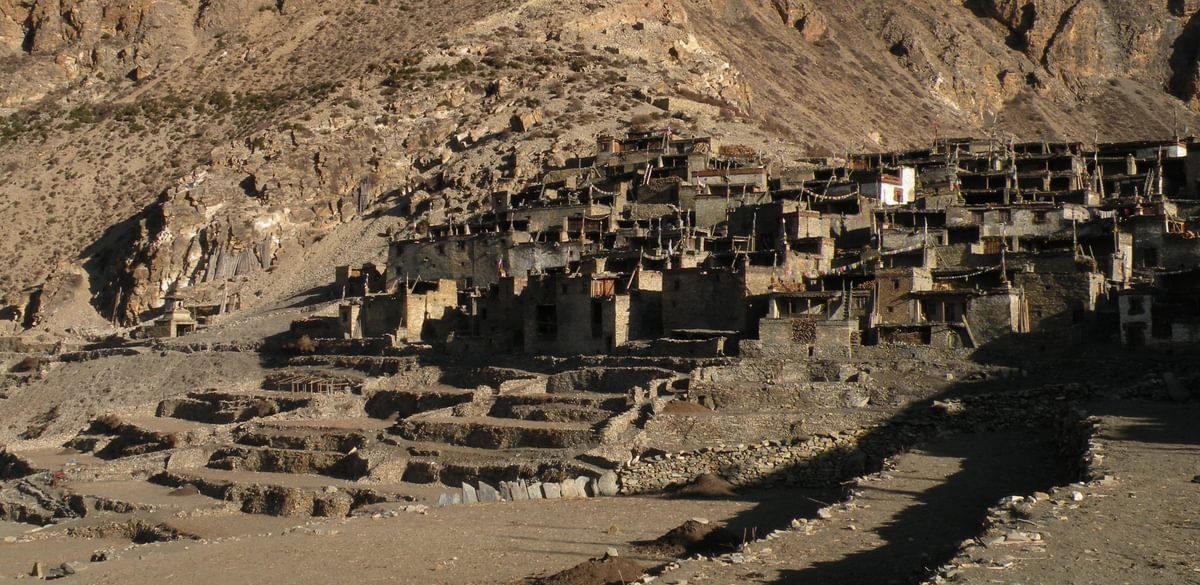 All trekkers require a guide or porter/guide, and taking an extra porter from Koto is advisable. The most comfortable way to walk here is with a fully supported camping crew, giving more flexibility concerning altitude, accommodation and food.
It is perfectly feasible to arrange a lodge trek here and this need not cost much more than lodge treks on the main trails, once permits are sorted. However, so far only Meta and Nar have good lodges: lodges in Phu are basic. There is water but no lodge in Kyang, meaning a rough night in a basic shelter and self-help eating. Carry emergency food supplies, that do not require cooking, for picnic lunches. Bring a cooking pot, mugs or bowls, spoon, penknife and matches/lighter, a couple of tins of meat or fish, instant mashed potato/noodles, muesli, peanut butter or Marmite for lunches. A small thermos flask for tea or coffee, plus sugar, is a good idea, as is bringing loads of chocolate/glucose tablets for energy.
There is no food anywhere between lodges. Remember the water-sterilising tablets. Food in the lodges is adequate for a week or so, particularly when supplemented with your own goodies. There is currently little electricity anywhere on the trek, so bring extra camera batteries.
From Koto to Meta is a long hike with a height gain of around 900m. From Meta we do not recommend going to Nar first – the altitude gain is excessive at this stage.
For Phu an intermediate stop in Kyang is necessary, but it's perfectly possible to descend from Phu to Nar Phedi or Meta in one long day. The Kang La is often snowbound and very steep down to Ngawal: carry an ice axe and ideally ropes and crampons.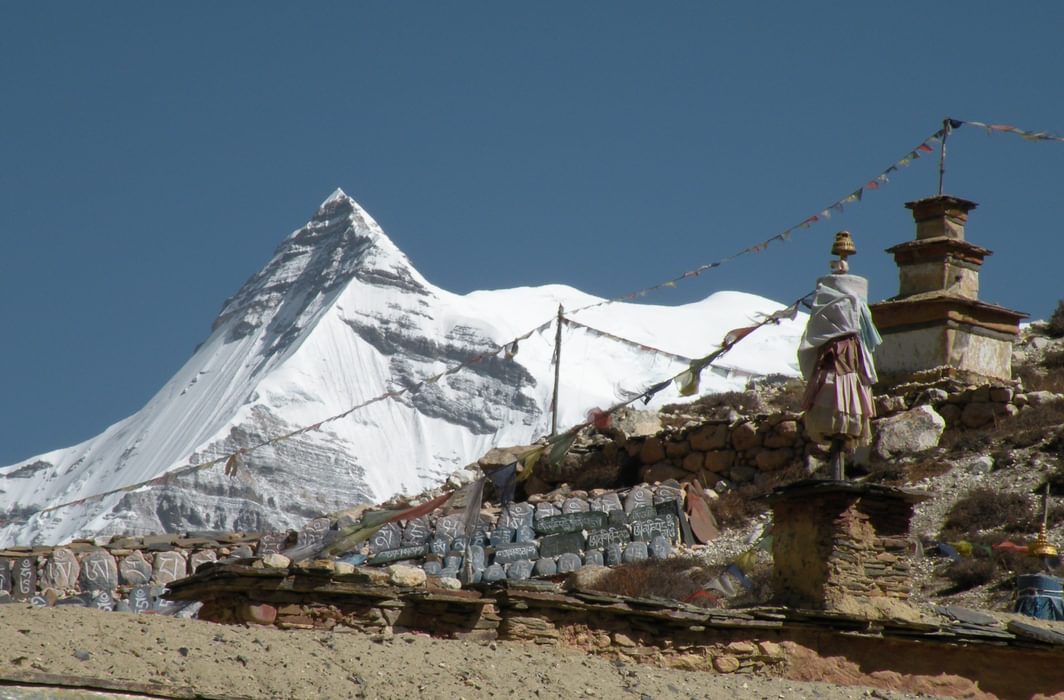 Upper Mustang
The trek to Upper Mustang is a winner for all who explore here, and is becoming ever more popular now that lodges are located in all the major overnight stops. North of the Annapurnas, this ancient kingdom hides picturesque villages, exotic monasteries, historic treasures and a very rich cultural heritage. This true Shangri-La has landscapes and mountain vistas that are simply awesome.
The best time to trek in Mustang is early autumn, when the skies are clear, the monsoon rains have ceased and the harvest is in full swing. Winter is too cold, and most lodges close. Many residents, including the late king, migrate south to Pokhara. Late spring is attractive, with the higher altitude making for cooler, pleasant trekking, but winds can be an issue. The monsoon is not a good time, since flights and buses to Jomsom from the rain-soaked middle hills and cloud-engulfed Pokhara can be badly disrupted.
Most villages now have lodges of varying standards, so itineraries can be adapted to their locations. Once acclimatised, the route is relatively moderate. The astonishing eastern trail from Tange to Tetang is wild, remote and fabulous. With no facilities and a lack of water, this arid side of the Mustang Khola via Paha (4210m) has to be done in one long day. Allow extra days for flight delays between Pokhara and Jomsom.
Chortens in Tange in the Mustang region
The village of Tetang
A guide is required but the main snag is the high cost of the special permit to visit the region, currently US$50 per person per day. That said, the fact that a trek can be done utilising inexpensive lodges really cuts the need for too many costly porters or camping crews.
Recently a dirt road has been pushed on up the Kali Gandaki from Jomsom to the Tibetan Chinese border, but it is hardly noticed by those who take the alternative trails away from the road after Samar via Chungsi, Drakmar and Ghar Gompa. The walled city of Manthang holds amazing treasures in its monasteries and dark, secretive alleys. The most astonishing excursion from Lo Manthang is to the incredible Konchok Ling cave retreat, which is set so high up as to be nearly inaccessible: a rope is used to get to the cave. Soaring turrets dominate the strangely eroded landscape, etched into astonishing, fairytale shapes that only nature could design.
Leaving Lo Manthang, some ancient trails have been improved to allow trekkers to return to Jomsom on a continuous route through Dhi, Yara, Luri, the Dechyang valley and Tange to Tetang. It's an astonishing trail, with hidden caves full of ancient artwork and paintings and monasteries perched on almost inaccessible crags with yet more troglodyte turrets and gigantic, towering organ-pipe features. The scenery is utterly unbelievable, a work of art in its own right. The stage between exotic-looking Tange, with its chain of chortens, and Tetang, with its two ancient mud citadels, is long, with scintillating scenes around every bend. And always the Himalayan guardians are on the southern horizon, the slumbering giants of Tilicho Peak, Annapurna I and Dhaulagiri.
Damodar Kund Trek
The high and wild Damodar Kund Trek links Upper Mustang with Nar-Phu, and at present there are no lodges along the way so you'll have to camp. The trek route crosses the high Saribung La pass (6020m), with a glacial zone en route best suited to those with some mountaineering experience. Permits required are the same as those for Upper Mustang.
The route heads east from Tsarang via Surkhang/Dhi, Yara and the Luri cave monastery, with its exquisite Buddhist art. The isolated Damodar Kund, a lake and shrine at 4890m, is before the glacial zones leading to the Saribung pass. A long descent to Phu (4080m) follows, then it's back to earth at Koto on the Annapurna Circuit.
East of Lo Manthang
East of Lo Manthang are a couple of remote sights to stir the imagination. Easily visited from Lo Manthang is the Makhchung shrine, a towering honey-combed cave complex of the Bon religion that dates back to before the 11th century. In 2008 manuscripts and some artefacts were discovered here. Further to the east is Chodzong, another cave complex with a mysterious history that might have involved human sacrifices. Along the eastern border of the Upper Mustang region a remote and barely used trail heads from Chodzong to the pilgrimage lake at Damodar, passing untrodden peaks that await climbers eager to find a virgin summit.
The wealth of remote and unexplored trails of Upper Mustang is sure to be on the radar in future for those who seek out the less familiar yet adventurous backwaters and the wild side of the Annapurna region.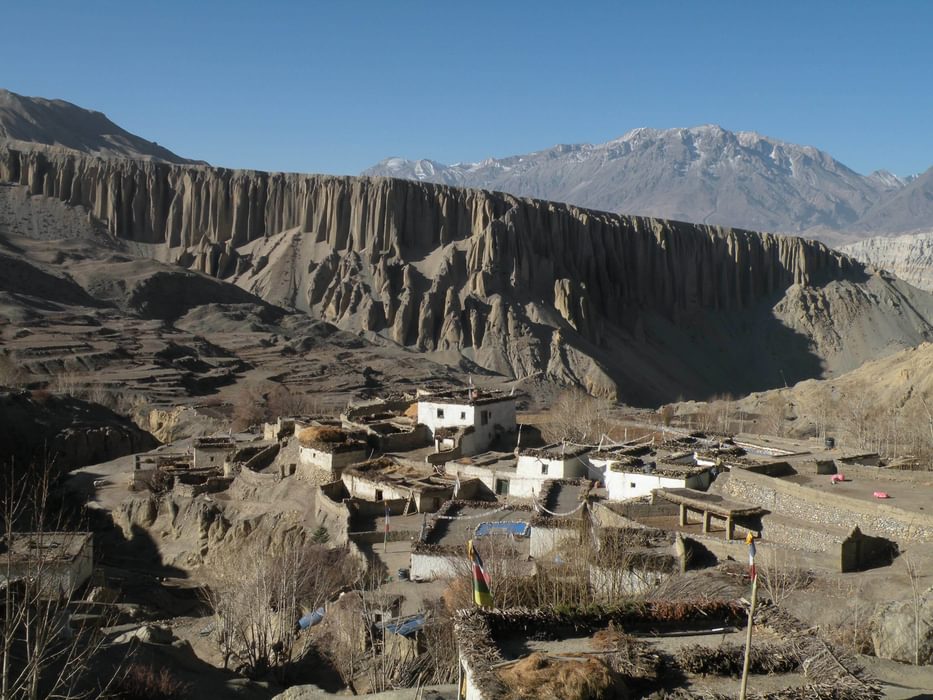 Annapurna
14 treks including the Annapurna Circuit and Sanctuary
£18.95
A comprehensive trekking guidebook to the Annapurna region - the most popular trekking area in Nepal. Fourteen diverse treks are described including the classic Annapurna Circuit and the Annapurna Sanctuary as well as treks in the lesser known Machhapuchhre area, the foothills of Lamjung Himal and restricted areas - Mustang, Damodar and Nar-Phu.
More information
To read more articles like this get our newsletter
Sign up today for a 20% discount on your next purchase. Join over 30,000 enthusiasts from around the world. If you don't love our mix of new books, articles, offers and competitions, you can unsubscribe at any time. We will never spam you, sell your data or send emails from third parties.