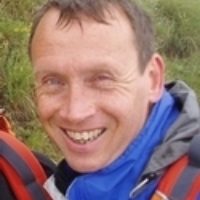 Andy Hodges
Andy Hodges was born in Wigan in 1967. He has been enjoying adventures in the outdoors since joining Cub Scouts in 1976. Learning to read a map and being allowed to tackle adventures were instrumental in nurturing a life-long love for mountains. His student days allowed extended visits to the Provence region of France where he became a modern sports climber, while a summer holiday job saw him leading walking groups in the UK hills and mountains. He has been a volunteer member of Mountain Rescue for 23 years and is part of the Hasty Team, a fell running element of the rescue team.
Andy is currently working towards gaining the prestigious International Mountain Leader Award and hopes, on completion of the award, to be able to open the doors to the Alps and higher mountains to even more people.
Since discovering the Vanoise in 2004 he and his wife Sue have climbed, walked and cycled hundreds of miles of this beautiful region. The nearby Aosta valley has caught Andy and Sue's eye and they are currently working on a guide to the Aosta AV1 - a truly beautiful trek yet to be discovered by most British walkers.